Lidia Huayllas answers our call as soon as she finished a meeting, required by her position as a deputy major of District 5 of El Alto, Bolivia. Lidia became known as a mountain climber, but this Aimara woman has shown to have infinite facets and the will to tackle infinite barriers.
The connection is weak, but strong enough to ask the questions we have been keeping since we heard her story and decided to share it in our event Reaching for the summit: a testimony by Lidia Huayllas, mountain climber. Lidia began working as a high-mountain cook, and one day, she summoned several colleagues to do something no one had expected: going from being the women who fed and assisted the climbers to being the ones who conquered the peaks themselves.

Since December 2015, the Cholitas Escaladoras group has climbed peaks such as Acotango (6,050 m), the twin volcanoes of Parinacota (6,350 m), Pomarapi (6,650 m), Illimani (6,462 m) and the highest peak in Bolivia, the snowy Sajama (6,542 m.). At the beginning of 2019, they faced Aconcagua, which is 6,960 meters tall.
Their next goal? No less than the Everest.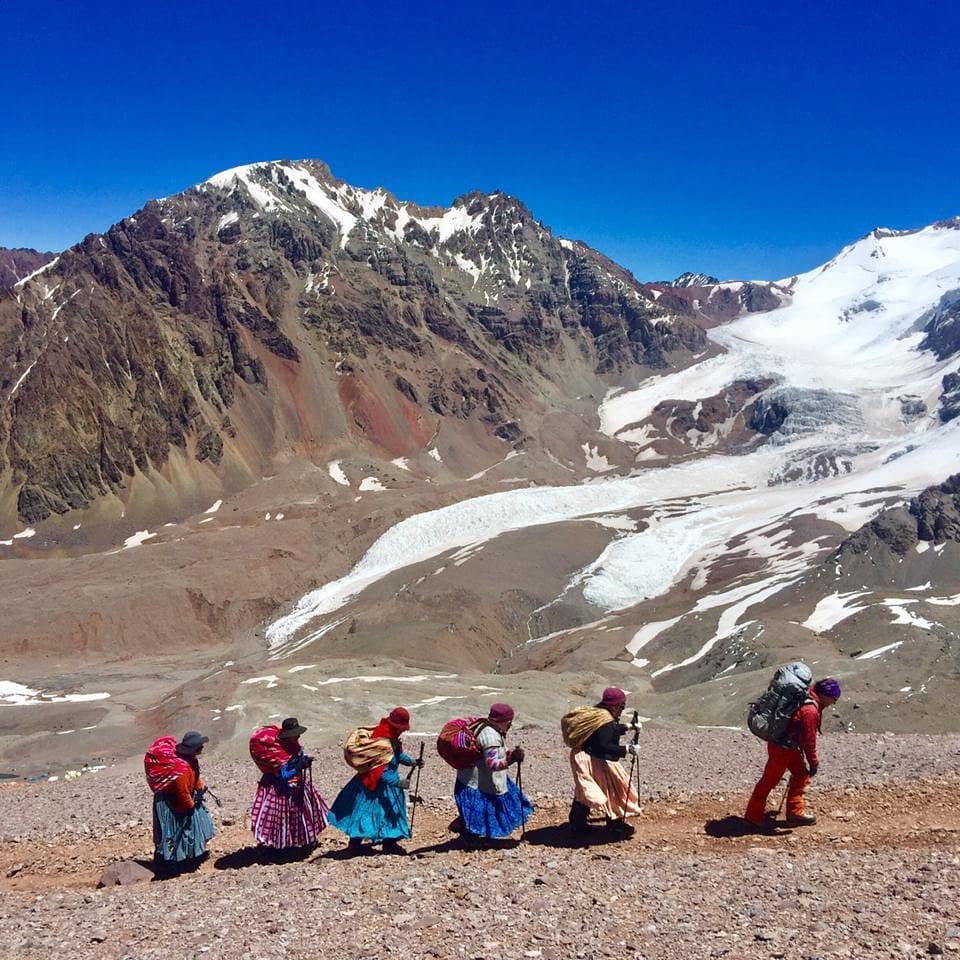 The challenge of being an indigenous woman
The garments that Lidia and her fellow Cholitas Escaladoras wear for their climbs are almost the same as what she wears on camera: a black hat, skirt, and an embroidered blanket to cover her shoulders. Lidia points out that keeping her traditional clothes on her journeys has been an important point in defending her identity: "In our country there was a lot of discrimination against women in skirts, indigenous women," she explains. Lidia mentions that there were great prejudices to overcome when they wanted to start as climbing cholitas.
Like many indigenous peoples across the continent, Lidia's life has not been easy. The indigenous peoples of Latin America and the Caribbean face higher levels of poverty, lack of access to basic services such as water and sanitation, higher prevalence of chronic diseases, as well as multiple cultural barriers, including language ones. In addition, for Lidia, the challenge she faced was twofold: on the one hand, for being an Aymara, and on the other, for being a woman.
Lisette Arévalo, the top-classinterviewer we borrowed from Radio Ambulante, led this short but exciting virtual interview.
What predjudices did you face from your male peers for being a woman?
"The men did not want to let us go up, they said "how can a woman in a skirt be leading, how can she go up the mountain?" They really felt jealous, perhaps, because they too must have thought that we would compete for their jobs. We have been through several situations. I always said, "Let's demonstrate with deeds, and not words." And that's how we turned a deaf ear as we say and moved on. Now they have already accepted us. They know that women can also climb, guide just like men too "
"My husband always encouraged me, he was always with me, giving me the strength that I needed. When I didn't want to continue, he always told me "You can achieve your dreams, you can accomplish your goals. For a while they will only discriminate against you, but keep going, and you will see that they will accept you". And he was quite right. In our country, as they have already seen us break several barriers, they give us the place that we women deserve".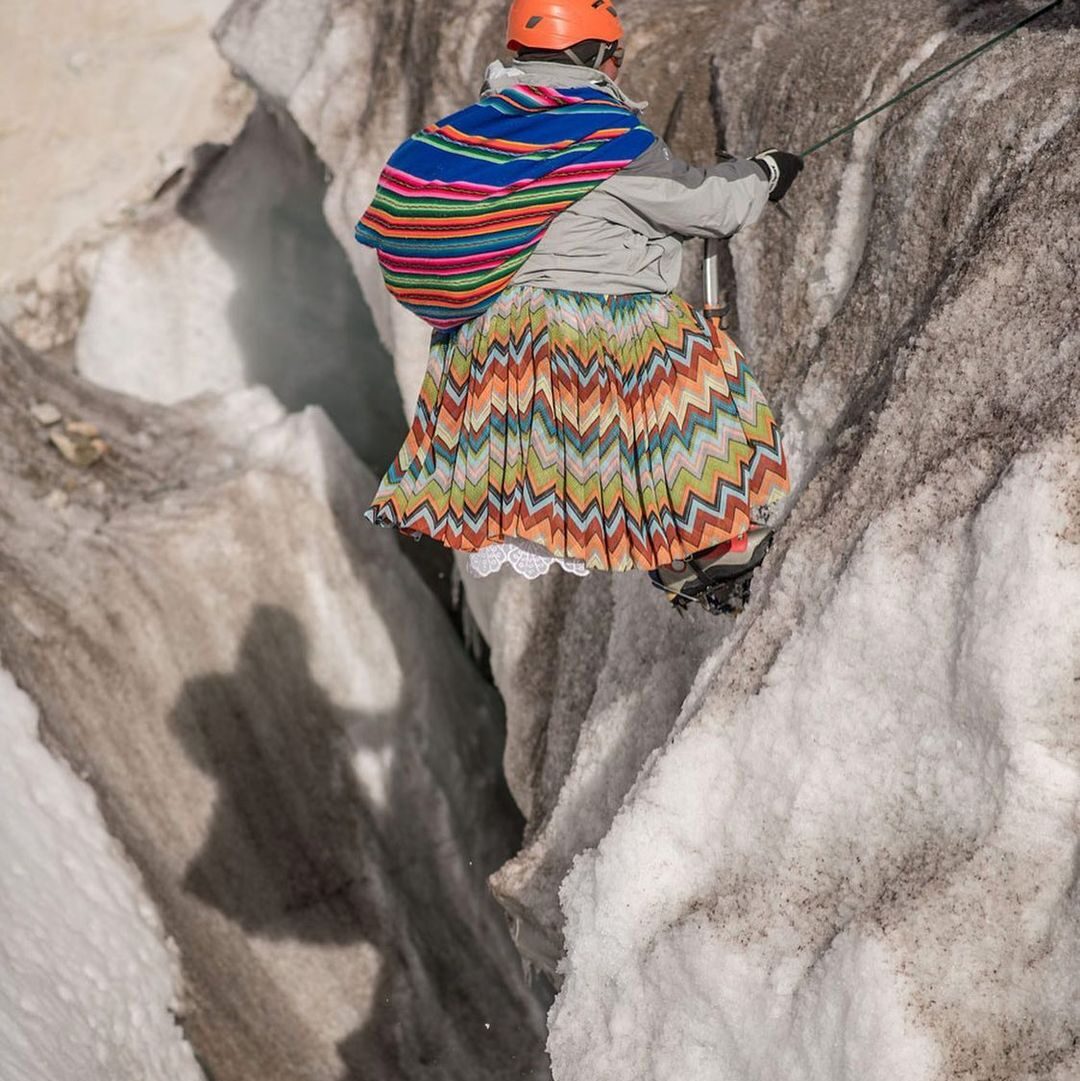 Your story has travelled the world: a documentary about you has been published, also a podcast for Radio Ambulante. What impact do you think the story of struggle and perseverance of the Cholitas Escaladoras had on Bolivia and Latin America?
"For us, the impact has been huge. We have really been able to break the barriers that existed and still exist in the whole world as well. We have wanted to promote all women, since there are times when we are marginalized. TheCholitas Escaladoras are well known in the whole world and knowing that our story has been heard and that it has lifted many women who were neglected makes us feel really joyful".
Do you think a story like yours, a perseverance story, can eradicate predjudices?
"Yes, there were so many prejudices. But we overcame them by showing, we have moved forward, demonstrating with deeds and not words. Prejudices have been left behind, now we can only move forward"
What do you reflect on, regarding your career? Since you were a kid, cooking in the mountains, to becoming a cholita escaladora and occupating a public position.
"I feel very satisfied with the accomplishments I have achieved. I suffered a lot as a kid. And grouping up the cholitas wasn't easy, but I still did it. I feel really satisfied achieving all of this with the climbing cholitas. And now I am a deputy mayor of El Alto's 5th District. It has been very hard to achieve all of it, but nothing that's impossible"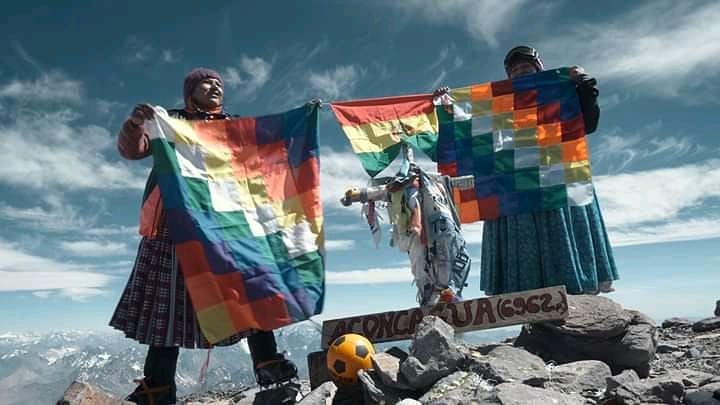 Inspiration to continue working together with indigenous peoples
Lidia's story fascinates us not only because she has overcome an infinity of prejudices, but because she has done so from her own identity, without renouncing it. At the IDB we believe that indigenous identity can and should be part of every effort we make to promote the region's development. We know that it is not only about supporting operations, but also about listening to and involving indigenous peoples, so that our efforts are not only for them, but also built together with them. Valuing, recognizing and promoting their culture and knowledge is the best way to contribute through our work to their philosophy of "good living" and development.
The internet connection eventually fails us, and we are left wanting much more. But the words we exchange with Lidia leave us a lot to think about. Along with other colleagues who attended, we agreed: "it only took a few minutes to leave us all inspired." That is the strength of Lidia Huayllas' story.