Equality, yes, but…
Promoting gender equality is necessary but not enough. Achieving gender equality is a key target for women to have equal opportunities to achieve their full development in all areas of life. However, in multiethnic societies, a unidimensional conception of this objective may not be enough to close the gaps that affect women in our region. This is the case of the inequalities affecting indigenous women.
With perhaps the odd exception, all Latin American and Caribbean societies are highly culturally and ethnically diverse societies. This diverse nature is the result of the history of the countries, which already had indigenous peoples when Europeans arrived. Various processes such as conquest, colonization, slavery and, later, migration, shaped the region. Today, we have diverse societies, but also marked by strong ethnic-racial inequalities.
Indigenous women and girls face two walls
In this context, indigenous women and girls have faced a double challenge. On the one hand, to seek gender equality vis-à-vis their male counterparts. On the other, to be recognized in their identity and specific rights as part of a collective (indigenous people) with little representation and access to decision-making positions. Achieving this dual objective has not been easy.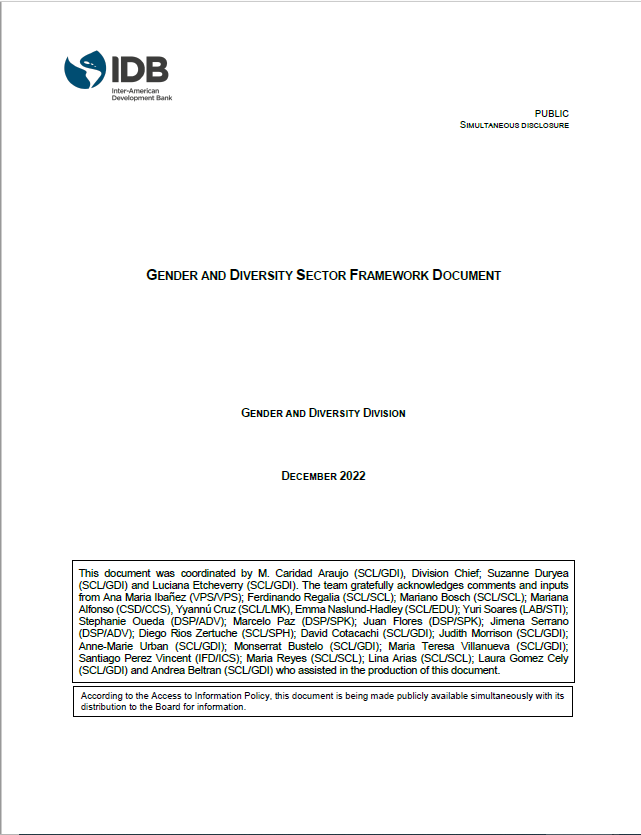 In our Gender and Diversity Sector Framework Document, you can read more in depth about the gaps affecting women and indigenous peoples, and what we are doing to close them. Download it here
Educational gaps for indigenous girls and young women
One of the areas where they face the greatest challenges is access to high school education. When analyzing educational progress, regardless of ethnicity, the region seems to have made progress in reducing educational gaps between boys and girls. This is especially true at the primary school level. In fact, girls show slightly higher completion rates than boys. The differences have narrowed even for indigenous boys and girls, with the exception of Guatemala. There, indigenous girls still show lower levels of primary completion. The following table shows data for selected countries.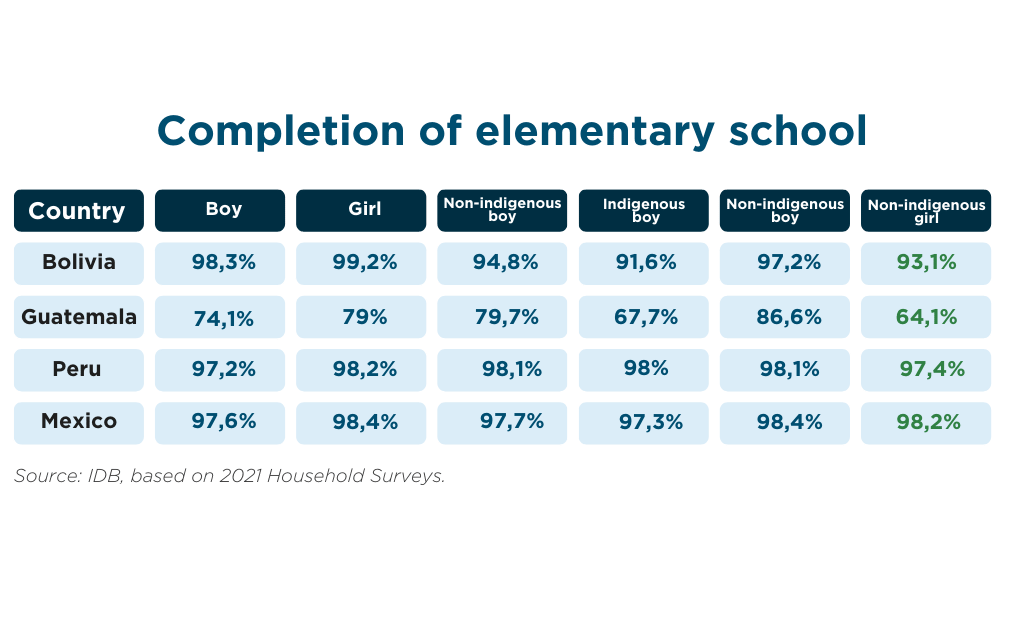 .
However, at the secondary school level, the story is different. The achievements made at the primary level have not yet been attained at the secondary level. In addition, in most cases, indigenous girls are the furthest behind. In several countries, the differences in secondary school completion between men and women seem to be narrowing. However, when looking at the data by different groups, there are differences between indigenous men and non-indigenous men, as well as between indigenous women and non-indigenous women.
With the notable exception of Brazil and Peru, for countries such as Bolivia, Ecuador, Guatemala, Mexico and Panama, indigenous women have the lowest levels of secondary education completion. In several of these countries, the ethnic dimension is crucial. Non-indigenous students (regardless of gender) show higher levels of secondary school completion. And, within indigenous peoples, it is indigenous women who lag behind their male peers. The following graph illustrates these differences.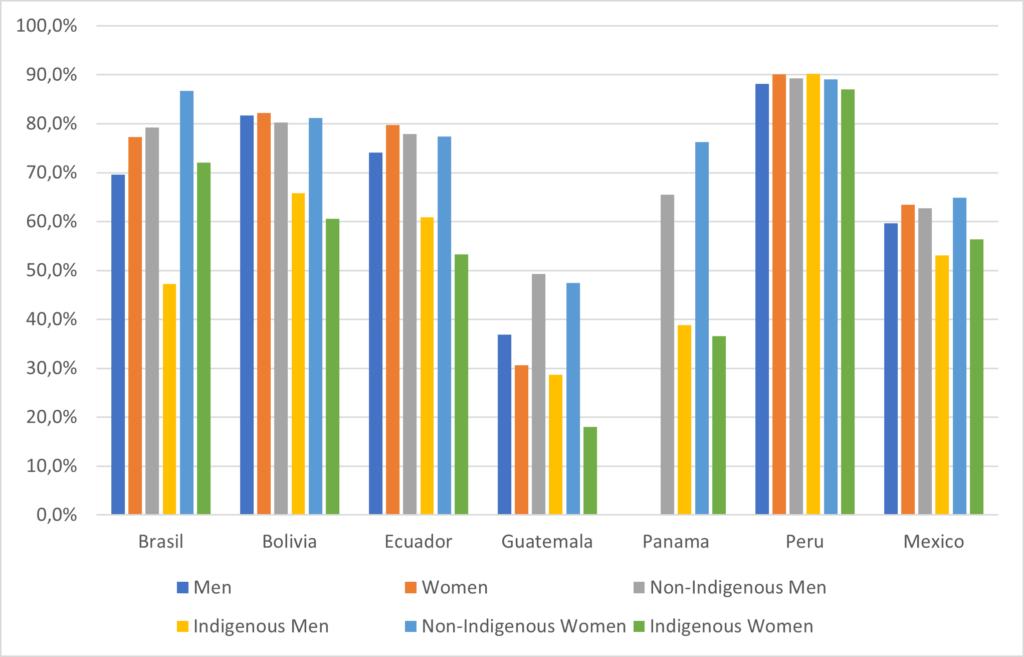 How can we reduce the double gap?
Reducing gaps in secondary education is crucial for the empowerment of indigenous women in the region. It is important to build on the coverage achievements in primary education. However, coverage alone is not enough if the particularities of indigenous peoples and indigenous women are not considered. This requires, among other measures:
Create incentives to attract qualified teachers in intercultural bilingual education
Promote diversity as a central part of the educational curriculum
Offer complementary education (technical and vocational) focused on indigenous women.
Scale up successful pedagogical approaches
Scale up intercultural bilingual education approaches, including technological aspects
Offer incentives (monetary or non-monetary) to increase attendance of indigenous girls in secondary education
Work together with indigenous communities to promote greater support for the education of indigenous adolescent girls
You can learn more about the gaps that differentially affect indigenous women in the technical note "Skills Development of Indigenous Children, Youth, and Adults in Latin America and the Caribbean".