COVID-19 disproportionately affects indigenous peoples. This presents a major health challenge requiring immediate responses that account for indigenous peoples' diverse cultural and linguistic contexts.
In Latin America, nearly 53 million people of the more than 700 indigenous groups face a myriad of preexisting adverse conditions, such as high levels of poverty and other forms of social inequality, that put them at greater risk of infection, morbidity, and mortality from COVID-19.
Why Are Indigenous People Especially Vulnerable?
Poverty, unemployment, and limited access to health care, education, potable water, sanitation, and communication technologies, among other issues, constitute barriers that significantly increase the vulnerability of indigenous peoples to various diseases. As a result, the indigenous population already suffers from numerous chronic and infectious diseases such as type II diabetes, tuberculosis, hepatitis B, HIV/AIDS, malaria, dengue, and Zika, among others. These preexisting conditions weaken people's immune systems, increasing their vulnerability to COVID-19.
In the case of indigenous peoples living in voluntary isolation or in initial contact (IIPIC), COVID-19 threatens mass extinction of entire populations because these groups have no immunity to vaccine-preventable infections. These groups are currently beyond the reach of health systems.
Geographic and social infrastructure barriers compound these problems. Many indigenous groups live in distant or remote rural areas with little development infrastructure, complicating delivery of COVID-19 prevention, containment, and treatment services. In the Amazon, for instance, the remote location of indigenous communities are a critical barrier. Community outbreaks of COVID-19 in such locations can constitute an unprecedented epidemiological event that poses a complex, demanding response from already stressed health systems.
One Size Does Not Fit All
Given indigenous peoples' considerable cultural and linguistic diversity, measures applied in their territories should be culturally responsive. For example, communications campaigns need to be conducted in native languages employing understandable messages that make sense to local realities.
Similarly, standard health protocols for hand washing and disinfection are difficult to follow where indigenous communities have no access to resources such as clean water, soap, detergent, rubbing alcohol, anti-bacterial gel, and basic medicines such as aspirin. Likewise, implementing isolation and social distancing protocols is challenging when family and community structures are intrinsically collective and strongly socially cohesive. For example, isolating the elderly is difficult in indigenous communities where they are pillars of authority and heads of families.
Immediate health responses to address the worldwide emergency should be differentiated and prioritize indigenous peoples as a high-risk epidemiological population. These responses should be based on coordination between indigenous peoples and national and sub-national governments.
Indigenous organizations and traditional indigenous authorities have representative structures at the national, sub-national, and community levels, each of which plays a vital role in virus prevention and containment measures. Consequently, coordinating government actions with indigenous authority structures can yield more effective interventions in indigenous territories.
Urgent and Culturally Differentiated Responses
To guide decision-makers, health agents, leaders, and indigenous organizations in formulating appropriate crisis responses in indigenous territories, the IDB has developed practical and concise technical documents.
These documents are based on a systematized desktop review of COVID-19 related protocols, guidelines, and declarations developed by international organizations, national and sub-national governments, indigenous organizations, and nongovernmental organizations, as well as through dialogue with regional indigenous organizations. They seek to strengthen the emergency response for indigenous peoples by addressing key questions such as:
How can urgent and effective measures to address the pandemic be rolled out in the territories in coordination with indigenous groups?
How can standard COVID-19 health measures and protocols be adapted to highly diverse cultural and linguistic contexts and to areas with limited access to basic health and other services?
What prevention and containment actions can communities adopt in the face of the pandemic, given community and collective realities?
Answering these fundamental questions and implementing adequate measures in direct dialogue with indigenous peoples has the potential to improve the effectiveness of actions taken by countries to save the largest number of lives.
Access the following documents on how to manage COVID-19 in indigenous territories: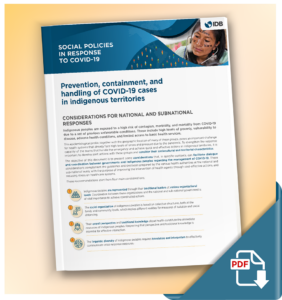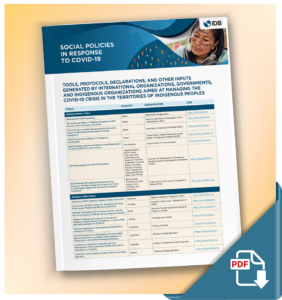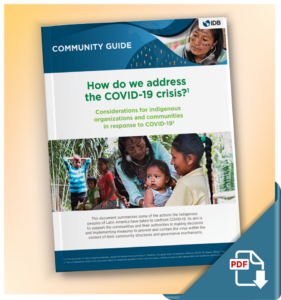 Photography by Omar Arregui