Concerned by climate change and urban pollution, governments and consumers are rapidly moving towards electric vehicles. Battery prices have decreased, and electric cars are increasingly competitive against standard gas-powered vehicles. Before Covid-19, worldwide sales and new registrations of electric vehicles started to grow exponentially, with the United States, China and Europe leading the trend. While the looming recession complicates this transition, the global electric vehicle stock could still grow 36% annually to reach more than thirty times today's levels by 2030. This seismic shift would not only transform transportation across Latin America and the Caribbean, but it would also reduce carbon dioxide and air pollution emissions for a cleaner environment.
This transition, as discussed in the 2020 Development in the Americas (DIA) flagship publication, critically depends on government actions, in particular, on how regulation impacts the price for electricity at different times of the day. One of the most important but often overlooked aspects is the need to introduce incentives to ensure power demand is distributed more evenly rather than spiking in the evening when people return home, use electrical appliances, and may wish to charge their vehicles.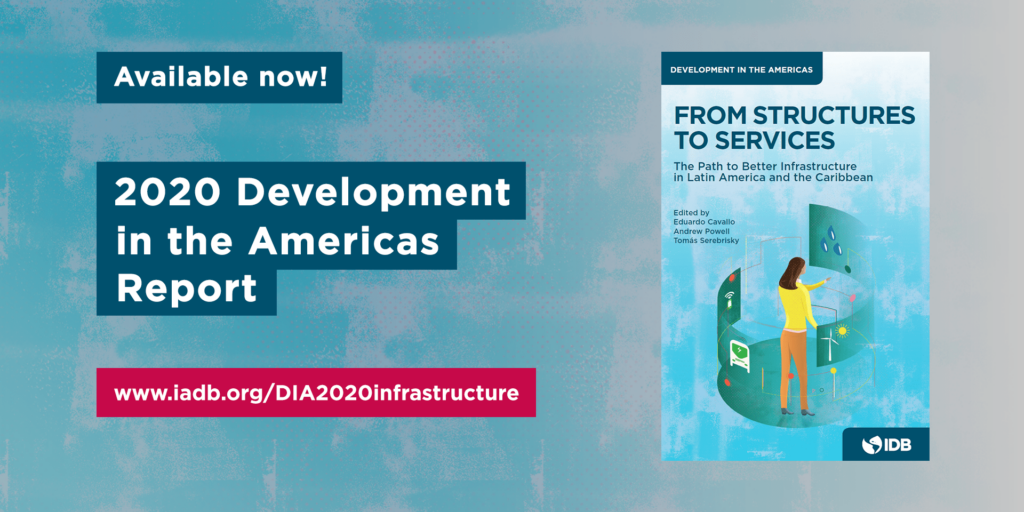 The hourly distribution of demand is crucial, especially in countries like Argentina, Chile, and Mexico, where 70% to 80% of the electricity in the grid comes from fossil-based sources, like diesel, natural gas, and coal. If electric vehicles are charged in the evening, when electricity demand is at its peak and when solar power is less available, this might actually lead to spikes in the emissions of carbon and other pollutants and a surge in costs. This, in turn, reduces incentives for the adoption of clean transportation.
Examining Electric Vehicle Charging in Texas
Texas similarly relies mostly on fossil fuels for electricity (although wind power has grown fast, accounting for 17% of total generation in 2017), providing a fascinating case study with important lessons for Latin America and the Caribbean. In a recent background paper for the 2020 DIA, I explored how the increased demand for charging household electric vehicles can be met most efficiently and the role of the existing power matrix.
Graph 1. Hourly Electricity Prices and Incremental Environmental Damages from Power Generation in Texas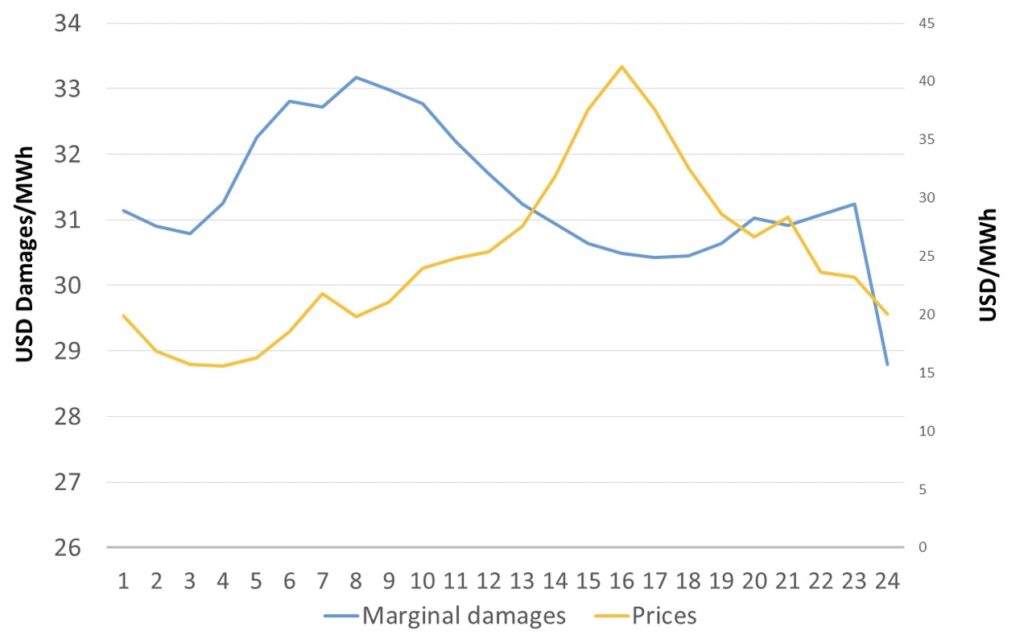 Source: Author's elaboration based on ERCOT data.
Using the detailed hourly level data on power generation and demand, carbon dioxide and air pollution emissions (SO2, NOx, and PM2.5) in Texas, I modeled the wholesale electricity market to assess how household electric vehicle charging should be distributed throughout the day to reduce power generation costs and minimize environmental damages. The ideal charging pattern is the direct opposite of current trends. While charging mostly occurs in the evening (6pm – 11pm), electric vehicles should be charged mostly during the first hours of the day (midnight to 4am). Nevertheless, even with the current inefficient charging patterns, household electric vehicles emit less carbon dioxide and nitrogen oxides than the average gasoline-powered passenger vehicle in Texas.
The Need for a Better Tariff Structure
These results suggest a need to rethink electricity tariffs and regulations given the rise of electric vehicles. A day-night electricity tariff reflecting social costs (generation costs and environmental damages) could incentivize users to charge their vehicles at the best time of the day. A detailed hourly electricity tariff that captures all nuances in costs and damages would deliver the largest benefits, as it could lead to widespread adoption of automated chargers that would help distribute the increasing electric vehicle load throughout the day.
Graph 2. Current and Efficient Electric Vehicle Charging in Texas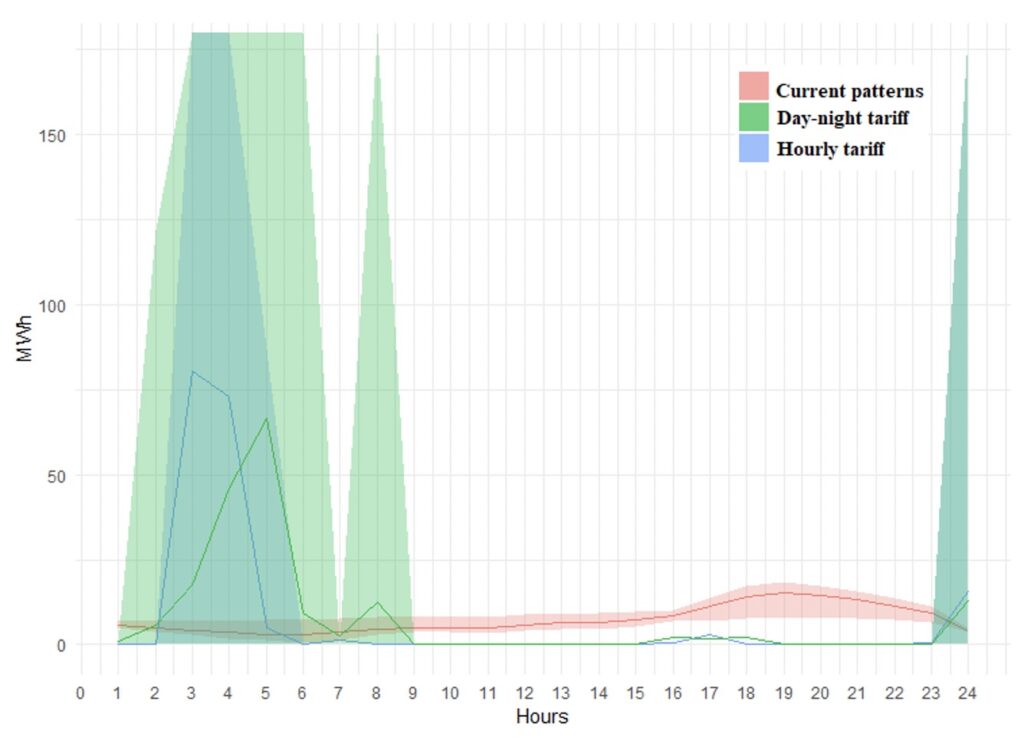 Source: Author's elaboration based on ERCOT data and simulations.
Notes: The bands depict a 95 percent confidence interval, while the solid lines represent averages.
Of course, electric grids in Latin America and the Caribbean are different than in Texas. The best solution for the region will depend on each country's power matrix and how it might change going forward. For power grids largely dependent on fossil fuels, such as in Mexico, Argentina, and Chile, the rationale for charging vehicles during the first hours of the day, when there is low demand and low prices, also applies. But determining the exact hourly tariff structure requires careful analysis.
In contrast, Brazil, Colombia, Costa Rica, Ecuador, Peru, Paraguay, and Uruguay, are fortunate to have hydropower for at least 50% of their generation needs. As a result, there are periods in those countries where all additional electricity demand can be supplied by hydropower, a very cheap and low-emissions source over the long haul, when well-designed and well-located.
Still, the same economic logic of charging during hours of low-cost generation (and avoiding a peak in demand) is relevant for hydropower-based grids. Designing an efficient charging tariff and schedule will require careful attention to the availability of hydropower to avoid using costly and polluting gas turbines during peak hours when demand may suddenly increase. To guard against spikes in prices and emissions, governments should anticipate the impacts of greater use of electric vehicles and ensure they have incentives in place to avoid peaks in demand. This requires careful analysis and the right regulations that consider the evolving power matrix.
Lessons for Latin America and the Caribbean
Electric vehicles have the potential to reduce emissions of carbon and other pollutants in Latin America and the Caribbean. Emissions-free transportation, particularly in cities, can help reduce mortality and morbidity related to several diseases, including Covid-19. Fostering their adoption requires investment in charging infrastructure and other initiatives, as discussed in the IDB's recent flagship publication.
While households across the region are only beginning to adopt electric vehicles, several initiatives, such as IDB's support for electromobility strategies and electric buses, aim at electrifying public transportation. Efficient charging can also boost the benefits of electric buses and taxis. However, due to their constant use, they would need to recharge more frequently, highlighting some of the challenges in designing efficient tariffs for them. Strategies and policies to boost the use of electric vehicles can also be part of the region's recovery efforts from the ongoing pandemic. This, along with the persistent threat of climate change, underscores the urgency of the situation. The time to act is now.