This blog post considers the theory and practice of monetary policy, particularly in the context of inflation targeting regimes such as the one recently adopted by the Bank of Jamaica (BOJ). We discuss factors affecting domestic prices, particularly in the context of persistently-low inflation when monetary authorities begin running out of scope for further conventional action—i.e., the zero bound for policy interest rates and the (dreaded!) 'liquidity trap'. Monetary theory tells us that when policy rates approach zero, policymakers' ability to continue influencing expectations and behavior can become analogous to 'pushing on a string'—i.e., ineffective. Similarly, when approaching the zero bound for policy interest rates, particularly in the context of structural issues affecting the transmission of policies to credit and demand conditions, risks to bank and investor balance sheets, asset valuations, and the broader economy must be monitored carefully to safeguard financial stability. In this context, we also highlight actions taken by Jamaica's central bank in pursuit of its recently-adopted inflation target, and issues to consider given the low inflation environment.
The case for low and stable inflation. Most people understand the dangers of high inflation. Rapidly rising prices constitute a tax on savings, a disincentive for investment, and a reason to dollarize local deposits or to keep assets offshore (e.g., capital flight). This is also generally a sign of poor fiscal and/or monetary policies, with adverse implications for many other economic and social outcomes. For this reason, policymakers across the world have focused on reforms aimed at reducing inflation and enhancing the prudence and predictability of policies, including via the adoption of inflation targeting regimes. In this context, Jamaica recently adopted such a regime, aimed at embedding policies and objectives in a more transparent and effective institutional setting—for a discussion of related issues, see Mooney et. al. in "Nurturing Institutions for a Resilient Caribbean" (2018).
What causes high inflation? Many factors can influence inflation, including both domestic and foreign factors, policies, and the structure of the economy. One crucially important determinant is the performance of an economy relative to its potential output. Theory tells us that, ceteris paribus, prices should remain reasonably stable until an economy surpasses a level of labor utilization known as 'full employment'—also known as the Non-Accelerating Inflation Rate of Unemployment (NAIRU). This NAIRU is influenced by a number of factors, including economic structure, endowments of both labor and capital, the level of development, etc. Whatever the NAIRU happens to be, when an economy begins to perform above its potential, labor shortages tend to force employers to offer higher wages for increasingly scarce labor, and these higher costs are ultimately passed on to consumers through higher prices—i.e., faster inflation. A second order implication of rising wages is that earners begin to spend and invest more, which also tends to bid up local prices for goods, services, and assets.
What about low inflation? Conversely, when an economy is operating below its potential—possibly in the context of a downturn or structural bottlenecks—, labor markets tend to remain underutilized, and wage growth can stagnate or—in extreme cases—begin to contract. If wages grow slowly, stagnate, or fall, the pace of consumption and investment will tend to be tepid or to decelerate, which could put downward pressure on prices for assets, goods, and services.
A healthy range. As above, both high and low inflation can reflect problems with performance and policy, and most central banks around the world that have adopted inflation targets tend to use a range for their inflation objectives, above or below which they oblige themselves to intervene. In the case of Jamaica, the target range is for inflation of between 4.0% and 6.0%, and the central bank has committed to take policy action if the rate rises above or falls below this range.
But how low can we go? For monetary authorities targeting inflation, most have opted for indirect policy instruments. In Jamaica, the central bank's main policy tool is the interest rate on overnight balances held in accounts at the BOJ by deposit-taking institutions (e.g., banks). The BOJ can also use other measures—e.g., reserve requirements or asset purchases—to influence domestic conditions, if warranted. In terms of implementation, the BOJ can increase the policy rate if projected inflation is set to rise above its target range. In principle, there is no upper bound for policy rate increases, though the marginal impact of policies would diminish as rates increase.[1] However, there is a lower limit for conventional interest rate policy—the zero bound. If a central bank reaches this floor for rate reductions, it might be forced to turn to less conventional instruments of policy, including reducing reserve requirements, balance sheet operations (e.g., purchasing risk assets in the market), or the use of negative policy rates. These unconventional alternatives can introduce risks and distortions—e.g., reducing reserve requirements below a certain level may introduce prudential risks, and asset purchases can be difficult to unwind without adverse consequences.
The (dreaded!) 'Liquidity Trap'. At the extreme, when policy rates are at or approaching zero, there is a risk of the economy entering into what is known as the (dreaded!) 'liquidity trap'. Theoretically, the real interest rate is equal to the nominal interest rate minus expected inflation. When real rates fall to zero or near zero, and inflation is positive, people still have an incentive to spend or invest—i.e., if inflation is 10% and the nominal interest rate is zero, then the real cost of funding is -10%, which means that conditions remain stimulative. But when real rates are at or near zero, and inflation is very low (or negative!), people may become increasingly indifferent between holding cash and making investments, as they would provide low returns. Similarly, rational people may begin to expect prices (e.g., for goods, services, and/or assets) to fall in the future, and could thus postpone some non-crucial consumption and investment decisions.[2] Under these or related circumstances, a central bank would have to consider alternative options for stimulating the economy in order to restore normal market expectations and behavior.
Jamaica: Low inflation and approaching the zero bound. On March 27, 2019, the BOJ announced the 9th reduction of the overnight rate (from 1.50% to 1.25%) since shifting to this new instrument of monetary policy in July 2017, at which time, the initial policy rate was set at 3.75%. The March 27 rate reduction came just one month after the previous decrease from 1.75% to 1.50%, which was accompanied by a reduction of the reserve requirement (for the first time since July 2010), also aimed at easing credit conditions. With policy rates lower than the rate of inflation, real short-term policy rates are negative (see Figure 1)—i.e., stimulative for credit conditions and demand.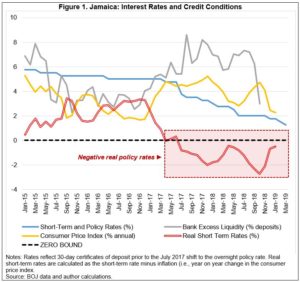 The importance of vigilance. With the remaining distance to the zero bound equal to about half of the cumulative rate reduction undertaken over the past two years (as at end-March 2019), the BOJ's scope for further rate reductions is dwindling, and banks may be reaching the limits of their ability to deploy additional balance sheet capacity in a timely and/or prudent manner. As noted above, further rate reductions may not have the full desired impact on domestic demand, including because banks—the main conduit of monetary policy—face structural hurdles that have slowed the transmission of policy to investor and consumer behavior. This stems in part from the pace and degree of stimulus, a possible lack of viable lending or investment opportunities, and the limits of banks' own capacity to adequately assess counterparty and project-related credit risks. In this context, Jamaican banks have historically focused on funding the government, and developing risk assessment tools and sufficient experience with a more market-oriented business model may require some time—for further details, see Figure 8 from Mooney, "Jamaica: Financial Development, Access, and Inclusion: Constraints and Options" (2018). Taken together, these developments and factors suggest that risks to policy effectiveness and financial sector stability must be monitored closely to ensure that Jamaica's sound and well-capitalized financial sector remains stable and vibrant.
Conclusions: If implemented prudently and consistently, inflation targeting can form the cornerstone of sound, transparent, and effective policies, while setting the stage for long-term macroeconomic stability. However, the implementation of monetary policy via indirect instruments—particularly market interest rates—can be complex, particularly when countries face structural challenges to the transmission of policies to credit conditions and demand. Limits of conventional policy tools—particularly the zero bound for policy interest rates—can present policymakers with difficult choices between possibly failing to meet policy objectives (at least in the near term), or resorting to practices that may amplify risks to financial stability. In Jamaica's case, the new inflation targeting framework has been very successful in helping to reduce inflation to unprecedented lows, but ensuring that the economy remains vibrant has required the BOJ to actively respond to emerging conditions. As policy rates now approach the zero bound, authorities should remain vigilant with respect to potential risks to bank balance sheets, asset valuations, and broader financial sector stability.
[1] For example, while the impact on credit conditions and behavior of an increase in policy rates from 5% to 15% could be significant, it is not clear that an equivalent increase from 55% to 65% would be as impactful.
[2] Note that the policy rate and the market interest rate are not equal, as the policy rate is a very short-term instrument available only to qualifying institutions, that then influences other rates.