Closing the gender gap represents an untapped potential for growth, as well as creating opportunities for women in the region to achieve their full potential in their personal and professional lives. In a recently published book by the Inter-American Development Bank (IDB) that gathers evidence for countries in the Southern Cone – Argentina, Brazil, Chile, Paraguay, and Uruguay – it is estimated that eliminating occupational barriers in the region would result in GDP gains ranging from 4% to over 15% depending on the country. The book presents three key ingredients that interventions toward gender equality should have.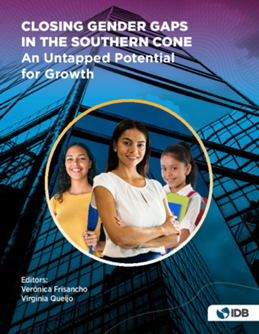 1.Empowering the development of female role models
Investments in female human capital have a multiplier effect on the advancement of gender equality: supporting girls to become the best students has a positive effect on them and their future classmates. A study in Chile shows that having same-sex classmates with higher performance has positive effects on graduation and future income. Additionally, social structures that promote interactions between women of high and low performance could increase gender equity.
An effort made through BID LAB is WeXchange, a platform that connects Latin American and Caribbean STEM entrepreneurs with mentors and investors so that women in those fields can enhance their growth.
2. Promoting gender-sensitive urban policies
Women make more daily trips than men, travel more during peak hours, walk or use public transport more, and dedicate a significant portion of their trips to caregiving responsibilities, especially in the lowest quintile of income. These results highlight the importance of gender-sensitive urban and transport policies to encourage women's participation in the labor market and their economic autonomy.
A good example of these practices is the use of tools such as gender walks in the design of urban policies to identify specific needs and expectations, thinking about generating income and entrepreneurship spaces for women.
3. Supporting the professional development of women in technology careers
There is growing evidence showing the existence of patterns and biases in behavior and social norms that affect women's career paths. Women in the region participate less in technology careers, which are generally better paid and have greater growth potential. Additionally, according to an IDB study, women in technology and engineering may be subject to a higher degree of discrimination in the labor market than women in other fields.
A shared commitment
These results lead us to prioritize the fundamental role of policymakers, the private sector, and the media in closing gender gaps. In particular, media information treatment can help both eradicate and preserve gender stereotypes that already exist in society.
Regarding the private sector, more and more companies recognize the opportunities that arise in a more equal workplace. The Gender Parity Taskforces (IPG), a model of public-private collaboration, precisely seeks the equal integration of women in the workplace. Likewise, many companies have chosen to obtain a business certification as a way of formalizing their practices towards gender equity, either through global certifications such as EDGE or national certification levels.
Finally, governments in the region are committed to achieving these goals, and public policies are being implemented in this direction. For example, in Chile, the new government is promoting a gender-balanced cabinet.