Women in Science, Technology, Engineering and Mathematics
Women remain underrepresented in Science, Technology, Engineering and Mathematics (STEM) despite extensive efforts across Latin America and the Caribbean (LAC) to increase their participation in these fields. IDB research finds that women are significantly underrepresented among engineering, IT, industry, and construction graduates in every Latin American country. The largest gaps are in El Salvador and Chile, where women make up only 17% of graduates in these fields.
A gender gap that affects the whole region
Women who do go into STEM fields work in male dominated environments and face frequent discrimination, including limitations in career progression and access to research grants. In Uruguay, IDB research finds that gender discrimination made male researchers get US$1 million in research grants that should have been given to female scholars. Another study finds that eliminating gender inequality in promotion practices and collaboration would increase the aggregate productivity of Mexican university women by 7% and of women in research centers by 9%.
The achievement of the IDB's Vision 2025 of economic and social recovery in the LAC region, requires the full participation of women and girls in STEM. As in other parts of the world, LAC has a persistent shortage of STEM professionals, limiting technological and scientific progress, as well as economic and social development.
What do students think about women in STEM?
An IDB research study, in collaboration with the Colombian Institute of Family Wellbeing (ICBF) and the non-governmental organization Innovations for Poverty Action (IPA), analyzed youth STEM perceptions and intensions based on data from a recent youth survey undertaken together with ministries of education in Belize, Colombia, and Costa Rica. Close to 5,000 high schoolers between 14 and 21 years of age were asked about studies and life during the pandemic, as well as aspirations about the future and life plans. In terms of the region's gender STEM gaps, the data points to three important challenges.
1.Female highschoolers enjoy STEM but are math-anxious
Most high school girls (62%) enjoy STEM subjects. Although the level of enjoyment is ten percentage points lower than among their male peers, we choose to see the glass as half full. That so many girls and young women associate STEM with joy is promising as this is a fundamental basis for efforts to encourage future studies and work in STEM fields.
Figure 1. Enjoyment of STEM subjects in High School by Gender (%)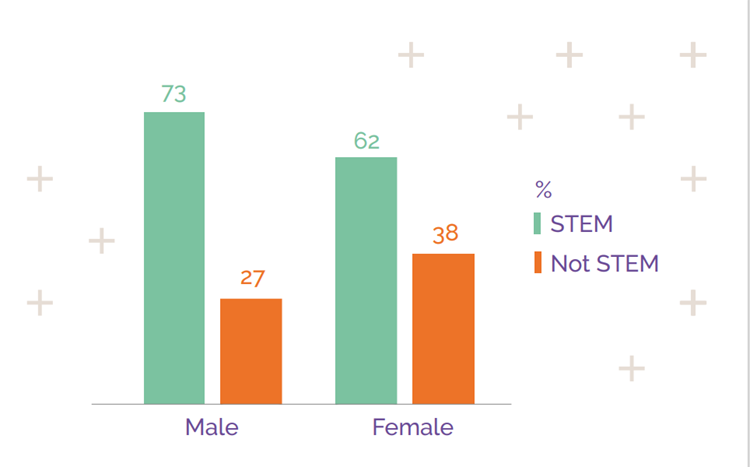 However, despite enjoying STEM subjects, the proportion of students with high levels of mathematics anxiety is 10 percentage points higher among young women compared to young men. As mathematics anxiety has been found to influence interest, performance, persistence, and motivation, it could potentially limit highschoolers' interest in pursuing STEM careers.
Figure 2. Levels of mathematics anxiety by Gender (%)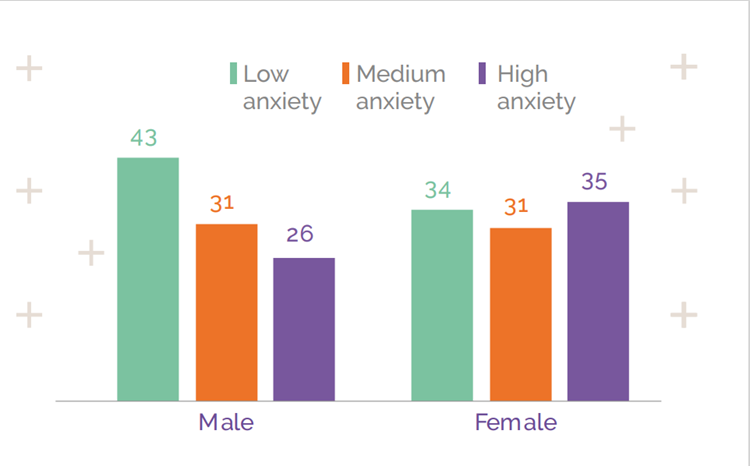 2.Youth think that STEM, particularly in 'hard sciences,' are for men
Earlier research has found evidence that stereotypes about girls and women not belonging in STEM develop already in early childhood. The study detected gender and racial stereotypes about STEM among male and female preschoolers. The new youth survey shows that by the time students reach adolescence these stereotypes have consolidated.
While 58% of young men in our survey of highschoolers wish to pursue a STEM career, only 30% of their female peers state that they are interested in going into a STEM field in college.
Figure 3. Youth Planned Career Path by Gender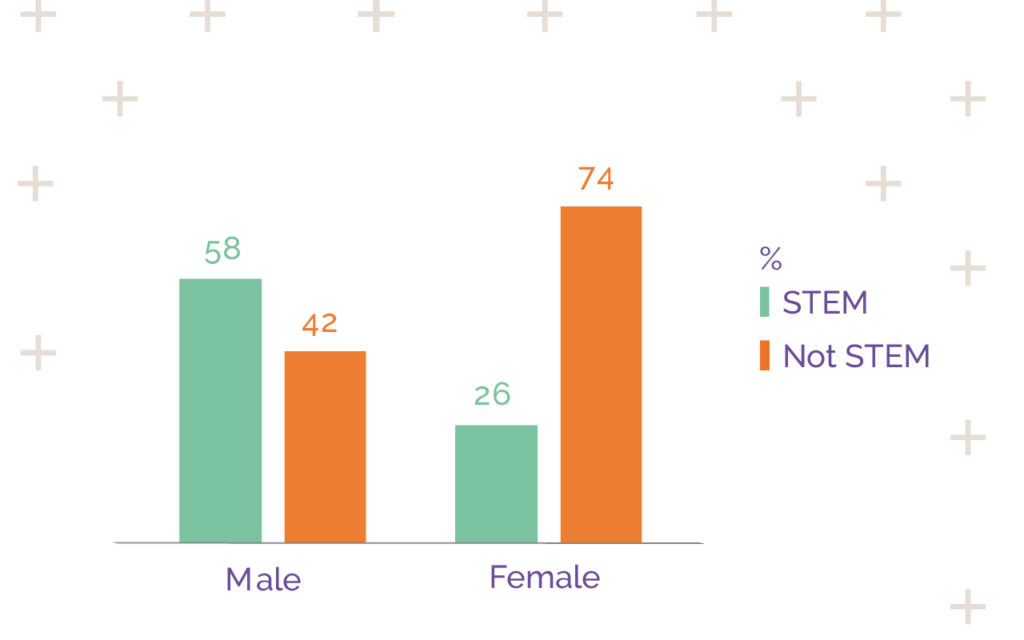 When looking at the data more closely, we find evidence that stereotypes about women not belonging in STEM refer mainly to fields that are perceived as 'hard sciences,' including exact sciences, IT, industry, mechanics, and technology. Both male and female youth find it more acceptable for women to pursuer careers in 'soft sciences' such as biology and medicine. While 11% of male respondents and 8% of female respondents think that it is appropriate for women to work in these 'soft STEM' fields, only 3 to 4% of youth think that it is appropriate for women to work in 'hard sciences. In contrast, 50 to 60% believe that men belong in these fields.
Figure 4. STEM Fields that are appropriate for Men and Women by Gender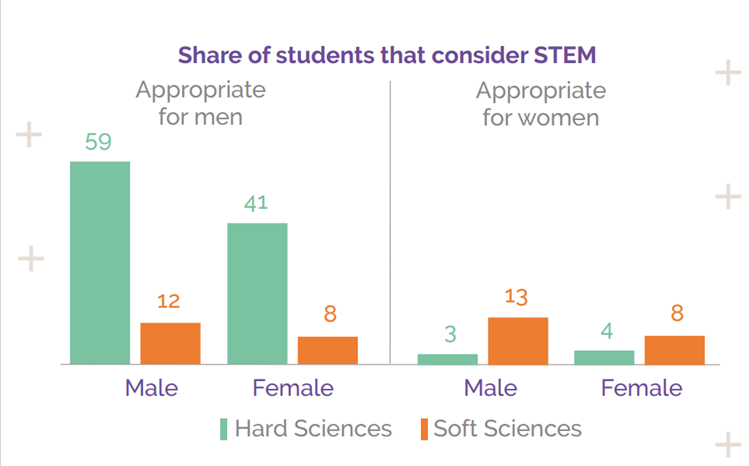 Likely, women's high expectations of discrimination in STEM careers (81%), contribute to these low levels of sense of belonging in STEM.
Figure 5. Expectations to suffer discrimination in STEM fields by Gender (%)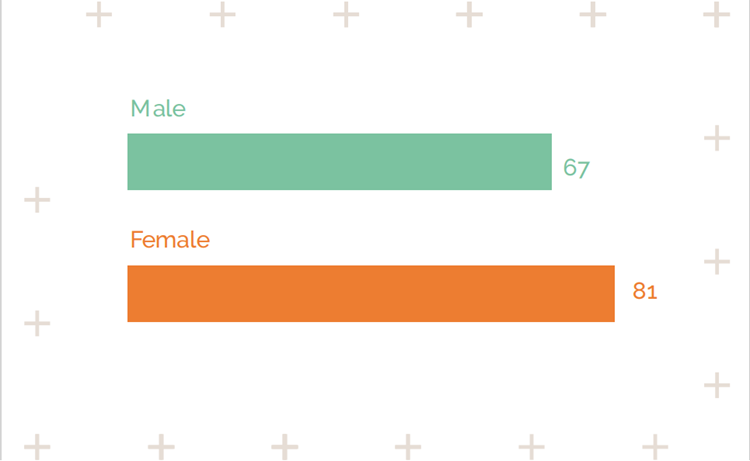 3.There is a vast gender gap in perceptions of the return to STEM careers
Internationally, a typical STEM job pays two-thirds more than a non-STEM-job. In particular, the 'hard science' careers in which female highschoolers have an exceptionally low sense of belonging are some of the fastest growing and highest paying careers of the future.
While half of the male highschoolers in our survey are aware of these higher returns in STEM-fields compared with other career paths, only 36% of female respondents have this knowledge. In fact, an overwhelming majority of female respondents (64%) believe that the financial returns are higher in non-STEM fields. This could reflect in part an awareness among female highschoolers of the gender STEM pay gap. In the United States, the median income of women in STEM has been found to be 74% of the median income of men in STEM. Although similar gender STEM pay-gaps have been found in LAC, women in STEM still make more than their peers in non-STEM fields. Thus, more women in the STEM workforce will help reduce the gender pay-gap and improve women's economic security.
Figure 6. Youth Perceptions about career paths with highest financial returns (%)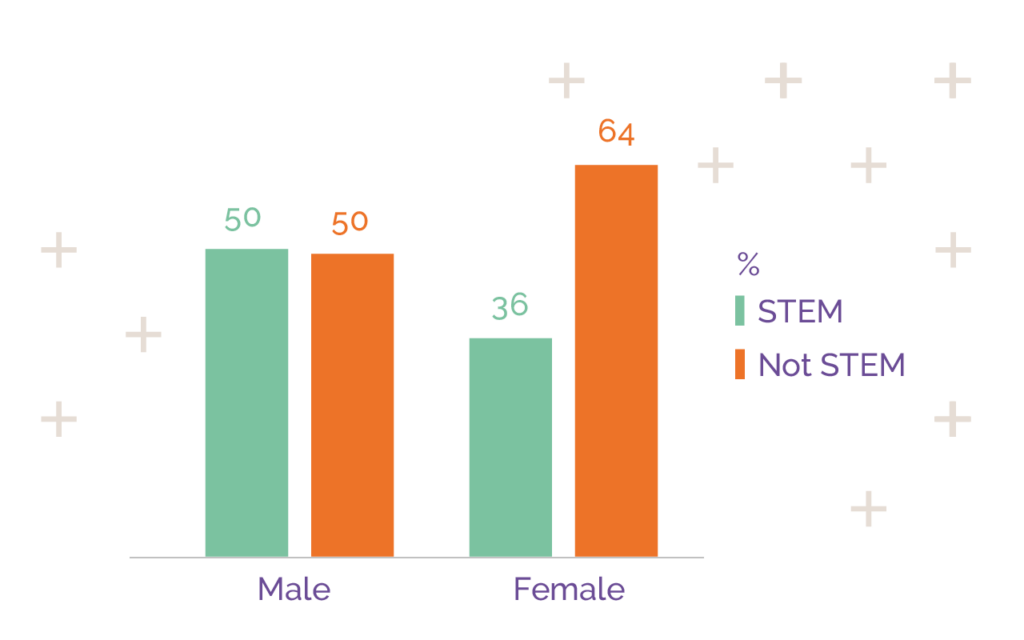 A clear need for change
The above survey data provides a glimpse into the minds of highschoolers, their sense of belonging in STEM and perceptions about STEM careers. Taken together, the message is clear. As parents, educators, policy makers and employers we need to renew our efforts to promote girls and women in STEM. A wide spectrum of policy responses is needed, including actions as diverse as:
combatting gender stereotypes in media
providing girls support in STEM education from an early age
working through role models and mentors to give girls and young women confidence that they can succeed in STEM
establishing policies to eliminate discrimination in career progression
adapting measures to foster work-life balance in the labor market.
With a changing labor market and growing STEM field job opportunities, supporting a transformation of perceptions on women in these fields is more important than ever.
Stay tuned for the publication of the full study of LAC youth in STEM What do you think LAC education systems do to close the gender STEM gaps? What possibilities can you imagine for your school or education system?
---