The COVID-19 pandemic has highlighted some important issues for Suriname's private sector, such as the lack of digitalization, financial inclusion, and infrastructure. Suriname's private sector was already challenged by an unfavorable business climate before COVID-19. There was hope that 2020 would bring some positive changes. Indeed, 2020 brought change, but not the change that was expected: the COVID-19 pandemic exacerbated what was an already precarious socioeconomic situation.
To curb the spread of COVID-19 infections Suriname closed it borders on March 13, 2020. This had a direct impact on tourism. Strict social distancing measures at the onset of the pandemic also constrained the operations of non-essential businesses.
In our latest publication, we analyzed the results of online surveys on the impact of the ongoing pandemic on Suriname's businesses. These are the key findings: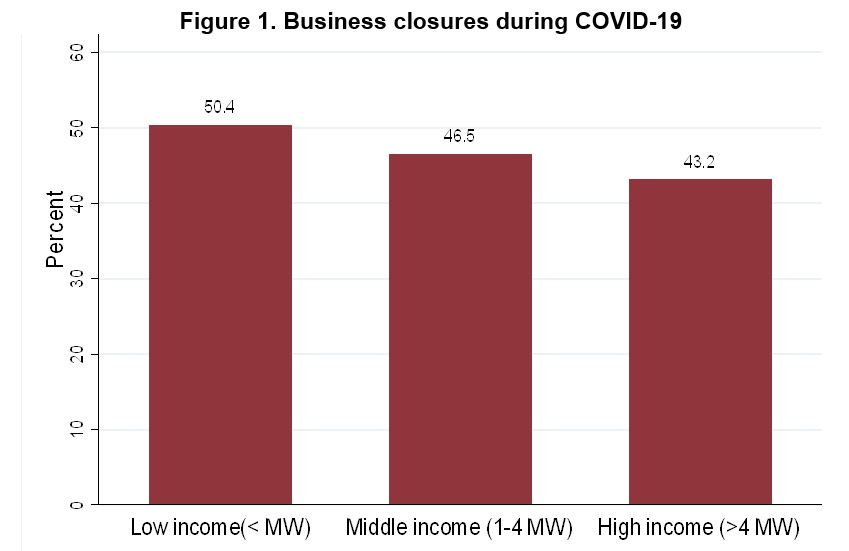 Globally, businesses are adapting to the "new normal" of doing business (working remotely whenever possible and ensuring social distancing at the workplace), making adequate infrastructure and digital services extremely important for business continuity, resiliency, and success. To facilitate adaptation to the new normal, there are some important areas that Suriname should continue to advance on:
I. Develop Internet connectivity for all: Getting more people online and making progress towards universal internet access can go a long way to help businesses and individuals in Suriname thrive in a post-pandemic world. However, according to the World Bank estimations in 2017, only 49 percent of Suriname's population used the internet, much lower than the average for Latin America and the Caribbean of 63 percent. Internet access and digital technologies became essential for many day to day activities and transactions. These trends are expected to persist post-pandemic.
II. Digitalization of public services: The pandemic has accelerated many digital transformation processes of public services that were predicted to be more gradual. This trend is likely to yield important benefits in terms of increased savings, greater efficiency and transparency, and a more agile public sector in delivering services. This is particularly important for Suriname as a high percentage of Suriname firms interact with the government: in 2018, 86 percent of firms reported transactions with the government. However, in the past 5 years, Suriname's ranking in the United Nations e-Government Development Index (EGDI) declined from 110 in 2016 to 122 in 2020 (out of 193 countries). The country's Online Service Index,which measures a government's capability and willingness to provide services and communicate with its citizens electronically was 0.29 and well below regional average of 0.59 for Latin America and the Caribbean. In that context, it is important for the country to invest in an integrated digital strategy including solutions to reduce digital and connectivity disparities between urban and rural areas.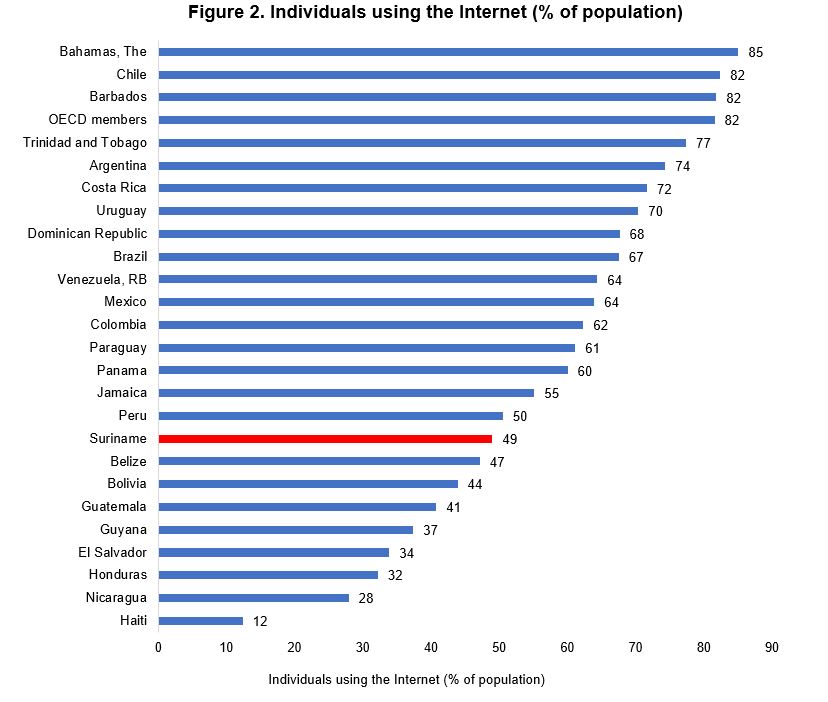 III. Financial inclusion: The COVID-19 pandemic emphasized the importance of financial inclusion and financial technology services for small businesses and vulnerable sections of society. A recent IDB publication showed that there is ample room to improve access to financial services, especially for vulnerable groups (small and micro enterprises, those in the informal sector, and poor and rural communities). For example, the country had the lowest percentage of respondents in Caribbean countries reporting access to bank accounts and debit cards during the COVID-19 pandemic: only  52.2 percent of respondents indicated having access to a bank account (compared to the regional average of 73 percent of respondents) and an even lower share had access to a debit card at 29 percent of respondents (compared to an average of 70 percent of respondents for the Caribbean countries belonging to the IDB).
IV. Continue to improve infrastructure: Improving access and reducing inequalities in access to basic services and infrastructure can help to support an inclusive socioeconomic recovery. Although Suriname's infrastructure has improved over the years, basic infrastructure such as water and sanitation, access to and reliability of electricity, which serves as the platform to support digital connectivity, needs improvement. For instance, according to the 2018 World Bank Enterprise Survey, approximately one-third of Surinamese firms interviewed reported electricity to be a major or very severe obstacle to their operations.
For more information on opportunities to enhance private sector growth in Suriname please see Suriname in Times of COVID-19: Navigating the Labyrinth