Jamaica's successful and sustained reform efforts over the past decade have laid the foundation for more rapid financial development, but findings suggest that access to finance remains a major obstacle to investment, innovation, and development for firms across the region—particularly smaller enterprises and those led by women.
A new joint publication from the IDB's Caribbean Department, IDB Invest, and The Compete Caribbean Partnership leverages new data to consider how financial systems across the region have evolved and other issues related to access to finance and financial inclusion. The report finds that despite progress in recent years, Jamaica's financial sector must continue to develop to ensure that businesses and individuals are able to secure sufficient resources to support entrepreneurs and companies seeking investment and working capital. Survey data suggests that a large proportion of firms in Jamaica face severe challenges in terms of obtaining credit, and that these challenges became more acute because of the COVID-19 crisis. Importantly, the analysis suggests that smaller firms, and those owned and operated by women, face even higher hurdles in securing finance. This points to important barriers to inclusion that must still be addressed. Examples of potential reforms and successful interventions from across the Latin-American and Caribbean region are also discussed.
Notable strides and reforms, but financial adequacy remains a concern…
Bank Lending: Jamaica has long suffered from macroeconomic volatility and rising public debt burdens. High debt levels forced the government to rely on local bank financing to meet a large proportion of its funding needs. This crowded out private investment, as banks and other lenders allocated much of their lending capacity to the public sector. By 2003, government borrowing peaked at about 30% of all domestic bank lending—far more than was allocated to any other sector (Figure 1a). On average, between 2001 and 2005, the government absorbed more than 70% of total private credit (including from non-bank financial entities). Jamaica has made tremendous progress in recent years with policy reform, and by 2021 the government's share of bank lending fell to about 1%, with almost half of total bank credit now taking the form of loans to individuals and households (Figure 1b). Tourism and other services, as well as manufacturing sectors, have also made important gains with respect to access to bank credit.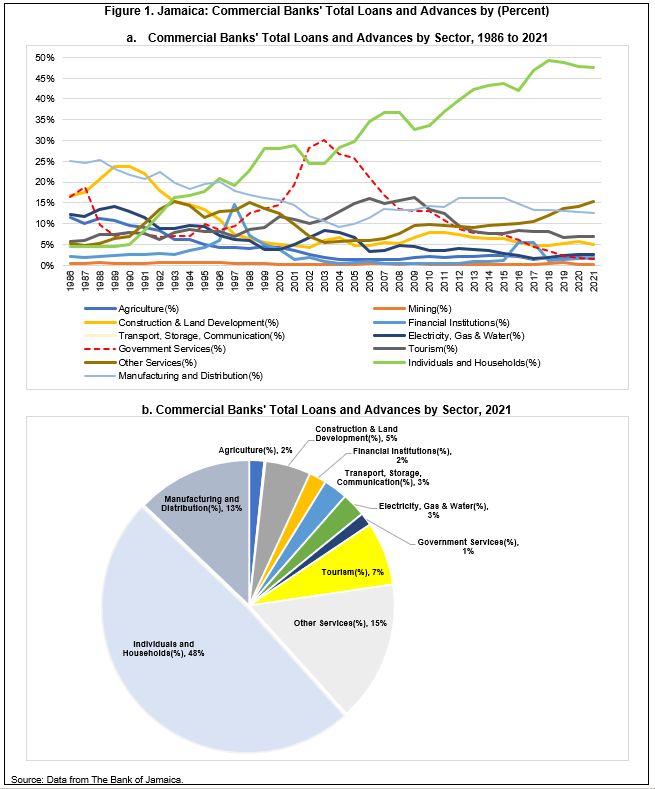 Private Sector Credit: Jamaica's successful reform of economic policies and institutions has led to nearly a decade of falling debt levels, lower government financing requirements, and more stable and predictable exchange and interest rates. This has set the stage for historically rapid private sector financial deepening, with the ratio of private credit to GDP—the most common measure of financial depth—increasing from about 26% in 2010 to over 56% by 2020 (Figure 2). This was the most rapid pace of credit deepening over the past decade of any of the six Caribbean economies analyzed.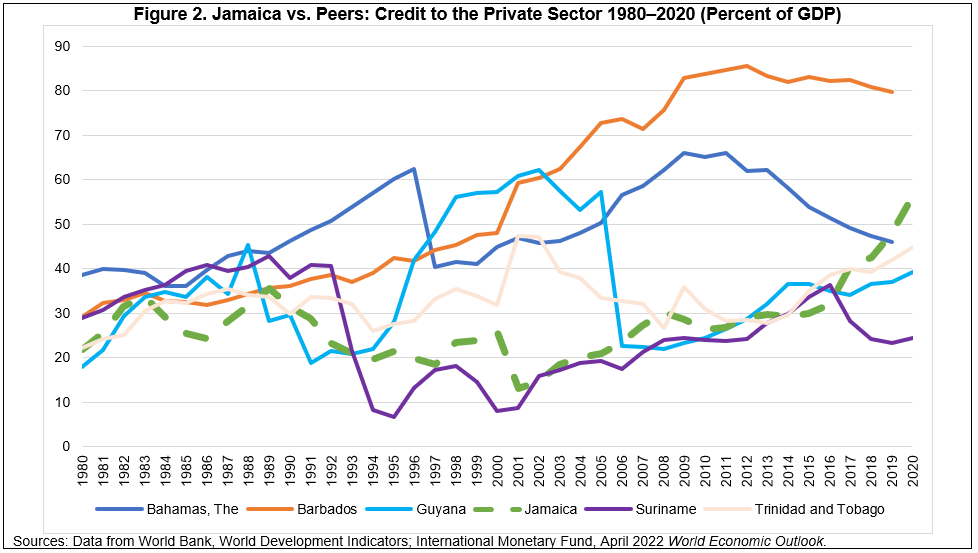 Equity markets developing, but transactions remain limited…
As economies become more developed, financial systems deepen, giving rise to other forms of finance. Jamaica's stock market has developed rapidly over the past decade, as measured by stock market capitalization. In fact, Jamaica's market cap increased from 35% to 85% of GDP between 2010 and 2020—the fastest growth of the six countries studied. This level of capitalization puts Jamaica on par with regional and middle-income peers from around the world (Figure 3a). However, market turnover remains quite limited (Figure 3b), particularly compared to peers, pointing to considerable room for improvement in terms of firms' ability to secure and access market funding locally.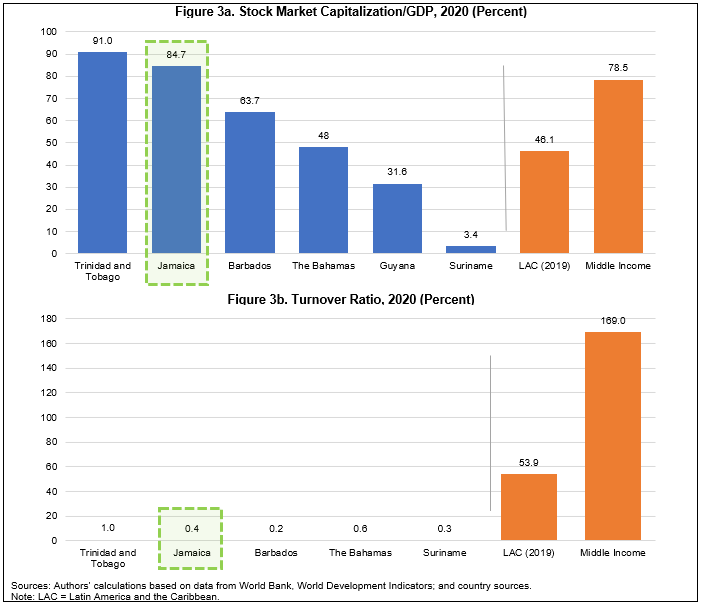 Challenging conditions worsened by COVID-19 crisis…
Enterprise surveys suggest that the COVID-19 shock severely affected firms. Jamaican firms surveyed towards the end of 2020 indicated that constraints to finance, such as collateral requirements, have become much more acute (Figure 4).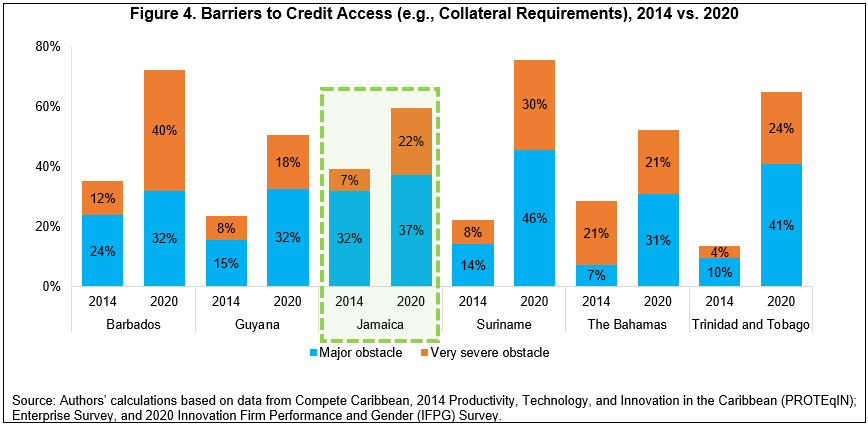 Smaller firms face more severe challenges…
Findings also suggest that smaller firms in Jamaica experienced greater challenges accessing credit than larger firms. As depicted in Figure 5, more small firms reported challenges from the cost of finance, collateral requirements, and unfavorable loan approval expectations than large firms.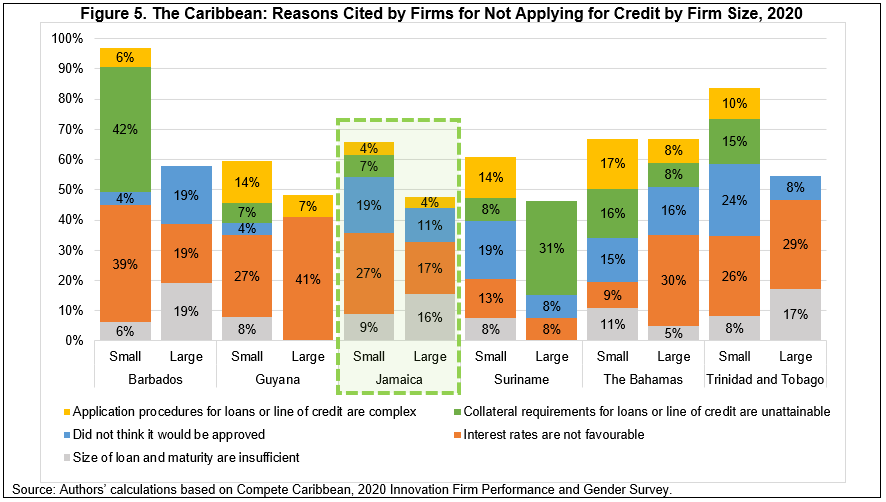 Firms owned and/or led by women also at significant disadvantage…
Globally, women are disproportionately faced with gender-specific challenges that have limited their ability to realize their full economic potential. Jamaica is no exception. Our survey-based evidence from across the Caribbean suggests that women-owned and women-led firms (WOFs) face more acute constraints to financial access than other enterprises (Figure 6). For example, firms led by women in Jamaica report the largest disparity relative to others in terms of barriers to access from the high cost of credit.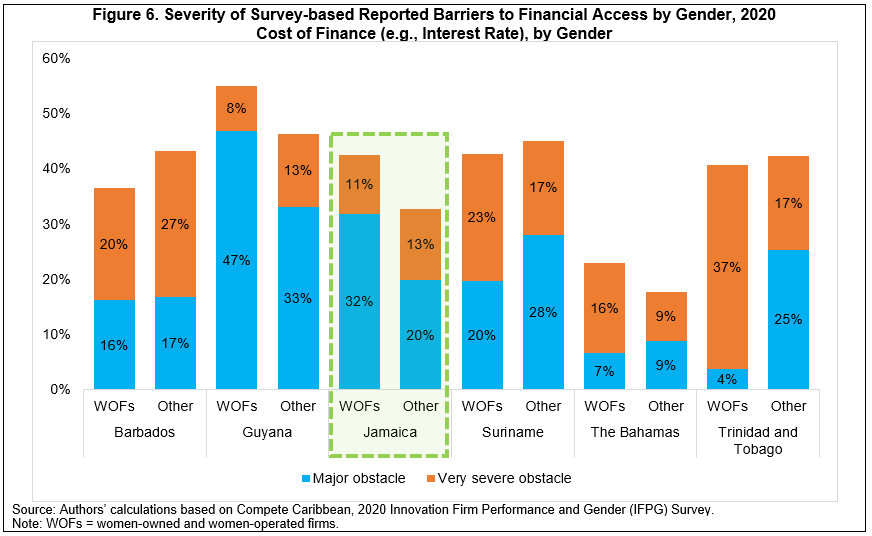 Looking to the future…
Looking forward, both public and private sectors should focus on mitigating related challenges, including by ensuring that economic policies are consistent with economic stability, that regulations encourage investment and the entry of new sources of capital, and that external resources can be catalyzed to help meet local businesses' funding needs. These and related measures and objectives can benefit from both financial products and advisory services aimed at improving the investment climate, catalyzing both domestic and external financing and creating an enabling environment for firms and entrepreneurs with sound and promising business models that have historically struggled to secure sufficient resources.