The digital grocery ecosystem represents the future of retail, and a successful digital transformation presents significant opportunities for all businesses, especially SMEs. It's an opportunity to broaden markets, offer customers better experiences, ensure continuity, accelerate growth, and become more resilient. In this blog series we have been exploring the digital grocery ecosystem in the Caribbean, and in this post we examine the digital maturity journey of an SME in Trinidad and Tobago.
IDB's Country Strategy with Trinidad and Tobago (2021-2025) focuses on digital transformation and opportunities to accelerate recovery in the region after the COVID-19 pandemic. Some of these opportunities include providing support to SMEs to maximize the contribution of the private sector to the region. SMEs are the backbone of the economy, generating 61 percent of employment in the region, and are the most innovative part of any industry. These firms have smaller internal capacities than larger businesses, and tend to leverage external systems, support and advice when adopting digital technologies. Early evidence from business surveys worldwide indicates that up to 70% of SMEs have intensified their use of digital technologies due to the pandemic. However, the digital maturity for most is still limited.
The model below shows the five stages of a business's digital maturity: Present, Active, Engaged, Competitive and Mature. Businesses that are Digitally Competitive or Digitally Mature have a competitive advantage according to multiple performance indicators, while those with lower levels of digital maturity struggle to achieve any benefits. In the local environment, many grocers, especially SMEs, are Digitally Present with a social media page or website. COVID-19 lockdowns and restrictions forced many to become more involved in using digital platforms, so a great number of smaller vendors are at a stage of Digitally Active or Digitally Engaged.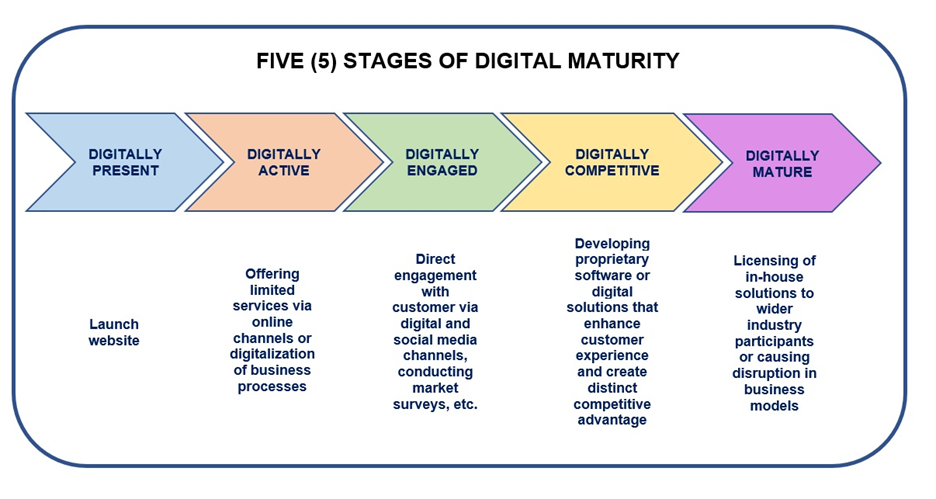 Instagram, Facebook and WhatsApp are among the social media giants that afford smaller vendors a free space to provide the consumer with a virtual grocery gallery and also offer integrated e-commerce solutions and external order processing as well. This sector is described as an omnichannel space and can include an online or Messenger App order placement, online or in-store payment option, and/or delivery to a specified location or pick-up at the store.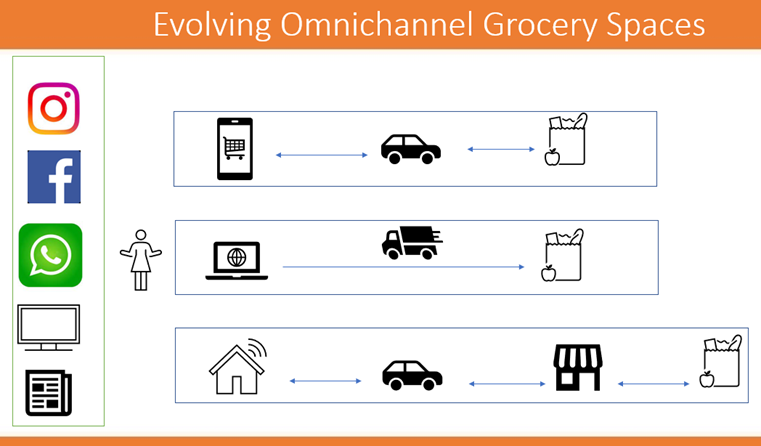 Relying on simple digital tools like social media has helped some of the region's SMEs survive in these uncertain times. Krystianne Wong, owner of Terre Bénie store, has explored it all. Terre Bénie is a producer and supplier of specialty jams, preserves, chutneys and sauces. Omnichannel spaces like WhatsApp Business have enabled her to showcase her catalogue of products while Instagram posts linked to Facebook have helped her expand her clientele and market her brand better by highlighting activities, specials, and new products.

As a small-business owner, COVID-19 was her biggest challenge to date. The rapid lockdown that occurred in March 2020 in Trinidad and Tobago left little room for vendors like Terre Bénie to prepare for a sudden loss of income. No revenue for months had a tremendous negative impact on the business, and she had to react quickly to avoid permanent closure. Krystianne expanded her product line and, through an omnichannel space, offered customers a selection of bakery items that she prepared at home and delivered to gain the income she needed to survive. Online banking and transfers made through the WiPay e-commerce platform gave her the ability to facilitate transactions and put cash in her bank account.
Like Sabrina, who we featured in Case 2, Terre Bénie still faces challenges as she strives to remain a viable business as a small vendor. The high costs to have products tested for export and her limited capacity to produce have been serious obstacles in her business growth. While these challenges have made her less inclined to transform her business to a full-scale digital platform, the omnichannel space and the use of a portable, payment machine (for transactions at the Farmers Market or pop-up markets) have enabled her business to remain viable. As a small-batch producer, she is able to offer a variety of high-quality, seasonal items to her customers. Her eventual plan is to go beyond grocery and open Terre Bénie Bistro, which will offer local products and a food menu based around all the seasonings, jams and jellies that she creates.

So, what's next?
Support to SMEs can strengthen the digital grocery economy through increased investments, especially in connectivity and infrastructure; investment in human capital; and incentives for new innovative companies. IDB Group can strengthen SMEs by using its financial instruments as incentives for the financial system to channel resources toward attractive projects and to encourage entrepreneurship and innovation.
Without increased support, the extent of digital maturity for the smaller vendor will not go further than Digitally Engaged and omnichannel spaces will continue to be the most common platform for digital engagement. The IDB will continue to collaborate with business associations, government agencies and SMEs to build capacity and facilitate digital transformation initiatives so that vendors like Terre Bénie can advance along the digital maturity continuum.