This series aims to explore how the digital grocery ecosystem will shape the future of retail in Trinidad & Tobago. In our previous case Accessing the Digital Shelf – The Small Vendor Reality, we explored the reality of most small businesses; that there are many obstacles preventing them from progressing or growing in a digital landscape. This gap is one of the reasons why the Inter-American Development Bank's (IDB) Country Strategy with Trinidad & Tobago (2021-2025) aim to advance digital transformation, support SMEs, and stimulate sustainable and inclusive growth.
In contrast, this blog focuses on one small and medium enterprise (SME) that has successfully existed as a small grocer in a digital world; far before it was commonplace. For them, digital transformation wasn't necessarily an option, it was the mechanism through which their business could exist, survive, and later, thrive. This is the case of D' Market Movers Ltd.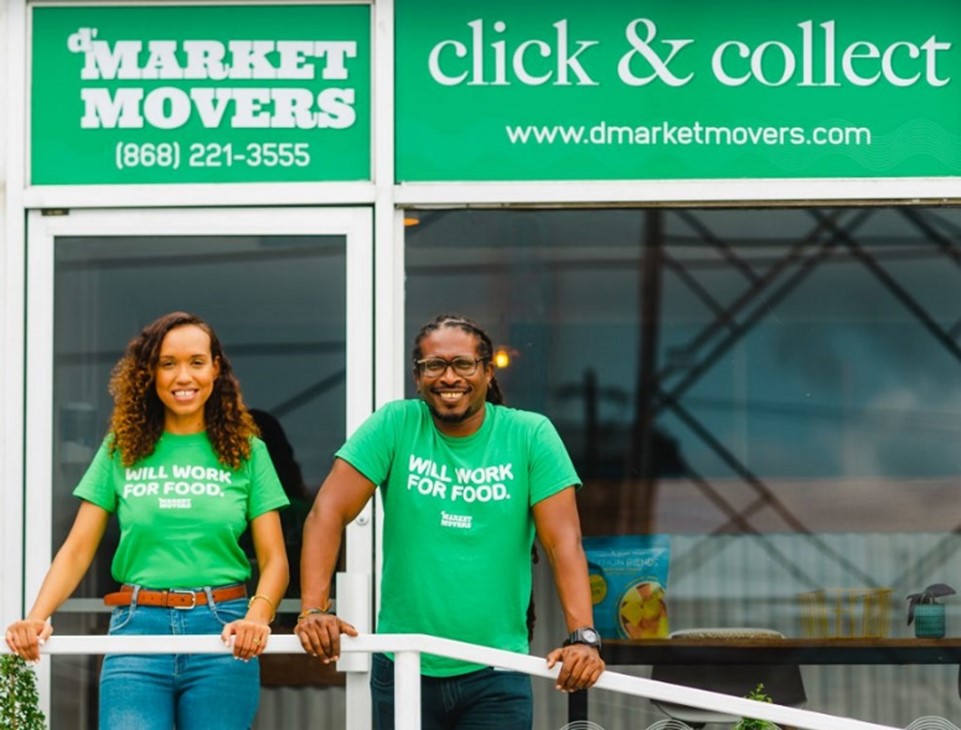 Established by Rachel Renie and David Thomas in 2009, D' Market Movers Ltd. is an online greengrocery (www.dmarketmovers.com) specializing in the delivery of fresh produce (mainly local), groceries, meats, dairy, and other items to customers throughout Trinidad and Tobago. Their product line also includes Market Movers' very own brand, Farm and Function, which offers a wide variety of frozen tropical fruit like mango, papaya, and guava to name a few, in resealable pouches.
At first, their catalogue was small (under 50 items), but over time, it has expanded to include about 300-400 products by using big data technology to increase their range of offerings. The use of data analytics helped them determine the most searched items by consumers visiting their site, the fastest selling items, and what the demand was for goods they did not offer at the time. Without a doubt, customer insight and market research through data analytics was the driver of their business growth.

In order to maintain a high-quality standard, the products offered by Market Movers are as fresh as possible, so delivery cycles have been developed to harvest about twice a week. Buffer stock levels are maintained based on average weekly order amounts and when stock dips below a certain level, system checks send automatic notifications to re-order.
The use of technology and automation has allowed for efficient processing of orders and improved order fulfillment. Due to each order's unique nature, they are individually picked, packed, and processed manually. Market Movers store operations show that both automated and manual involvement is required for order processing in their digital grocery.
For a seamless payment process, Market Movers has configured their digital store operations to offer customers multiple payment options. When an order is placed on their website, the customer can opt for credit card payment; choose to pay cash on delivery/pick-up, or make payment via an online bank transfer. The customer receives notifications every step of the way – when an order is confirmed, when it is dispatched and in route, and when it's delivered.
Market Movers gives the customer the option to have orders delivered directly or be collected at their Click & Collect Green Grocery which was specifically opened to provide more flexibility and greater convenience to shoppers.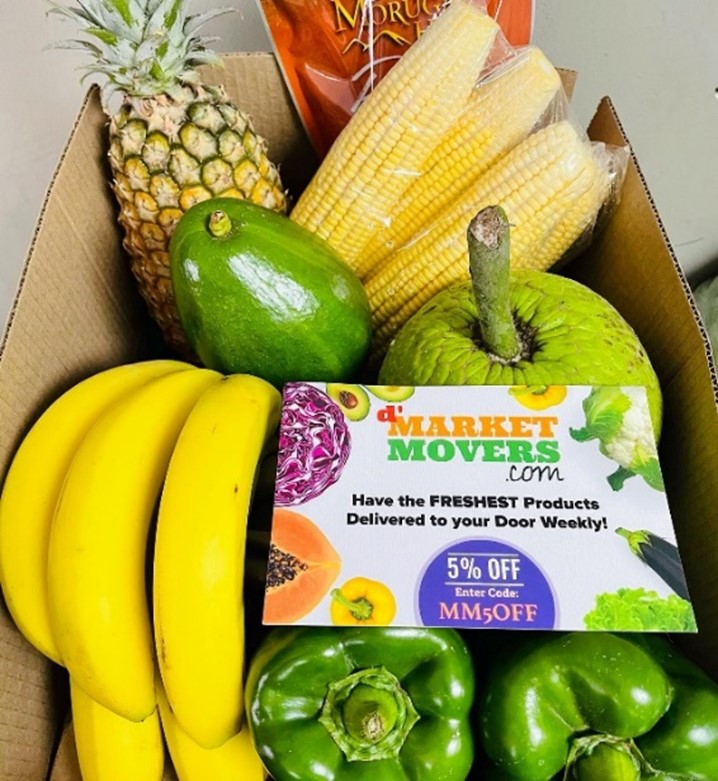 A Digital Economy Opportunity for D' Market Movers Ltd.
In many ways, Market Movers was born at the perfect junction of preparation meeting opportunity. The COVID-19 pandemic has been devastating to most small businesses, many unable to survive, but it has also been an expansion opportunity for some, allowing them to adapt and integrate into a digital economy unencumbered by the effects of lockdowns and restrictions. For an SME such as Market Movers, though physical supermarkets and grocers were still permitted to be open, the public health crisis caused an exponential increase in customers overnight. Luckily, they had the infrastructure set up to handle this.
When asked about the greatest challenges faced as an SME, Market Movers conveys, as others have in this series, that they would like increased support for businesses operating in the digital economy, especially small ones. As the nation pushes towards a digital future, there is an opportunity to address legislation to facilitate accommodations or inclusion for online businesses and to better enable e-commerce. This will help SMEs become more viable and sustainable in this new digital marketplace.
As part of the IDB's work across Latin America and the Caribbean, it is exploring synergies between the public and private sectors; seeking to build more innovative and robust entrepreneurial ecosystems, and supporting SMEs like Market Movers. Last year, IDB Lab collaborated with Term Finance SME TT Limited (SME TT), to support their innovative digital lending model which provides loans to excluded micro, small, and medium enterprises in Trinidad and Tobago. This financing will enable SMEs to more easily and rapidly access the credit they need to expand their operations, and sustain the crucial jobs they generate, mainly among vulnerable and low-income populations. Also, in Jamaica, the IDB is financing the Boosting Innovation, Growth and Entrepreneurship Ecosystem (BIGEE) project, to be executed by the Development Bank of Jamaica (DBJ) with the vision to finance economic growth of MSMEs. This programme will promote sustainable growth of startups and innovation amongst high-growth potential MSMEs while building a strong ecosystem for entrepreneurship.
Market Movers is often praised as being the first SME of its kind in the digital grocery space in Trinidad and Tobago. Though far advanced in comparison to its contemporaries, they are still working to become a fully functioning digital grocery ecosystem as manual processes are still required for parts of their business operation. Emerging evidence from our series is beginning to show that unless the enabling environment can fully serve digital grocery transformation, SMEs, even success stories like Market Movers, cannot fully operate as a grocery ecosystem and will continue to have limitations in their advancements in a digital world. For Trinidad and Tobago in particular, the Country Strategy 2021-2025, aims to address this with a focus on digital transformation and its potential for transforming sectors, strengthening governance and institutions, and promoting social progress for a more inclusive, sustainable future.