For much of the 1980s and early 1990s, Latin America and the Caribbean was in the throes of hyperinflation. In 1990, for example, 16 of 20 countries in the region had inflation rates above 20%, while in 2018 only three of those countries had inflation above 8%, according to IMF figures.
The main ingredients to that success were fiscal reforms, debt negotiations that allowed countries to regain access to debt markets and greater independence for central banks.
The case of Brazil is illustrative. In the late 1980s and early 1990s, Brazil's governments established a series of stabilization plans which managed to reduce inflation. But, as discussed in a recent study, the gains were temporary until  July 1994, when the Real Plan managed to bring inflation down permanently. How did the transition from high to low inflation take place?
Figure 1. Monthly Inflation Rates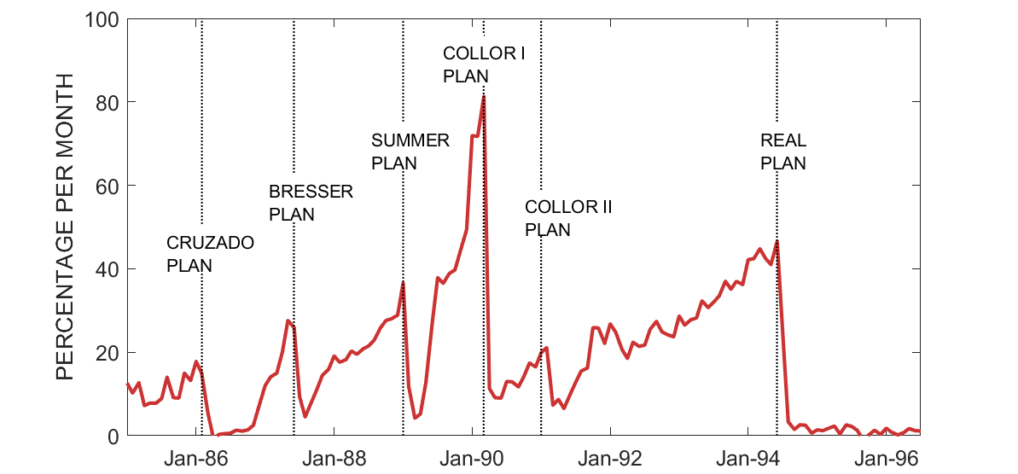 Source: Getulio Vargas Foundation (FGV).
The first stabilization plan, the Cruzado Plan, was premised on the view that past inflation inevitably led to future inflation. This is because Brazil historically indexed wages and prices to previous  inflation rates. The predominant view of policymakers at the time of the Cruzado Plan was that if agents (firms, households, etc.) expected higher inflation, they would increase their demand for money, which,  in turn, would be satisfied by the monetary authority. This led to a vicious cycle in which the central bank would issue money, which would then lead to price increases, justifying agents' initial expectations.
A failed attempt at fighting inflation
Policymakers believed this needed to change. Measures such as price and wage freezes, the prohibition of indexation clauses, and a  change in currency to lower denominations, they felt, would be enough to  stop the inflationary process. So the Cruzado Plan froze prices and wages and changed the currency, cutting three zeros off of it.  The Plan also forbade indexation clauses for periods shorter than one year. That brought inflation down at first. But it was not enough. After 10 months, Brazil was back to double-digit monthly inflation rates because policymakers had failed to deal with the real problem behind inflation: high fiscal deficits.
Figure 2. Seigniorage and Primary Surplus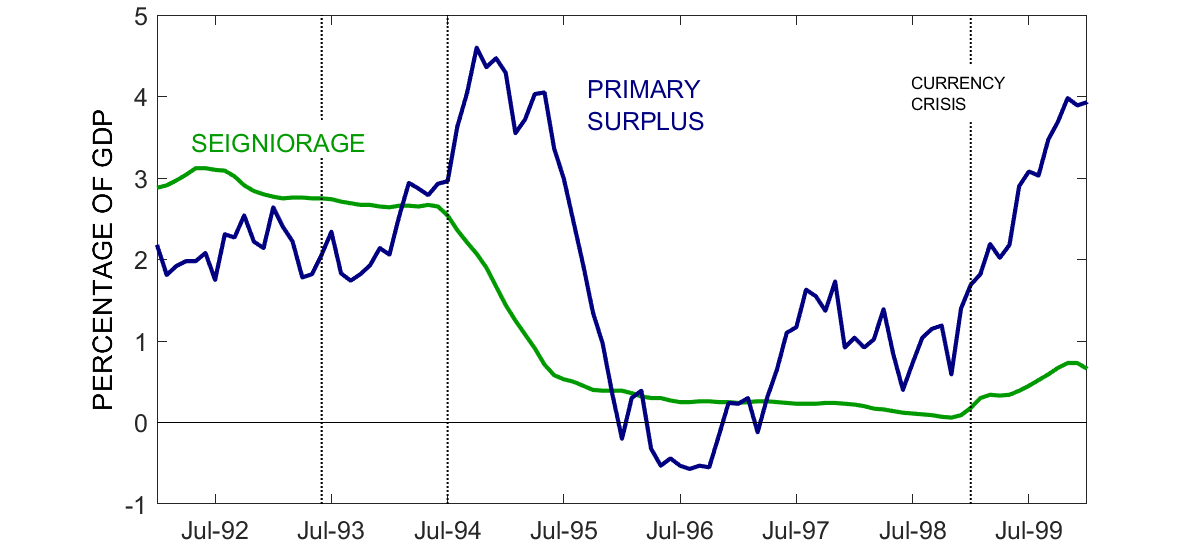 Source: Ayres, Garcia, Guillén, and Kehoe (2019).
With time, an alternative view took shape, which found its way into the Real Plan. Policymakers began to understand how much the inflation problem had to do with deficits. That is, the government was funding its spending by printing money, obtaining financial resources (seigniorage revenues) of around 3.5% of GDP on average. This represented an important source of government funds. So for the central bank to be able to issue less money and reduce seigniorage revenues, it would have to reduce deficits or obtain other sources of financing.
Cutting the deficit
Between June 1993 and the end of 1994, the government undertook a serious effort to reduce its deficit by cutting spending and increasing revenue through higher tax rates. This led to an increase in the government's primary surplus (revenues minus expenditures, not including net interest payments). As a result, when the government launched the Real Plan in July 1994, these higher primary surpluses allowed it to rely less on printing money, reducing its seigniorage revenues to less than 0.5 percent of GDP.
Other potential factors behind the Plan's success included  the renegotiation of the external debt with foreign creditors (Brady Plan) and the adoption of a parallel currency (URV) that was later converted to the Real.
Encouragingly, the fiscal reforms did not appear to lead to a significant drop in growth rates (Figure 3) of real GDP, as policymakers usually fear. While it is hard to know what the growth rates would have been without those measures, the growth rates in 1993­-1995 were substantially higher than in the previous and subsequent periods.
Figure 3. Real GDP Per Capita Growth Rate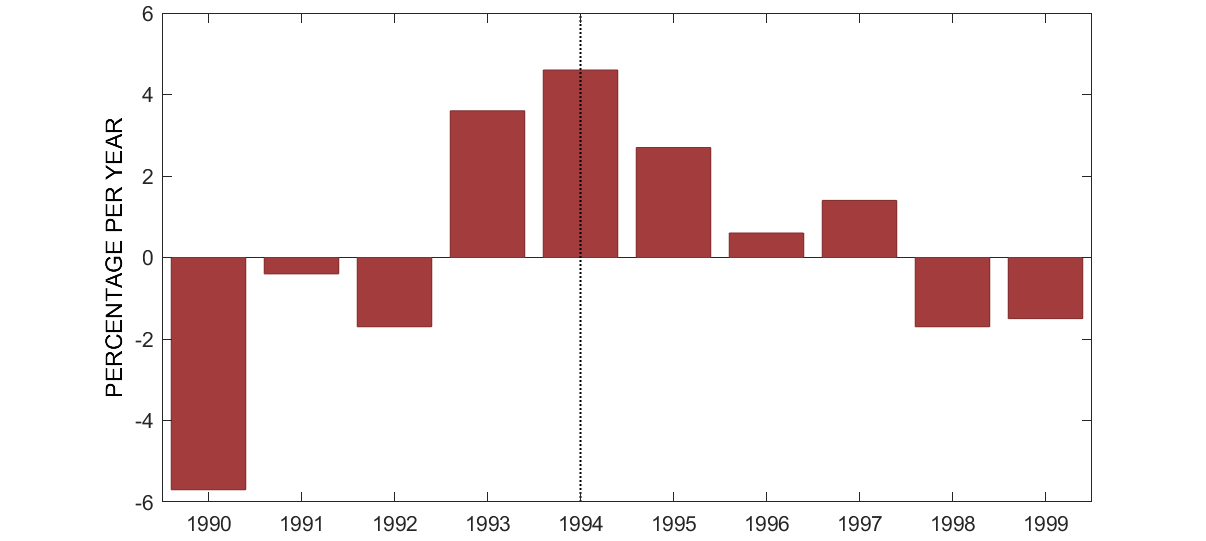 Source: Brazilian Institute of Geography and Statistics (IBGE).
Moreover, in contrast to previous, less successful stabilization efforts (Figure 1), the Real Plan did not include any price and wage freezes.
Lessons for fighting inflation
The lessons are clear for countries in the region to this day. Stabilization plans should focus more on fiscal reforms and less on price and wage freezes.
For a thorough analysis of the stabilization plans in Brazil, see here. For a cross-country comparison of Latin American countries, see here.