The COVID-19 pandemic has exposed households' financial fragility. Prior to the pandemic, six out of ten people in Latin America and the Caribbean reported they lack the resources to cover an emergency, and among the poorest quintile, the figure was only two out of ten. As in the 2008 financial crisis, COVID-19 has revealed the need to advance a policy agenda aimed at increasing financial resilience.
Financial education programs are at the center of this agenda. Persons with financial skills can better plan, save for retirement, and accumulate more wealth, while firm owners who are financially literate have more tools to grow their firms, diversify risk and earn a higher return on their assets.
In Barbados, COVID-19 has resulted in a severe shock to households, with widespread income losses throughout the population that have exacerbated households' precarious financial situation. But were households well equipped to deal with the pandemic? Was financial literacy a protective factor in coping with the economic crisis that followed the health emergency?
Despite growing evidence of the effects of financial literacy on financial behavior, data on financial literacy in Caribbean countries is scarce. For example, out of the six countries served by the Caribbean Country Department of the IDB (The Bahamas, Barbados, Guyana, Jamaica, Trinidad and Tobago, and Suriname), only Jamaica participated in Standard and Poor's (S&P) 2014 Global Financial Literacy Survey that conducted financial literacy surveys in 140 countries. Most of these countries do not have internationally comparable indicators on the issue.
In May/June 2020, the IDB measured financial literacy for the first time in Barbados as part of a telephone survey. The survey focused on a nationally representative sample and relied on the "Big Three" financial literacy questions. The questions, used in over 20 countries, cover four fundamental concepts in financial decision-making: interest rates, interest compounding, inflation, and risk diversification. The survey asked:
Suppose you had $100 in a savings account and the interest rate was 2% per year. After 5 years, how much do you think you would have in the account if you left the money to grow? More, less or equal the initial $100?
Imagine that the interest rate on your savings account was 1% per year and inflation was 2% per year. After 1 year, how much would you be able to buy with the money in this account? More, less or same as today?
Please tell me whether this statement is true or false. "Buying a single company's stock usually provides a safer return than a stock mutual fund."
The results show that Barbados has relatively high levels of financial literacy by international standards. Indeed, Barbados scores 1.65 on the financial literacy index, close to the 1.73 score obtained by the USA in 2018. And both Barbados and the U.S. had the highest percentage of people providing the correct answer to questions 1 and 2 (see Table 1).
Table 1. Percentage Who Answered Correctly, Incorrectly, or Did Not Know

As expected, the survey also shows significant differences in financial literacy levels across demographic groups.Men score higher on the financial literacy index (1.69) compared to women (1.58). Financial literacy levels increase with the level of education, as seen in Figure 1.
Figure 1. Financial Literacy by Education

Financial Literacy and Financial Resilience during COVID-19
The IDB survey finds that financial literacy is correlated to greater ability to withstand the hardship. Among respondents who lost their jobs during the pandemic, those who could still meet their basic needs presented an average score on the financial literacy index of 1.80, compared to 1.32 for those who could not meet their basic needs. Even among those who did not lose their income, there was a positive link between financial literacy and the capacity to endure. When confronted with a hypothetical question on their ability to survive at least a month if they lost their household's main source of income, those who replied positively scored on average 1.91 on the financial literacy index, compared to 1.46 scored by those who did not have the resources to cope with the shock for a month.
Table 2. Average Financial Literacy Score by Answer

During the lockdown, usage of mobile or online payments became crucial both to businesses and households due to mobility restrictions. Households that did not know how to use these means of payments were more exposed to service interruptions due to non-payment, loan defaults, or interruption in remittances flows, among others. The survey reveals that there is a positive correlation between financial literacy and the use of more complex payment systems.Particularly, during the pandemic, the share of people using more complex payment mechanisms, such as mobile or online payments, increases for people who have higher financial literacy (Figure 2). For example, those persons that reported using mobile payment systems scored higher on the financial literacy index (1.88) compared to those that did not (1.58). Likewise, persons that reported using online payment mechanisms scored higher on the financial literature index (1.85) than those who did not use those mechanisms (1.53). The relation between these two variables, however, is complex and likely presents a feedback effect. On the one hand, people who are more financially literate may feel more confident in trying new payment mechanisms and financial products. On the other hand, exposure to a more varied range of payment mechanisms likely improves financial literacy in the medium and long-term.
Figure 2. Financial Literacy and Payment Mechanism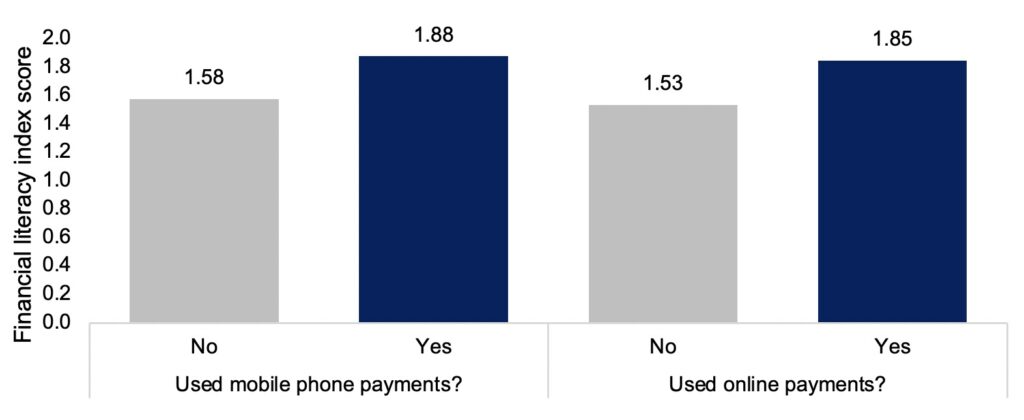 These results are timely and support government efforts to advance financial literacy in Barbados. In 2019, Minister of Finance, Ryan Straughn highlighted the importance of financial literacy for financial sector development. And in June 2020, the rollout of a Financial Literacy Bureau was announced.
To support these initiatives, it is crucial to be able to accurately measure financial literacy levels in Barbados. The IDB survey marks a significant stepping-stone, but it only provides an initial insight to a vast, complex topic. The pandemic and the extreme stress it has inflicted have underscored the importance of financial literacy for helping families plan, save, and invest in ways that make them more resilient in the face of crisis. Governments should keep in mind that it is hard to predict further waves of the pandemic and that we need to invest in strategies that provide that resilience. Moving forward, Barbados should try to develop a financial inclusion strategy with a strong financial education component that should not only focus on at risk populations, but also on young adults. International evidence shows that investing early is extremely cost-effective, and it will be vital as financial systems become more complex and in case further health crisis develop. There is no time like now to foster financial competencies and build financial resilience for the future.