The number of people infected with the novel coronavirus has surpassed 5 million worldwide. However, a significant number of countries are entering a new phase in the fight against SARS-COV-2, as the virus that causes the Covid-19 illness is known.
As can be seen from the following maps prepared using data from Oxford University, restrictions on movement are being relaxed. Football has returned in Germany, baseball in South Korea, and car racing (NASCAR) in the United States. These are some examples of the loosening of the lockdown in some countries.

The progressive relaxing of confinement measures is taking place in a context that is not ideal for preventing future spread of the virus: testing is still scarce, healthcare infrastructure is inadequate, and economic conditions in many countries and for individuals remain complex. At the same time, many people are growing tired of being shut in (often in crowded conditions) with no ability to earn income. While effective vaccines and treatments for the virus are being developed, the success of this stage will require people to continue to follow the personal hygiene and physical distancing recommendations that have been put into practice.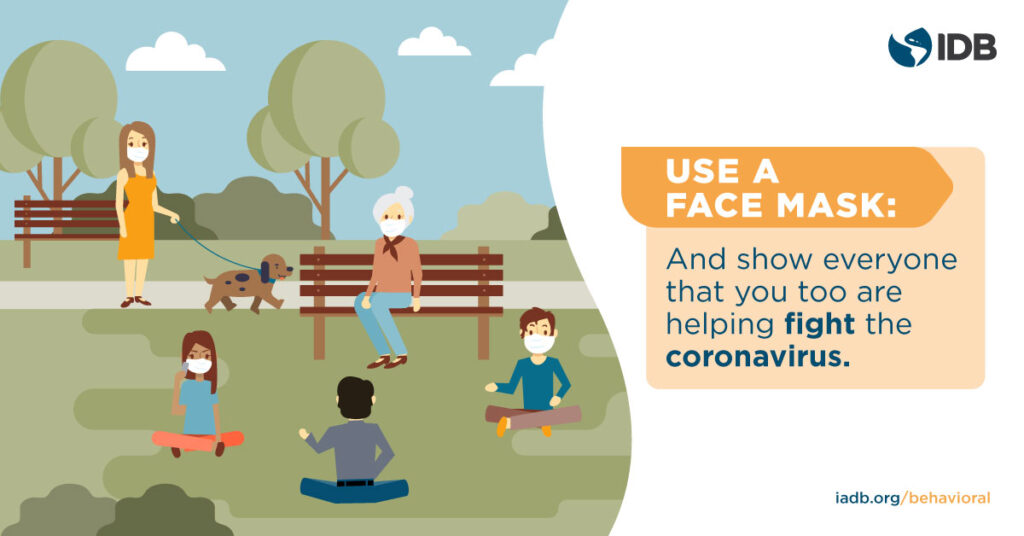 Communication and community participation are essential for reducing the spread of the virus and facilitating the sanitary measures that prevent infection. Clear and coherent messages from authorities inspire trust, produce solidarity, and motivate individuals and communities to follow the measures necessary to slow the spread of Covid-19.
Society has had a period during which to practice turning these recommendations into habits, and some of them will provide new mental models that will become the new normal. Governments can use this practical guide to consolidate this behavior by using behavioral economics tools to ensure that people don't abandon it as they return to workplaces and schools. However, with the reopening of economies, new guidelines must be communicated in order to stop the spread of the virus. They include:
More intensive use of cleaning products in common/public places;
Compliance with capacity limits in factories, stadiums, restaurants, public transportation, etc.;
Remote work, shiftwork, or staggered schedules;
Use of new technologies to facilitate the identification of new cases of Covid-19;
Sharing of private information (symptoms, contacts) relevant to enabling authorities to inform policy decisions.
In order to comply with these and other recommendations, citizens will have the difficult job of overcoming the deep behavioral biases and barriers that guide their decision-making, all of which are unfortunately accentuated in times of stress, exhaustion, and uncertainty. The following are some examples of communications informed by behavioral science to promote these guidelines.
New post-lockdown guidelines
Behavioral design

Use of cleaning products in common/public places

Place disinfectant gel at the entryways to public transportation and display a message to prominently remind of the action:

"Disinfect prior to entering #DontforgetCOVID19"

Compliance with capacity limits in factories, stadiums, restaurants, public transportation, etc.

Text message or phone call campaigns aimed at businesses that use the trust principle to remind them of the consequences and the guideline:

"[Name], don't risk losing your business. Make sure your customers stay two meters apart."

Remote work where possible

Companies can offer micro incentives to encourage workers to work from home. For example, a competition where the prize is a voucher for Netflix or an online bookstore, or a donation to the employee's charity of choice.

Adopt new technologies or communication to facilitate the identification of new cases of Covid-19

Mass communications campaigns where the government and companies commit clearly to using information—for example, on symptoms— for public health purposes, pushing back on the idea that the information could be used against an individual.

Behavioral economics best practices suggests that the possibility of misusing data should not be mentioned in these messages, not even to contradict it. Mere mention could strengthen the belief, even when the objective is just the opposite.

–        A commercial can be made with celebrities using these technologies to send the message that the social behavior is desired and accepted.

–        The messages can be made to go viral with hashtags like #MyInfoSavesLives and #MyInfoVsCovid.

–        Personalized WhatsApp messages can increase trust by offering a greater connection between the sender of the message and the receiver.

"Hi [name of receiver], this is [name of sender], a volunteer with [organization]. Did you know that technology saves lives? To make it through this crisis, we need your help."
Of course, behavioral messages and designs can only be used in the right context. To reduce the spread of the virus, they must be accompanied by investment (for example, increasing the availability of public transportation or cleaning supplies), regulations (different service days and hours), and with changes to prices and fees depending on a number of factors (prices that vary based on the transportation burden or higher pay for people willing to work off-hours in order to align their behavior with the need to fight the pandemic).
Likewise, technology (for example, apps that use artificial intelligence to determine the presence of the virus based on symptoms, or apps that use Bluetooth for contact tracing) have to provide precise information in order to produce habitual behavior. High rates of false positives (indicating a high probability of infection where there is none or contact with infected people where there was none) erode confidence in these apps and, therefore, in their use.
Communication as we come out of lockdown is complex. Messages will change over time, with some becoming obsolete, and it will be important to avoid anchoring society to information that is out of date, incomplete, or false. Communication must be clear not only on what is known but also on what remains uncertain, such as how long it will take to develop a vaccine or the weather's impact on the spread of the virus. This will make it possible to correct information as more is learned without losing the trust of the public. The key is for the campaigns to continue, but to adapt to changing circumstances, to circulate both good and bad news on the illness and change people's risk perceptions. Just as companies adapt their advertising to new fashion trends and politicians reformulate their advertisements to adapt them to public opinion, in the fight against the pandemic, authorities must be attentive to beliefs and perceptions, and consequently, be willing to adjust the information, message, and mode of communication.