The health news from Latin America is not good. The region has become the global epicenter of the Covid-19 epidemic, with nearly 4 million infections and 204,000 deaths as of mid-June. Moreover, the numbers are rising rapidly in several countries, including Brazil, which lags only the United States in reported cases, Peru with the seventh highest number of cases globally, and Chile, where outbreaks have led to new quarantines.
The problem is that with lockdowns causing major disruptions in economic activity and most deeply affecting the poor, who can often neither social distance in cramped dwellings nor work from home, many countries are lifting quarantine measures just as infections and deaths begin to swell. In many others, meanwhile, people are finding ways to return to normal even though lockdown measures are still in place. That means that in order to stop infections people need to behave in ways that protect their neighbors and themselves.
The Culture of Mask Wearing
One key measure for doing that is wearing protective masks, which the World Health Organization has endorsed, but which in many places are stigmatized as used only by those who are sick. In Latin America, moreover, the mask is often associated more with violent groups and protestors, than with a culture where physical contact is an elemental part of the culture. Not wearing masks in some countries has also become a signal of defiance against governments and a sign of "machismo."
Governments and businesses are going to have to rely at least in part on techniques from behavioral economics to encourage people to continue using masks and engage in social distancing through simple and constant messaging as we recommend in our guide on practical measures to fight the coronavirus. This can involve, among others, strategically located posters and digital communication that appeal to social norms, warn of the dangers of not using a mask, and give people hope that with collective action the pandemic can eventually be conquered.
Behavioral Economics Can Overcome Harmful Biases
This is critical to overcoming certain biases that are well understood in behavioral economics. One is optimism bias, especially among young people, who feel that they are healthy and unlikely to become seriously sick even if they come down with Covid-19. Another is confirmation bias, the tendency to seek out information that confirms our ideas, rather than being open to information that might contradict them. For example, we go out to a shop or a meal without our mask on and assume that just because we don't immediately get sick we can give up the mask altogether. Or we think that because we wear a mask and don't get the virus, that the mask is all we need, that we don't also have to respect social distancing, critical as it is to preventing contagion. Indeed, masks, like crosswalks or sports helmets, while important, can have unintended consequences in luring people into a false sense of security. Only by using effective messaging techniques that drill home the message that both masks and social distancing are critical can we combat these biases and create less risky environments overall.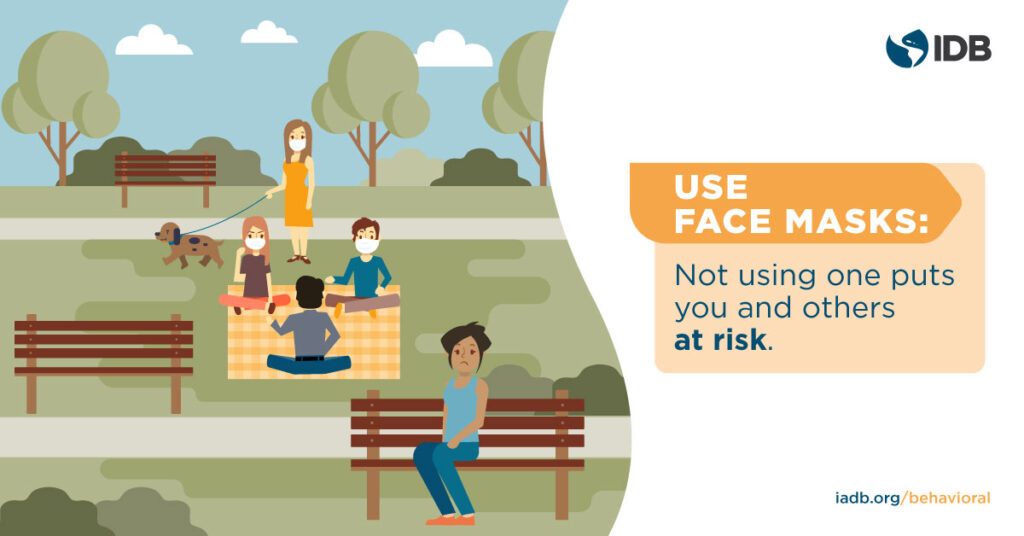 Appealing to Social Norms
Another key strategy is appealing to social norms, those unwritten rules that govern society. Masks may be awkward and uncomfortable, but if we see that other people using them, we may feel good about putting one on to help our neighbors and compatriots fight the pandemic. Governments and businesses can even appeal to people's sense of fashion, as when waiters wear stylishly colored and designed masks to encourage restaurant clientele to do the same. Or, as is already happening in Latin America, when local manufacturers produce dazzling masks with logos of soccer teams, artistic renderings of animals, and political or social messages. Guatemalan President Alejandro Giammattei, setting an example, already has appeared on television with a mask sporting the country's name.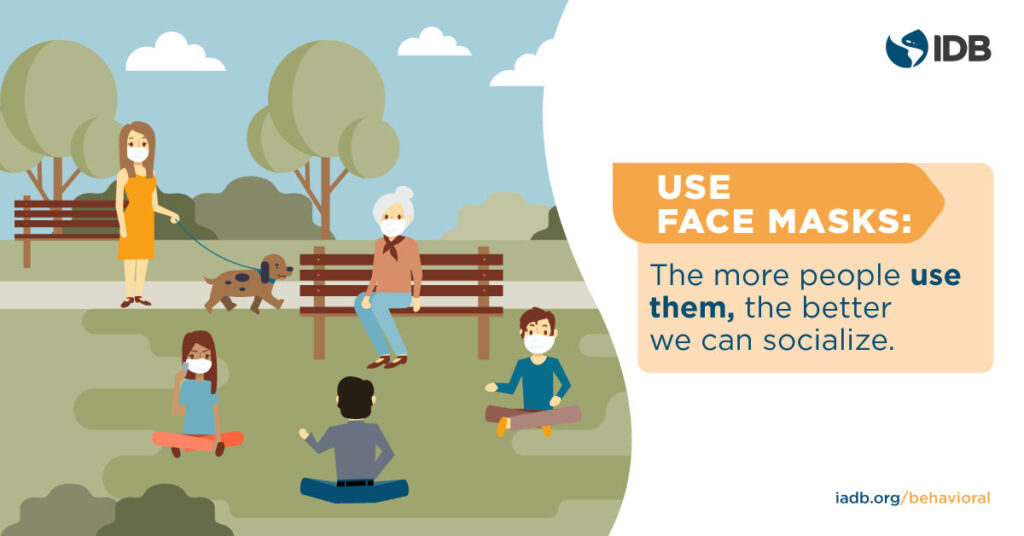 The key lies in nudging people towards the best combination of behaviors that will both allow for opening up the economy and safeguard people's health to the maximum extent possible. It lies in providing warnings and information that give people the sense they can protect themselves and their society, without generating so much fear that people throw up their hands and abandon caution to fate.