Covid-19 is still spreading rapidly on a global level, with more than 11.4 million cases and 407,000 deaths in Latin America and the Caribbean alone as of early November. This is happening despite the imposition of strict mobility restrictions and other constraints, like mask wearing and school closings. Indeed, in Argentina, with some of the most rigorous restrictions as measured by the stringency index, a gauge of government responses created by the University of Oxford, the number of cases has climbed to nearly a million and new records are being broken weekly.
All this indicates that government restrictions, while essential, are not enough. Using masks, avoiding enclosed spaces, limiting get-togethers with friends and family, and keeping one's distance from others tend to go against people's instincts. Behavior has to change, and that involves effective communication. Employing behavioral insights is crucial to ensuring that happens.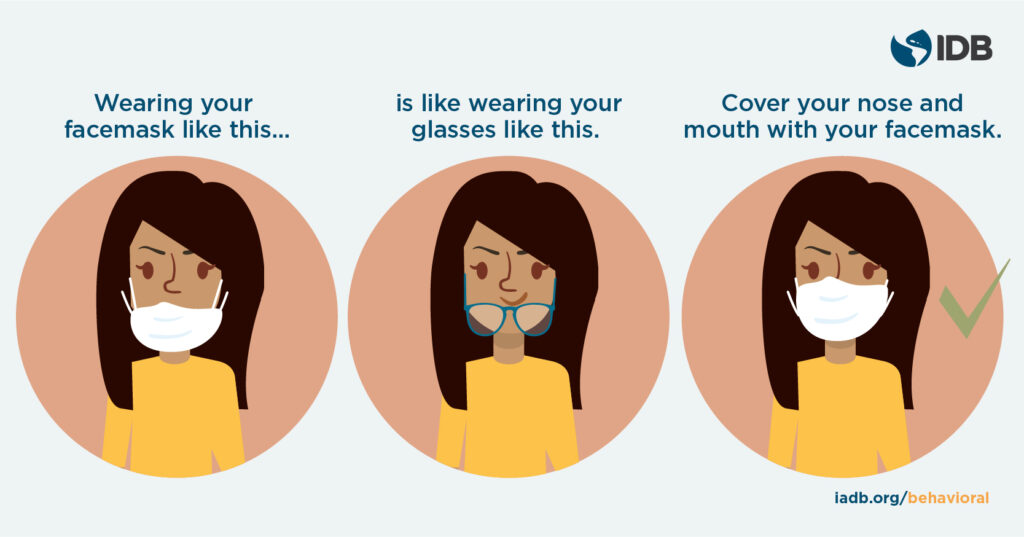 Effective communication to defeat Covid-19 requires an understanding of behavioral biases and the ways to mitigate them. Some of these include the status quo bias, which makes it more difficult for people to change their habits by, for example, remembering to incorporate facemasks into daily routines. Overconfidence and optimism bias are also a significant problem, explaining why we think our chances of catching the virus or becoming seriously sick are lower than they are and why we fail to adequately protect ourselves. And many of us suffer from cognitive overload and fatigue. We forget to wear a mask when we leave home because balancing so much information and so many new behavioral demands is not easy. We fall back on old habits out of default instead.
These biases represent great challenges to policymakers still struggling with containing the spread of Covid-19. In our new document How to Improve Communication during Covid-19: A Practical Guide we offer communication materials to help. We walk policymakers through the process of designing effective communication and interventions informed by behavioral insights.
In the document, we aim to answer the following questions:
1. How can we most effectively encourage people to follow recommendations using behaviorally informed communications materials to counteract their behavioral biases?
2. How can the right behaviors be maintained as people return to work and children go back to school?
We also offer a detailed explanation of our methodology. We use health recommendations during the pandemic as case studies, to not only design, but evaluate the impact of communication efforts.
For example, to help individuals maintain their distance from each other we can provide them with heuristics, or mental shortcuts. In science fiction movies, people are equipped with sensors that measure distances. But in our daily lives, measuring distance is hard and is affected by context. In a large area, six feet –the appropriate distance between people — seems small. In a bus or a supermarket, that makes the distance much more difficult to maintain. Imagining a physical object such as a bed (which most of us are lucky enough to know) makes it easier for people to do so. Our design proposes the use of heuristics to provide reference points that are simple and easy to visualize and remember when a person is walking down the street.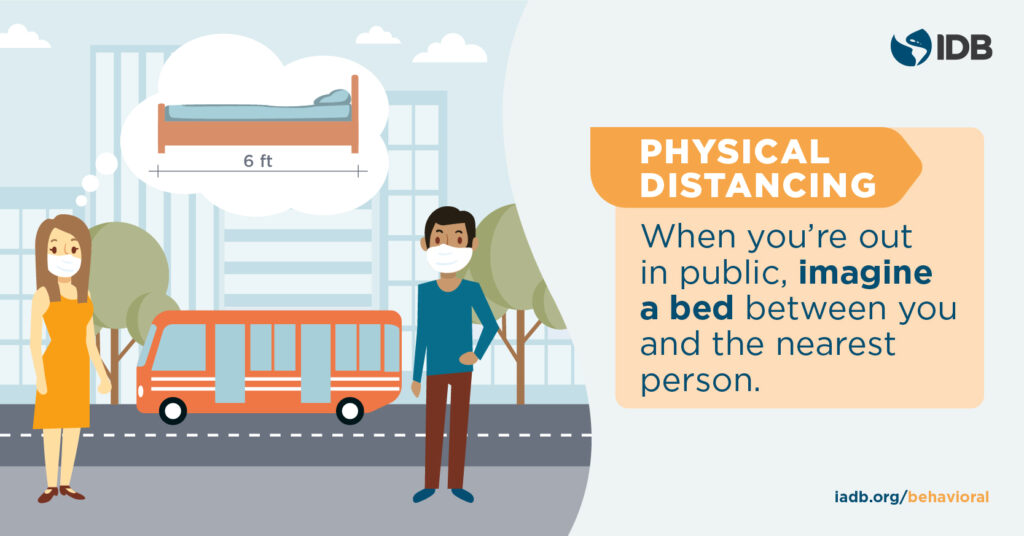 Mask wearing, another crucial behavior for stopping the spread of the virus, is also difficult to adopt. People are not used to using facemasks in public and the change can feel like a loss from their normal way of being. Some of us might also doubt that our friends are rigorous in wearing facemasks every time they leave the house. Status-quo and social norms, in short, are big components of our behavior.
The following design leverages the power of academic evidence on the power of descriptive social norms. In other words, showing that everybody is doing something tends to promote that same behavior. Our design presents the descriptive norm of using facemasks and practicing physical distancing in public places visually. The message accompanying the picture asks the viewer to join the group.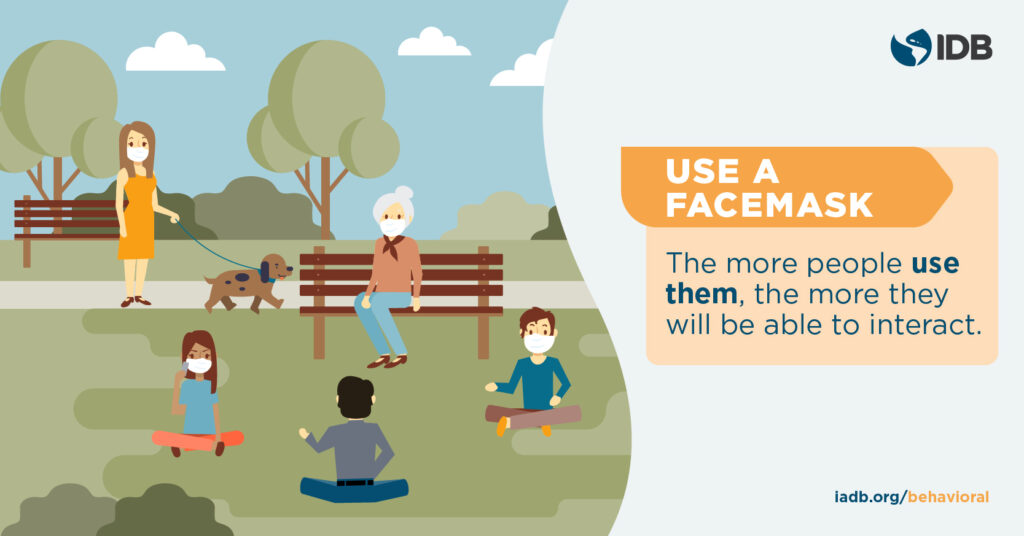 Evidence also shows that we might be persuaded to act in a certain way if we think it's our duty. The design below is designed with a message to provoke people's altruism and leverage the prescriptive norm of how you think others expect you to behave.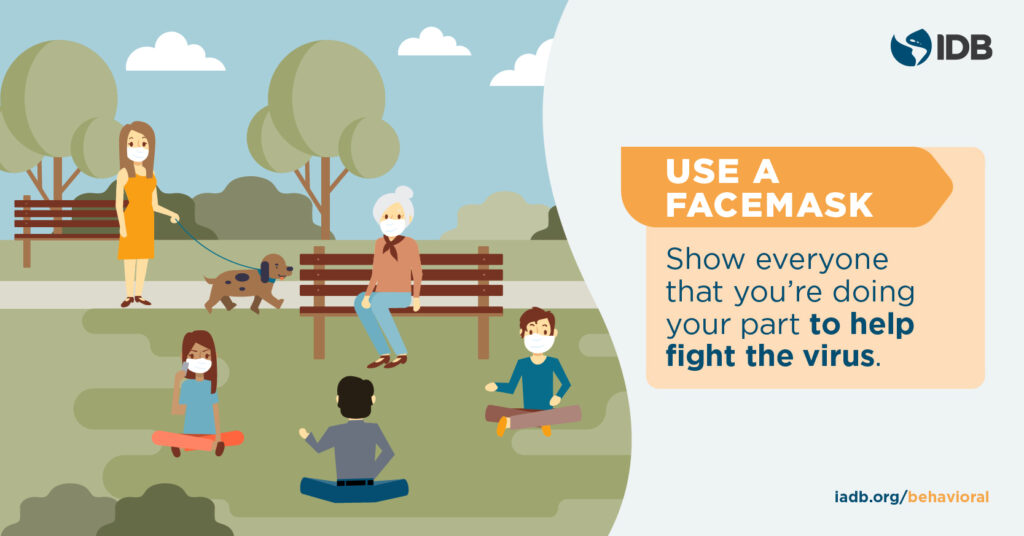 You might think that we are past the point where people refuse to wear a mask. But even if that were the case – and it isn't – have you noticed that some people wear their facemasks incorrectly: for example, under the nose? Thus might be the result of people's lack of attention. But simple heuristics in the right time and place can remind us of the ineffectiveness of wearing masks the wrong way and nudging us to better behavior.
The following design is one of many that uses heuristics in the form of a memorable analogy to draw attention to a behavior that should be changed. It asks for a specific action to be taken, in this case, the wearing of the mask over the nose and mouth.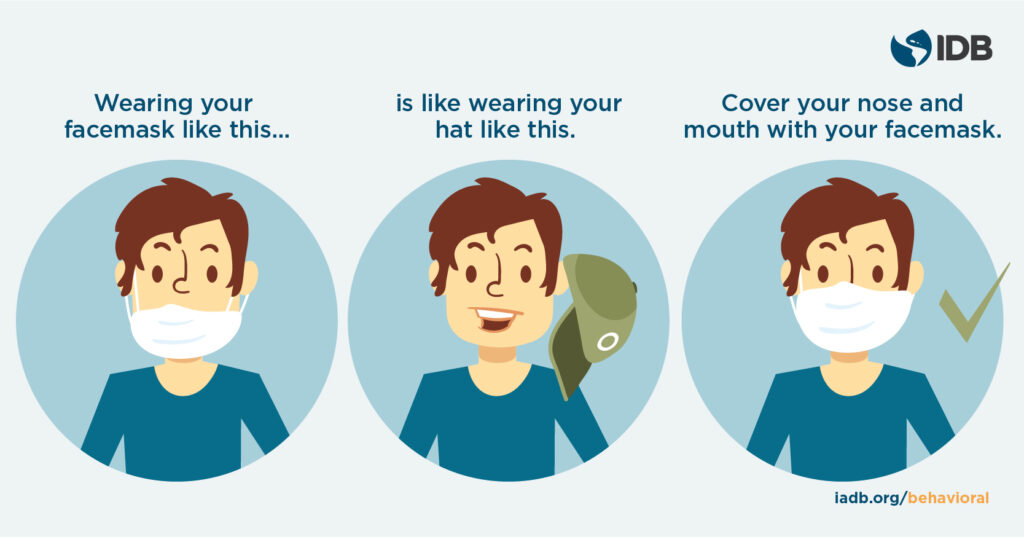 Other behavioral tools useful to improve communications include the framing effect, where options highlight the positive or negative aspects of a decision (for example, of wearing a mask), benchmarking the probabilities of contagion, and using acronyms as mental shortcuts, among others. These and many more infographics are available in the publication for everybody to download and use. Defeating the virus is crucial to our health and economic wellbeing. Only if we communicate forcefully and effectively, can we do so.