Connecting people with knowledge networks
The most pressing development challenges of our time reveal the deeply interconnected nature of our world. Thus, solutions to these challenges will likely emerge through improved connection and co-creation, with processes that can help quickly share learnings, scale ideas that work, and continuously integrate feedback to improve results. Together we can cultivate and leverage open knowledge ecosystems to support more resilient, sustainable and inclusive social and economic development, not only in Latin America and the Caribbean, but worldwide.
This page gathers blogposts and other resources to foster dynamic open knowledge ecosystems in the public sector and development sphere. We invite you to explore and contribute to these conversations as they continue to take shape:
Open dialog: access to information and citizen participation
Open innovation: collaborative methodologies and co-creation spaces
Open action: scaling open knowledge across networks and digital platforms
Open dialog: access to information and citizen participation

Decision-makers can improve their understanding of challenges faced by the public by creating spaces for dialog and discussion with citizens. In recent years, efforts to promote citizen participation include access to information policies, public consultations, and participatory platforms.
The voices and experiences of citizens are essential inputs in the design and delivery of effective development solutions. Greater access to information also offers citizens more opportunities to be informed for constructive dialogue, to support accountability, and to provide feedback. These factors are essential for cultivating deeper trust and inclusivity in public services and institutions.
Popular articles related to these topics:
Platforms to facilitate online discussion | link
Three ways to achieve meaningful and quality public consultations | link
Using citizen language to improve access to information | link
Explore additional recent articles with these tags:
Access to information | Citizen participation | Transparency
Open Innovation: collaboration methodologies and co-creation spaces
How do we design solutions to complex public challenges that reflect a multifaceted, multi-perspective reality? Looking beyond your immediate surroundings to bring relevant knowledge and experiences to the table is crucial. Adopting collaborative and co-creative practices within a project process or lifecycle can facilitate gathering diverse inputs, improve the synthesis of ideas, enhance the focus of the project, and cultivate shared effort and ownership in the outcomes.
Often when a solution is required, urgency can take priority over other factors. This can show up in the replication of methods that limit participation to execute as quickly as possible and minimize conflict. However, without the perspectives of those most familiar with or most affected by a challenge, the response might not be able to achieve the intended result.
There are many different open collaboration methodologies which can help facilitate co-creation. Explore practical resources for implementing these methodologies here: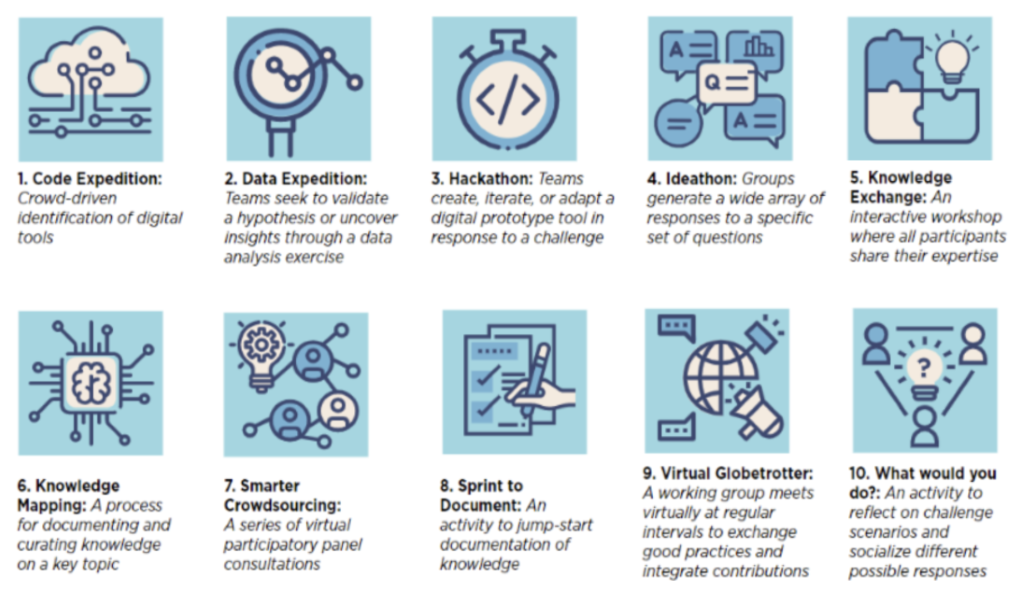 And remember, co-creation activities can take place in different settings, including:
accelerators
across cities
Scaling open knowledge across networks and platforms
If the digital transformation of our world was not evident before, in 2020, it has demonstrated itself as an apparent necessity. Yet, it is also clear that certain critical development challenges require more than virtual solutions, as human wellbeing and the health of our natural environment hang in the balance.
Our virtual links create personal connections that help accelerate learning and join up efforts across communities, across the region, and even across the globe. Global networks can be leveraged to build more inclusive, resilient systems and incorporate broader inputs toward meeting shared objectives, such as the SDGs. Greater awareness of, and access to, existing knowledge can accelerate its use by and for those who need it most, while jumpstarting the replication of successful outcomes, and preventing the duplication of efforts.
In this way, efforts that take into consideration the guiding principles of openness, like crowdsourcing, citizen participation, and open science, can effectively tap into global open knowledge networks to leverage collective intelligence for addressing the most urgent issues. In order to ensure projects in these spaces are as inclusive and accessible as possible, it is also important to consider digital infrastructure and net neutrality, so that the benefits and impacts of open knowledge for social and economic development can reach as widely as possible.
Explore a few examples of open knowledge networks in action:
The continued sharing of knowledge and promotion of open knowledge is vital to the IDB's mission as a development bank. Open knowledge is a powerful way to advance the capacity of development actors across institutions, sectors, and countries and to empower individual citizens.
Open knowledge is knowledge for everyone.