It is often said that technology and the arts have a long and special relationship that permeates all stages of human development. Art is even part of the word technology – the word 'technology' stems from two Greek words Techne (art, skill, craft) and logos (discourse, thought, principle). Given this close relationship between art and technology it is not surprising that in the course of their work, artists often develop new techniques and push the boundaries of the imagination in ways that can provoke new directions in technology development.
This is exactly how IDB Lab's Precision Farming project in Suriname started.
Inspired by art
Rice farming is the largest segment of Suriname's agricultural sector with approximately 28,000 hectares under cultivation by an estimated 1,200 farmers. The coastal areas of Nickerie account for 90-95% of total rice production. Over the years, as larger farms introduced mechanization, small-scale farmers cultivating 2 to 24 hectares have maintained traditional practices which have negative impacts on productivity, health and the environment.
According to the Environmental and Social Analysis that was conducted for the Suriname Agricultural Competitiveness Program, rice farmers in Suriname typically use pesticides in a preventative manner, before a problem has even been diagnosed, and use higher dosages of pesticides than the packaging states, as well as mixing various pesticides into cocktails.
Surinamese artist, Ken Doorson, had a soft spot for Nickerie – Suriname's rice district – and he often wandered through the rice fields and imagined painting rice stalks green whenever he saw them turning yellow.
While researching trace elements in bagging materials for an art project, Ken was struck by an idea that led him to research trace element deficiencies in the soil in Nickerie, Suriname's rice district – and what influence that had on rice production.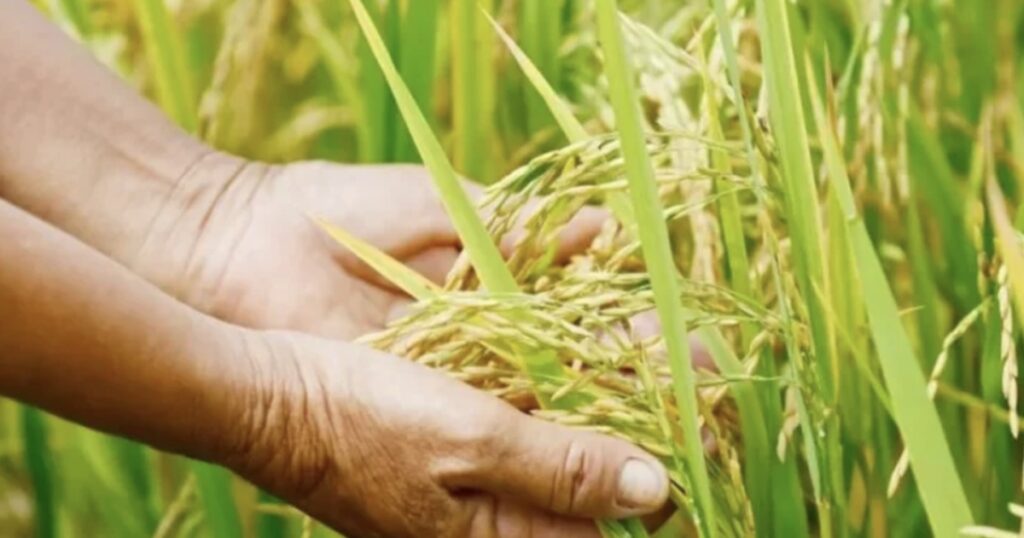 His first tests with adding these trace elements through fertilizers to boost the soil were very successful. He had found a way to turn those yellow rice stalks green without having to use his paint brush!
Motivated by the success of these first tests, he expanded his research and started looking into more efficient methods for the application of the fertilizer. Up until then, the small and midsize farmers used the backpack method to fertilize their crops.
Inspiration struck again through Ken's art.
He had taken a course on using chemical-based materials for his artwork and the way these chemicals interact with each other through electrostatics, and that is how the idea of using of electrostatic spraying drones in Suriname was born.
Opportunity for sustainable farming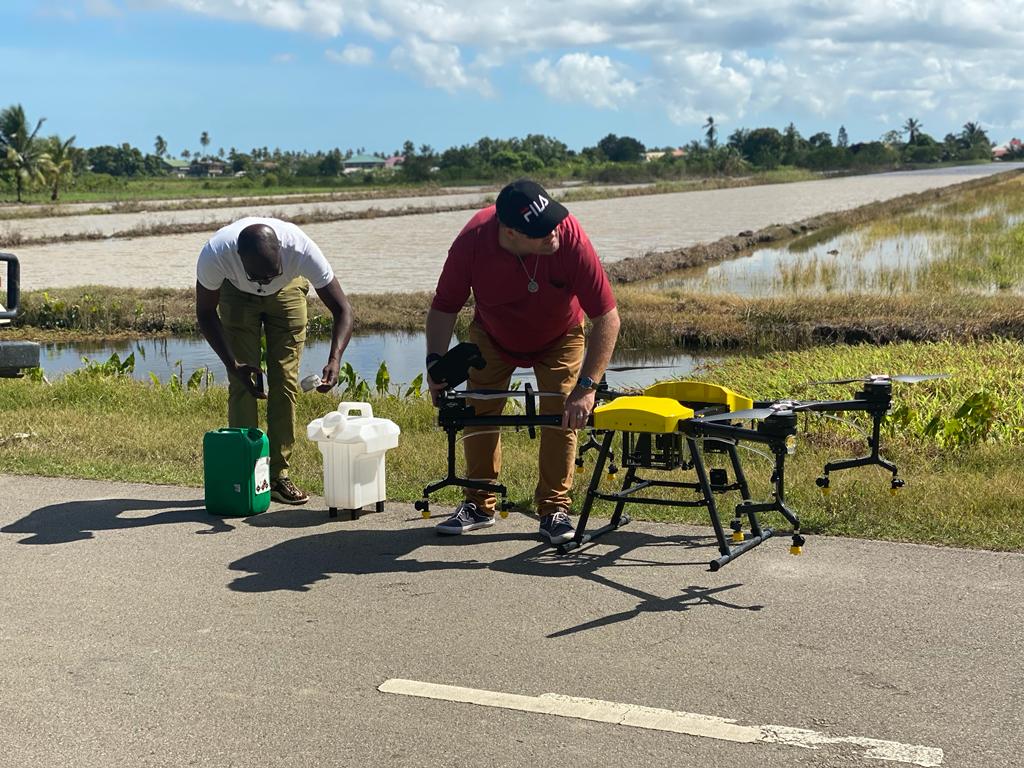 Ken approached IDB Lab for funding and the first Precision Farming project in Suriname was developed, to be piloted in the rice sector in Nickerie. This was also IDB Lab's first venture in the Caribbean using drones in agriculture.
The key objective of the project is to contribute to a better and sustainable production of rice by small rice farmers in Suriname by introducing precision farming techniques which will save time, reduce the cost and volume of agro-chemicals used, and assist in improving soil and water quality.
Drones are used to monitor crop conditions and for electrostatic spraying of fields for pest control and fertilization. This is highly innovative as electrostatic spraying results in a much higher volume of product adhering to plants with a very significant reduction in chemicals entering the water in the rice paddies.
This system is credited with achieving a higher level of efficiency for small farmers in the country; a significant reduction in volume of pesticides and fertilizers used; and efficiency and sustainable production in agricultural crops.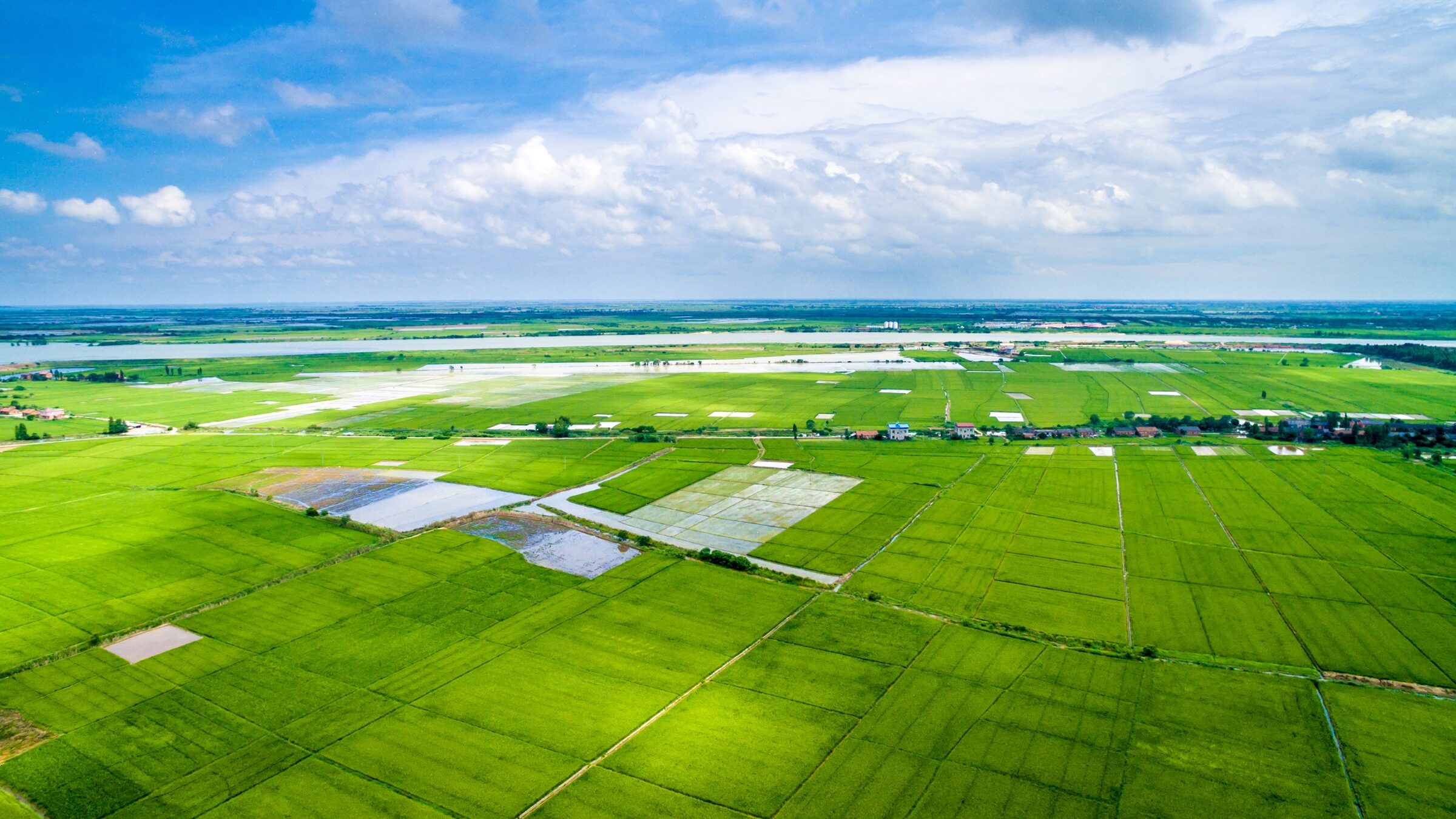 Impactful results
As the project reaches its end in 2023, it has achieved some significant results:
The pilot was able to engage around 100 small and midsized farmers in the project activities and the precision farming techniques used are scaling up to other agricultural crops.

The total area of drone spraying has been increased from the 20 hectares that was initially set as a target for the pilot to 100 hectares. There is especially a growing demand to use the precision farming techniques for fruit and vegetable crops.

Around 20 farmers were closely monitored as case studies during the project and all 20 farmers reported a reduction in costs of 20 percent by using the precision farming methods.

A complete foliar fertilizing program (sustainable fertilization of rice through foliar application) has been developed to reduce the impact of urea on the environment. The farmers that participated in this program were able to reduce urea usage by approximately 60 percent.

A data center field station was also established for gathering and processing agricultural data. This data collection system allows for monitoring of multiple environmental parameters involving a wide range of applications, from plant growing analysis to collection of CO2 emission data. The data will be accessible to research and education institutions and the public sector.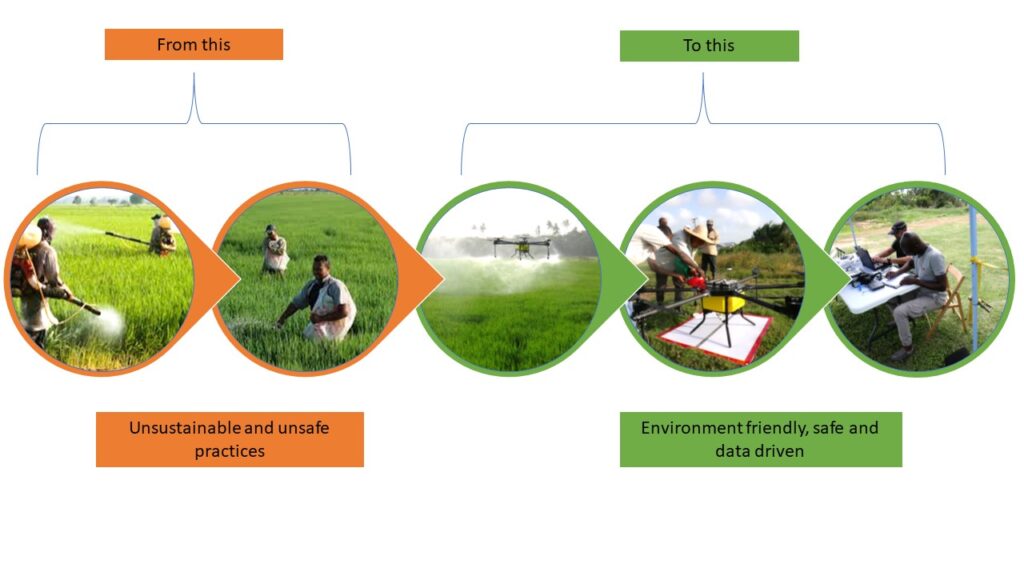 Opportunities for scaling
The project provides various opportunities for scaling, especially through IDB's Sustainable Agricultural Productivity and Agricultural Competitiveness loan programs with the Ministry of Agriculture in Suriname. The Sustainable Agricultural Productivity Program, for example, has the objective to increase agricultural productivity in Suriname through investments in infrastructure and management of Irrigation and Drainage (I&D) systems and by improving the quality and availability of agriculture statistics. This is very synergistic with the data center component of the precision farming pilot and provides for interesting collaboration opportunities for IDB Lab and the entire IDB Group to join forces with our member countries to find new ways to improve the lives of all our citizens.
Precision farming is a promising technique that is transforming the agricultural sector in Suriname. The success of IDB Lab's Precision Farming project, which started with an artist's research on trace element deficiencies in the soil in Suriname's rice district, paves the way for scaling precision farming techniques in other crops, making agriculture more efficient and environmentally friendly. The synergy between technology and art has once again proven to be a catalyst for innovative solutions to the challenges facing humanity.