Please join us on a small adventure where the only thing you need to pack is your imagination…
Imagine the tropical Amazonian rainforest of Suriname with dense canopies of vegetation and through the dense forest flows a beautiful river called the Suriname River. Across the rapids and through one of the many sandy banks of this river you will find the entrance to the village of Kapasikele. In Kapasikele, like many other villages in Suriname's interior, it is a rare sight to encounter a young man, as if the Pied Piper took all of them away.
The harsh reality is that employment opportunities in these areas are extremely limited, as these districts are remote and highly dispersed which usually means that men (heads of household, and usually the income providers) leave their communities to seek informal employment in extractive industries, such as mining, which is the primary economic activity in the interior, leaving their families in the villages for extended periods of time.
Women are particularly affected as they remain in larger numbers in the villages and are left responsible for managing their households without a stable source of income.
Kapasikele however is different. It all started, with a group of vulnerable women, who wanted to change their lives and that of their children. The women of Kapasikele realized that the power to impact their lives lies in their own hands, and this is their story, the story of Wi! Uma Fu Sranan (We Women of Suriname), Suriname's first all-female agricultural co-operative.
Before the COVID-19 pandemic, Wi Uma established a successful model with support from the Inter-American Development Bank (IDB) and the Japan Fund empowering tribal women in cultivation and processing of cassava, producing a range of nutritious products sold in local and in export markets. But starting in 2020 external factors severely affected the opportunities afforded to them, also eroded their savings and livelihoods, and created additional food security risks for vulnerable women in these communities.
The first shock was the COVID-19 pandemic and in particular the prolonged restrictions on mobility and gathering, which disrupted primary production, processing, and sale of products.
The second shock is related to the macro-economic crises that the country is facing, with devaluations of over 135% within 2 years which resulted in escalation of costs of basic services, as well as essential goods, further imposing hardships on the population, and in particular poor communities that were already struggling.
The third relates to the extreme flooding experienced in the interior in 2021 and from February till June 2022 which has devastated tribal communities, including those inhabited by members of Wi! destroying cassava and household crops, farmlands, and homes, while also creating food insecurity and exacerbating poverty and vulnerability in many of these communities.
As IDB Lab we realized that in the absence of new investment, the hard-won gains that have supported and empowered these remote and low-income communities and which have created hope for a brighter future may be permanently eroded. IDB Lab reached out through a project called RESET: Reigniting Empowerment of tribal women in Suriname through Engagement in transformative Technology.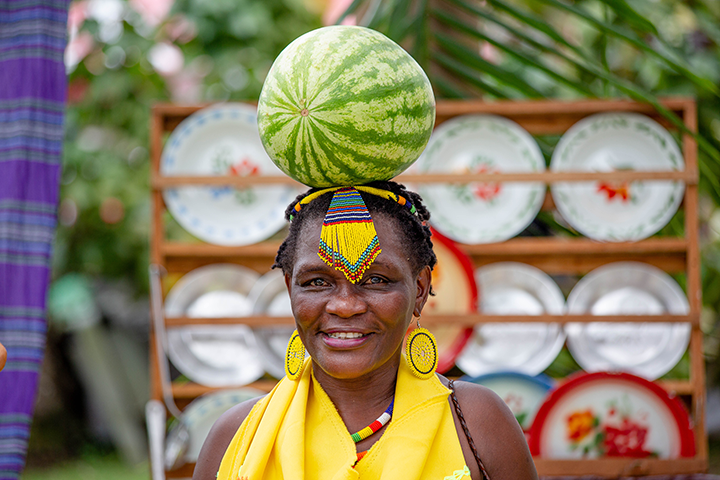 RESET was approved on February 15, 2023, to pilot a model to reset productive and resilient livelihoods for tribal women farmers that are engaged in the cassava value chain in Suriname. To achieve this objective, the project introduced a pilot in the implementation of agricultural technologies and innovation that will generate a new model of cassava's primary production through the Wi! Uma Fu Sranan cooperative, considering the gender and diversity perspective. This intervention entails:
The transition of the primary production system into one that is more productive, sustainable, and resilient to climate change, to generate income for tribal communities today and in the future;
increasing production efficiency and volume, through the introduction of digital technologies processes, and other tools to tribal female farmers, who have traditionally engaged in manual processes; and
engaging younger women and additional farmers in the value chain to secure human capital for the reset and future sustainability of the model. 
The impact of RESET can be expected at three levels:
Inclusion and Diversity: The project will focus support on female farmers that self-identify as indigenous, tribal or Afro descendants which are expected to account for 90% of project beneficiaries.
Climate Change Adaption and Resilience: The implementation of more climate-smart, sustainable, and resilient primary production will not only help make more sustainable use of the forest but also support livelihoods and food security for tribal communities today and in the future.
Improving the Lives of Poor and Vulnerable Populations: This pilot targets tribal women that can be characterized as poor and vulnerable, particularly in the aftermath of the challenges faces that I mentioned before. Importantly this pilot will support the recovery of these households, assisting them in restarting production, which will contribute to their regaining a level of financial independence and resilience. The project will also support the executing agency in looking for opportunities for scaling so the intervention can benefit a higher number of beneficiaries.
An important element of innovation that this project focuses on is the empowerment of tribal female farmers. At IDB Lab, and across the IDB Group, we believe that empowering women is essential to the health and social development of families, communities, and countries.
Women can attain their full potential, contribute to the workforce and economy, and together with men raise happier, healthier children when they live safe, contented, and productive lives. Giving women the resources, they require to be in charge of and have control over their own life is a key component of empowering them. Hence, the project is structured to provide female farmers with opportunities to (re)gain financial independence and build a more sustainable and resilient future for them and their families.
We are starting this pilot with women from 25 families and are working on expanding this pilot in the near future with more communities.