Independent fiscal councils are among the most recent innovations in terms of the architecture of fiscal institutions. The first council was established just after World War II, and by 2016, 37 countries had implemented them across the world—most of these in the wake of the global financial crisis that began in 2008. Caribbean countries are just the latest frontier in the expansion of these entities globally—The Bahamas and Grenada have recently launched such entities, and the Government of Jamaica recently announced its intention to do so in the near future.
A recent IDB paper entitled: "Fiscal Councils: Evidence, Common Features, and Lessons for the Caribbean" (Nov. 2018) reviews the history, evolution, common features, and emerging evidence regarding the effectiveness of independent fiscal councils around the world. As small and developing countries with limited institutional capacity in the Caribbean and beyond begin to develop and launch fiscal councils, it will be important for their architects and stewards to consider experiences of other countries regarding related impacts on fiscal outcomes, particularly as they design and adapt their own councils to local requirements and constraints.
What is a Fiscal Council? While the mandate, structure, and composition of fiscal councils can vary widely across jurisdictions, they are generally understood to be independent public institutions designed to achieve certain objectives, including: (i) strengthening commitments to sustainable policies and finances, including via public assessments of fiscal plans and performance; (ii) evaluating or providing macroeconomic and budgetary forecasts; (iii) and/or involving independent stakeholders in the policy development and review process.
History and Evolution of Fiscal Councils: The number of countries with fiscal councils has increased considerably since the Dutch government introduced the first one in 1945. While early adopters were advanced economies with strong administrative and technical capacity, recent years have seen a number of developing economies join this rapidly growing group (Figure 1).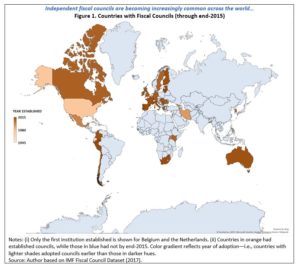 Global Financial Crisis led to Rapid Proliferation of Councils: The global financial crisis that began in 2008, and the economic strains that this precipitated for countries around the world, served as a powerful catalyst for fiscal reform. In this context, the number of countries that had implemented independent fiscal councils increased from 10 at end-2006, to 37 by end-2015—a nearly threefold increase in just under a decade (Figure 2).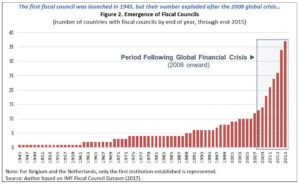 Increasingly-Diverse Countries Adopting Councils: The variety of countries adopting councils by end-2015 has expanded considerably. While the first to adopt fiscal councils were predominantly advanced economies, the spectrum now ranges from some of the wealthiest countries in the world, to low- and middle-income economies such as Uganda and Kenya. Similarly, the group of countries that had put fiscal councils in place ranged from some of the world's largest countries (by population)—e.g., the United States and Mexico—, to three states with populations of less than 1 million inhabitants—i.e., Estonia, Malta, and Luxembourg. In terms of geography, 24 of the 37 countries that have implemented councils are in Europe. By end-2015, only four Latin American countries—Chile, Colombia, Mexico, and Peru—had developed fully-fledged fiscal councils (Table 1).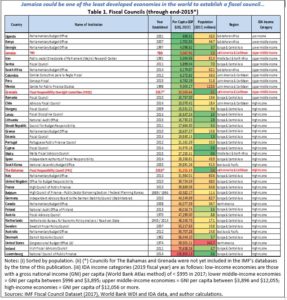 Caribbean Countries—Latest Frontier in the Expansion of Councils: Since 2017, two Caribbean countries—Grenada and The Bahamas—have established fiscal councils. They are the smallest countries (by population) in the world to put such agencies in place. In May of 2018, the government of Jamaica also announced its intention to establish an independent fiscal council, with the objective of strengthening its fiscal responsibility framework. Ratings agencies and other market participants have praised this announcement, which has helped to support perceptions of fiscal sustainability and lower borrowing costs. If implemented, Jamaica would be one of the least developed countries (in terms of per capita income) in the world to have put in place this cutting-edge institutional feature.
Evidence Regarding Effectiveness: Recent research regarding fiscal councils suggests that certain institutional, legal, and structural characteristics can be linked to superior fiscal outcomes (e.g., Debrun et al., 2013)[1]. This evidence also points to the conclusion that the mere existence of a fiscal council may not improve fiscal performance if its structure, resources, and/or design are inadequate. Despite the usual methodological caveats[2], several key findings of this research are helpful in considering optimal design features, including:
Legal and Operational Independence: Councils with explicit legal and/or other guarantees of independence to operate freely and without interference from fiscal authorities have, on average, performed better in terms supporting improvements in fiscal outcomes.
Monitoring: Fiscal councils embedded in a country's existing fiscal rule appear most effective for improving fiscal outcomes, particularly as fiscal rules generally involve quantitative targets for budgetary outcomes (e.g., government operating balance) and/or debt levels (e.g., debt-to-GDP ratios), generally with some kind of temporal parameters.
Normative Analyses and Forecast Preparation: Assessments by fiscal councils of budgetary forecasts (e.g., revenue, expenditure, and underlying macroeconomic forecasts) and reviews of assumptions regarding costs of planned policies are also linked to improvements in fiscal outcomes.
Outreach and Information: Councils able to engage the voting public regarding their findings and recommendations appear to have the most traction in terms of influencing policies and improving fiscal outcomes.
Conclusions: In summary, emerging research suggests that not all fiscal councils are created equal. Institutions that are poorly designed, lack independence, are inadequately resourced, do not focus on quantitative measures, and/or are not able to gain traction with the public regarding recommendations may not provide significant benefits. This notwithstanding, any government designing or considering improvements to the country's fiscal institutional framework should consider this and related evidence in the context of its own specific needs. As Caribbean and other small and developing countries move forward with the design and implementation of such institutions, they will need to consider how best to both leverage evidence regarding best practices gathered from experience in other countries, while also adapting the traditional model to local requirements, levels of institutional capacity, and other country-specific factors.
[1] Debrun, X., T. Kinda, T. Curristine, L. Eyraud, J. Harris, and J. Seiwald. 2013. "The Functions and Impact of Fiscal Councils". IMF Policy Paper. Washington, DC: International Monetary Fund.
[2] Authors (Debrun et al., 2013) note that results are not conclusive, including as many councils assessed had only a short track record of operation, limiting data available to analyse post-implementation fiscal outcomes. Similarly, while underlying econometric analyses found correlations, it was not possible to fully determine causation. Other institutional characteristics may also have driven the observed fiscal outcomes.