Pink Does Not Equal Gender Equity
The color pink continues to reign strong when we talk about gender equity. To many brands and organizations, bright pink signifies their product or organization's commitment to improving women's lives. "We are SO excited to unveil our brand-new, dazzlingly pink logo to celebrate Women's History Month and International Women's Day" declared a tweet by an organization that provides literary prizes for fiction. In Mumbai, a railway terminal was lit up in pink, visibly "celebrating womanhood" according to the railways' minister. While this strategy may or may not promote awareness, most would agree that it is important to look beyond the color of the banner or product to assess the effect on women's lives.
Beyond "Women's Policies"
When it comes to public policies there is a similar phenomenon at play. "Women's policies" such as child care, maternity leave, and gender budgeting are all widely recognized as key instruments for addressing gender gaps. Meanwhile, policies not associated with women are often overlooked for the playbook to reduce gender inequity. Despite this, as we show in the Sector Framework Document for Gender and Diversity, some effective policies for closing gender gaps are much more universal in nature. These policies, which do not differentiate by gender, nonetheless have disproportionate impacts on reducing gender inequities.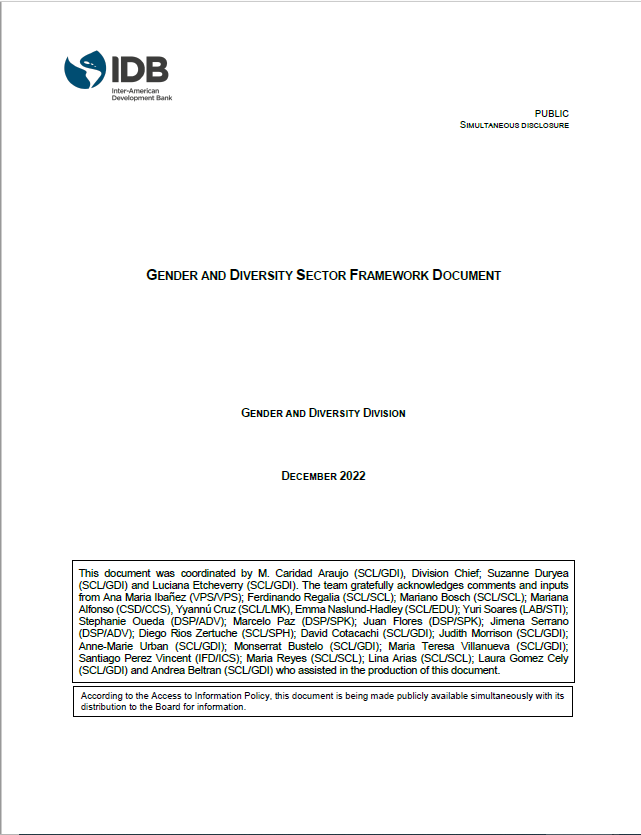 As an institution that aims to promote gender and diversity transversally across sectors and windows, and in the work to meet the strategic alignment targets approved in the Gender and Diversity Action Plan (GDAP), it is important to consider these universal policies among the full set of effective policy instruments, regardless whether reducing gender inequity is a primary objective of the policies.
Examples of Universal Policies
Let's examine some of these policies that are analyzed in more depth in the SFD:
Progressive tax policy for example, which applies a higher tax rate to higher incomes, can reduce gender inequalities even in the absence of gender-specific taxes. Women, particularly Afro‑descendent and indigenous women, tend to be overrepresented at the bottom of the income distribution. With the lower marginal tax rates in a progressive system, earnings gaps by gender are reduced, both from the direct effects of the tax as well as the incentives to work more under lower taxes.
Non-contributory pensions are another policy that disproportionately benefits women. In old age, women are less likely than men to have made sufficient contributions through formal employment to qualify for contributory pensions. Studies have shown that non-contributory pensions have reduced the risk of poverty in old age, and reduced gender disparities in health frailty. At the same time, research finds that non-contributory pensions, once received, are distributed across households to meet the needs of extended family members, so the direct impacts on reducing old-age poverty are somewhat dissipated.
Policies that do not target beneficiaries by race have also been shown to be effective at closing racial gaps. One such policy is high-quality preschool. Recent studies for two states in the US found that when Black and white children had universal access to high-quality pre-school, the racial gaps in reading at entry to kindergarten were virtually eliminated, and the gaps in math were cut in half Friedman-Krauss and Barnett (2020). This study complements a previous study that found the participation in the US preschool program Head Start increases high school graduation by 11pp for Black students with a small effect for white peers. In their recent study, Akee and Clark (2023) find that preschool attendance by indigenous children in the US increases adult earnings by 6 percent, with the returns highest for children from low-income families. While the evidence is strong for the US, more research is needed in LAC to explore the external validity of these studies.
Secret Tools for a Better Future
Many of these policies are already working quietly "behind the scenes" in specific countries to close G&D gaps. More generally it is important to evaluate the impacts of these policies in LAC to guide the scale-up throughout the region. Our menu of policy interventions to close these gaps should not be limited to those well-identified with gender and diversity. As we set our noses to the grindstone to effect the changes that the awareness campaigns inspired in March, we should be sure to include universal policies in our growing arsenal of effective policies.