By Victoria Cárdenas Simons*
Since I left school and started working, I've faced multiple challenges in my work and personal life, which have helped me be more resilient and optimistic. Celebrating Women's International Month, I have reflected on my career and how promoting women's leadership development has always been my passion. Over the years, I have been persuaded that implementing programs that promote the advancement of women in institutions such as ours is an excellent investment. Throughout my career, I have witnessed first hand the results: we strengthen their confidence, maximize their leadership potential and ensure women are retained in our organizations.
Our Emerging Women Leaders Program
In 2013, we launched the first "Emerging Women Leaders" (EWL) program in the Inter-American Development Bank, with the goal of reaching 40% of women in leadership positions by 2015. In fact, we reached 38% at that time and thereafter decided to  establishing an even more ambitious goal of 43% by 2019. The EWL program aims to strengthen women's leadership skills, make their potential visible, and boost their promotion to decision-making positions. To achieve this, the program integrates a combination of readings, face-to-face discussions with experts, panel presentations and project presentations. Participants also have access to individual and group coaching sessions, both face-to-face and virtual, with a team of professional executive coaches.
What continually fuels my enthusiasm and optimism is to see the results and change in the women who go through these programs. In terms of quantitative results, we have seen that, of the 162 graduates in the six programs carried out to date, 42% have been  promoted while 38% have shifted to new employment challenges, in the form of either new work assignments or transfers to other positions. The qualitative results are also very encouraging.
Expanding the program to the Latin American region
Last year, we decided to go a step further and take the program outside the Bank.  Together with the governments of the Dominican Republic and Panama, we succeeded in training 59 employees of the public sectors of both countries with great success. After returning from the class graduation in the Dominican Republic, the first thing I did was to tell my daughters the enthusiasm, energy and entrepreneurial spirit that I experienced on the part of the women participants.  For the majority, it was their first exposure to a leadership program, and one of the most valuable aspects of the program was the mentoring that was provided at different levels of the program.
Mentors are central to the development of every professional. When I started my career, I remember my nervousness, my appetite to learn and the challenges and opportunities that arose. I felt insecure and incompetent. However, I was fortunate to have my first mentor: Nancy, who helped me focus my interests and studies in complementary areas with my work and encouraged me to take risks. This is how I changed my academic focus from a Master's in International Relations to Human Resources Management, and decided to embark on a new career. Since then, I've had many mentors, men and women, and I've been a mentor as well. From this experience, I know first-hand how beneficial the relationship can be for both parties.
Men as Allies for Women's Leadership
Speaking of mentors, let me also highlight the important role that men have played in promoting women's leadership, whether as mentors, spokespersons or agents of change. The Emerging Women Leaders program boasts Alexandre Meira, Vice President of IDB Countries, as "champion".  With true commitment, Alexandre has mentored many women and is a strong promoter of women's leadership, as well as being a role model for other men. As he states: "I think we have an institutional obligation to create a portfolio of women leaders for the present and future of the Institution. In fact, I discovered that mentoring is my way of actively contributing to start up that process, and it has turned out to be an extremely rewarding experience both professionally and personally ".
In the program, the "male mentors" accompany the participants in their trajectory. They assume these roles with enthusiasm and engage more deliberately and proactively in professional development. As I was told by Duval Llaguno, Lead Specialist of the Knowledge Management Division, a man who has mentored four women: "It is a pleasure to be able to accompany them and witness their personal and professional progress and dreams. Women like them are great role models for people inside and outside the Bank."  For his part, Roberto Iglesias, Head of Finance and Administration Division at IDB Invest, another mentor of the program, told us:  " all the participants with with whom I have exchanged ideas and experiences have coincided in how solid  and enriching this program is. I was fortunate to be chosen as a mentor on a couple of occasions and I could see the enthusiasm and motivation it generates and the tools it provides. The program is definitely excellent and should be used to the fullest. "
The IDB has been a pioneer in developing initiatives to promote greater gender equality and boost women's leadership. The results are visible, both inside and outside the institution. I consider myself very fortunate to work on what I am passionate about and to witness every day the advancement of women's leadership. Without a doubt, much remains to be done. I invite you to continue working, men and women alike, to accelerate change and encourage more women to assume leadership positions. The more, the better!
If you are like Victoria and want to boost women's leadership in the region, come here and discover your next challenge.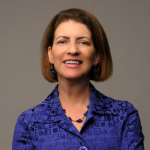 Victoria Cardenas Simons, has been Chief of the Leadership and Employee Development Division in the Human Resources Department at the Inter-American Development Bank (IDB) since 2013.  In this capacity, she has developed a comprehensive academy of learning programs for Bank executives and supervisors, as well as technical and administrative/support staff.  She leads the flagship program for Emerging Women Leaders, has been adapted to the Latin American and Caribbean region for women across the public sector. She is also in charge of the Leadership, Mentoring, Diversity and Inclusion, On-Boarding, Languages and Culture, Communications, and Career and Performance Management programs.
Victoria has over twenty five years of experience in human resources management, organizational effectiveness, and leadership development with international organizations, governments, and the private sector. Prior to Joining the IDB, she worked at the World Bank where she held a variety of executive positions including  Manager of the Leadership and Client Engagement Programs, Manager of the Global Staff Mobility Unit, and Manager of the Young Professionals, Junior Associates and Internship programs. She has a B.A. in International Affairs and a Masters in Human Resource Management from George Washington university.  She also has several certifications including Leadership Coaching from Georgetown university and on Systems Coaching from the Coaches Institute