Latin America has achieved significant social progress in recent decades. From the 1990s through 2019, poverty fell by almost 50 percent: mortality in children under five was cut by more than half; and primary school education became nearly universal. But while significant investment was made to accomplish those outcomes, much more could have been achieved if it wasn't for serious inefficiencies and leakages as well as a pro-rich bias in the design and implementation of programs. As a result of these factors almost 50% of the beneficiaries of noncontributory pensions are not poor; spending on tertiary education tends to favor the highest quintiles in the income distribution, and health services flow to those who can best afford them rather than those most in need. Some programs are just ineffective, and money could be spent elsewhere.
These failings, as well as others, are not just a problem in the formal structures of power or the technical design of policies. They have a lot to do with who the key actors are, how they relate to each other, and how money, information, and ideas flow. In practice the networks of relationships that determine how policy decisions are made and implemented are often very different from that spelled out in constitutions and laws. And those networks can be decisive. With this dynamic in mind, Alejandro Bonvecchi and I recently published Who Decides Social Policy, a book-length study that uses Social Network Analysis (SNA) to identify who, when and how social policy comes into being with the aim of improving policy targeting and effectiveness.
Social Network Analysis and Government Failures
The book emphasis on the characteristics, motivations and interactions of key players helps to explain much of what has gone wrong in recent years. It helps illuminate, among many other things, why protesters took to the streets in fury in 2019 over poor services and vast inequalities in many countries of the region.
But its focus is not just historical. By highlighting the social relationships that lead to decision-making in both presidential and parliamentary systems and in small versus large nations and economies — the book sheds light on areas where corrections might be made in response to the Covid-19 pandemic. Its case studies from Argentina (during the Mauricio Macri administration) The Bahamas, Bolivia (during the Evo Morales administration) and Trinidad and Tobago reveal how a focus on the real actors behind social policy can improve coordination between different governmental and non-governmental bodies, boost the delivery of vital services, and mitigate inequalities in the context of a health and economic crisis in which budgets are either stagnant or dropping during this moment of crisis.
Many actors are involved in policymaking. They range from the president or prime minister, to electors in small rural communities, and members of congress or parliament. They include public opinion leaders, officials at different government levels, unions, business associations, non-governmental organizations (NGOs) and social movements. The complex interaction between these different players and the extent to which they are well coordinated helps determine whether decision-making is strongly institutionalized, stable and has long-term horizons; whether, in essence, it is effective.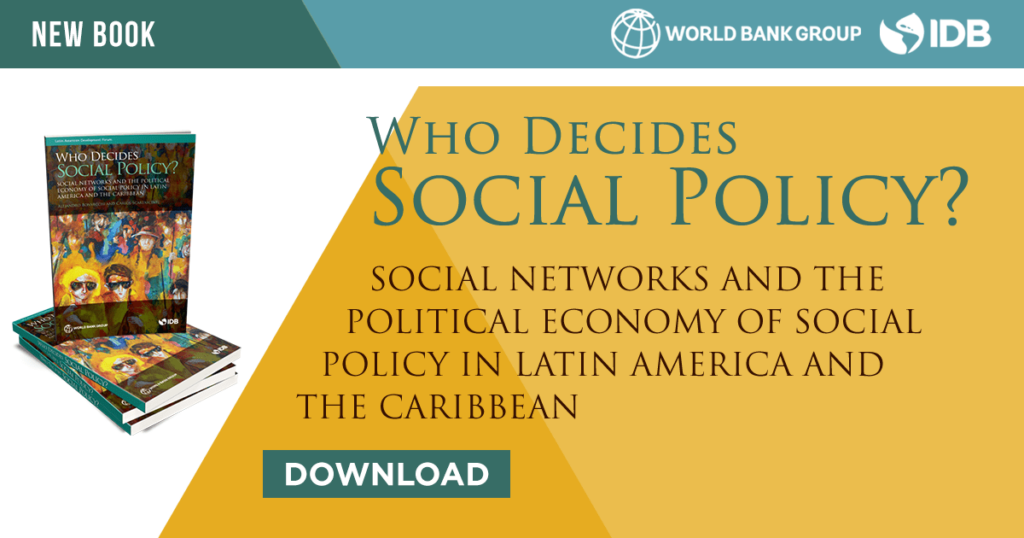 The Problem of Fragmentation in the Making of Public Policy
We interviewed a huge number of officials in 350 different institutions to map out these relationships in our study of the four countries. It was clear how much policymaking in practice often deviates from the formal structures laid out to achieve it and how the lack of effective coordination can lead to less than ideal policies.
Much of the problem, it appears, has to do with the very large number of agents that participate in the political process, each with their own interests and incentives. While incorporating ideas and information from many sources is important, the fragmentation of political power can lead to situations in which key institutions like congress and political parties are left out of decision-making and the technical capacity of the civil service is underutilized.
Where too many actors intervene and power is not hierarchical and centralized, social policy ministries may also fail to communicate and collaborate with each other, leading to poorly coordinated and inefficient policies. An additional effect may be a high turnover of the personnel in the ministries and a resulting deterioration in the ability of the civil service to respond to important challenges. All this needs to be taken into account in the search for more stable, coherent, and coordinated decision-making.
Social Network Analysis and International Organizations
Social Network Analysis (SNA) reveals many aspects of the policymaking process that usually remain hidden with the use of more traditional analytical tools. It is useful too for international financial institutions and multilateral development banks that risk greatly diminished influence if out of ignorance, bureaucratic or historical reasons, they maintain most of their dialogue with actors who are not central to the decision-making process. We hope that our use of SNA in this in-depth study will shed light on where improvements can be made and how governments might adjust to better serve their citizens. We hope it can also provide multilateral organizations and donors with insight that they can similarly use to help countries improve their policy-making processes. There are too few resources and too much at stake at present to risk inefficiencies and leakages in the delivery of vital social services. There are too many lives on the line to risk fragmentation and poor coordination when so much needs to be done in the pandemic and post-pandemic period.