Although only 9% of the world's population lives in Latin America and the Caribbean, the region accounts for a third of the world's homicides. The cost of crime and violence in our region is very high: crime takes large numbers of lives, affects people's safety and welfare, and hampers economic development. As evidence of this, one out of three people in the region say crime is the most pressing problem (LAPOP, 2014-2019), and more than 50% of the population fears being a victim of crime, according to data collected in 2021 by Latinobarómetro.
Police are essential for preventing crime and improving citizen security. But in general, trust in the police in the countries of our region is very low. According to the data from the latest Latinobarómetro survey, in the majority of countries of Latin America, less than half the population trusts the national police (Figure 1). In many of these countries, less than one in three individuals trusts the police.
Figure 1. Trust in the Police in Latin America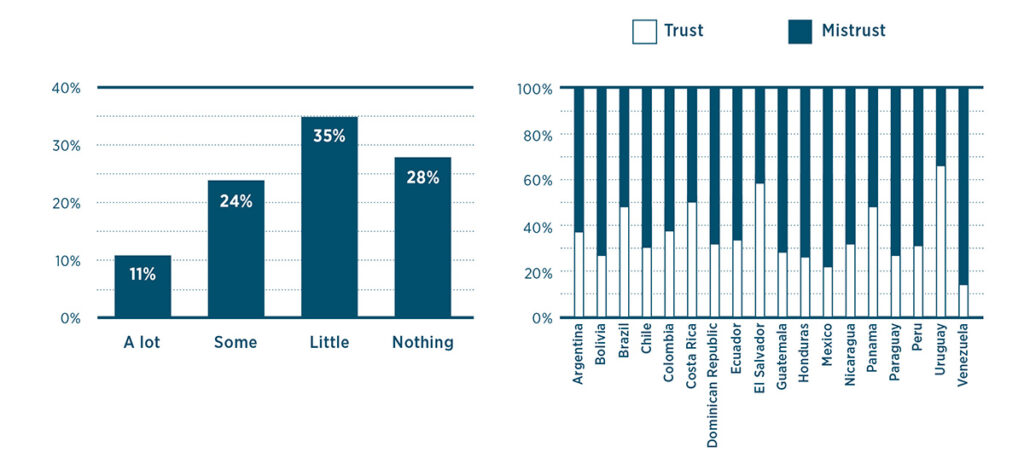 As described in a recent monograph published by the IDB, this lack of trust affects citizens' willingness to fund the police, the type of security policies they demand, and their willingness to cooperate with the police. Lack of trust in the police can reduce the effectiveness of policies to reduce crime and violence. Working to increase this trust is therefore essential to improving security in our region.
The most recent Latinobarómetro survey asked 20,000 Latin Americans what they believed the public budget earmarked for security should be spent on, giving them two options: fund the police or subsidize citizens to pay for their private security. Among those who trusted the police, 63% indicated that the money should be used to fund the police (Figure 2). However, among those who did not trust the police, only 42% chose this option, and almost the same percentage (38%) said the money should be used for private security. Lower trust in the police is associated with less willingness by citizens to provide resources to police agencies.
Figure 2. Resources for the Police or for Self-Protection According to Trust in the Police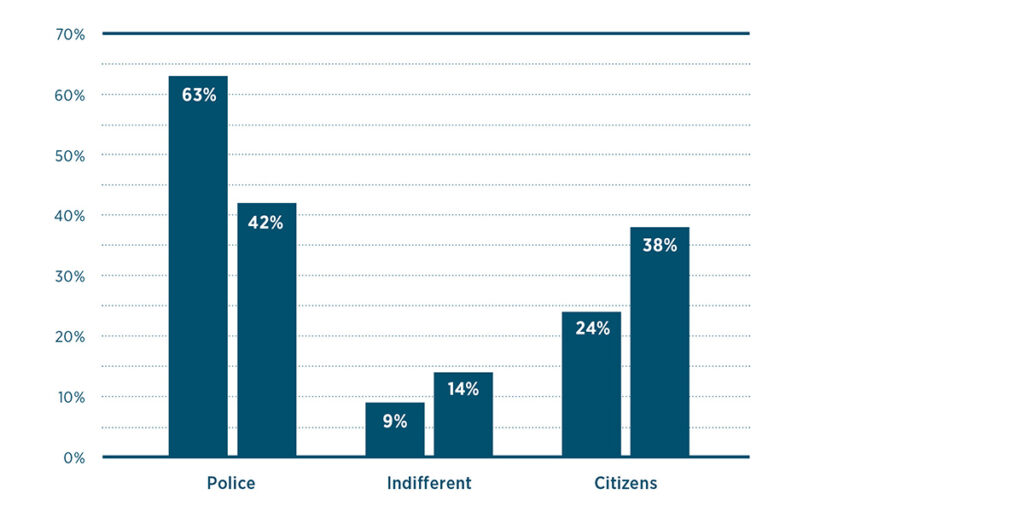 Lower trust in the police also correlates with a lower probability that citizens report minor infractions, like the theft of a cellphone or a bicycle. In the same sample of 20,000 Latin Americans, approximately 60% of those who trusted the police said they would report such crimes, but only 40% of those who did not trust the police said they would do so (Figure 3). This reporting is key for setting policing strategies. It makes it possible to allocate resources efficiently and assess strategies' success or failure.
Figure 3. Reporting Crimes to the Police According to Trust in Them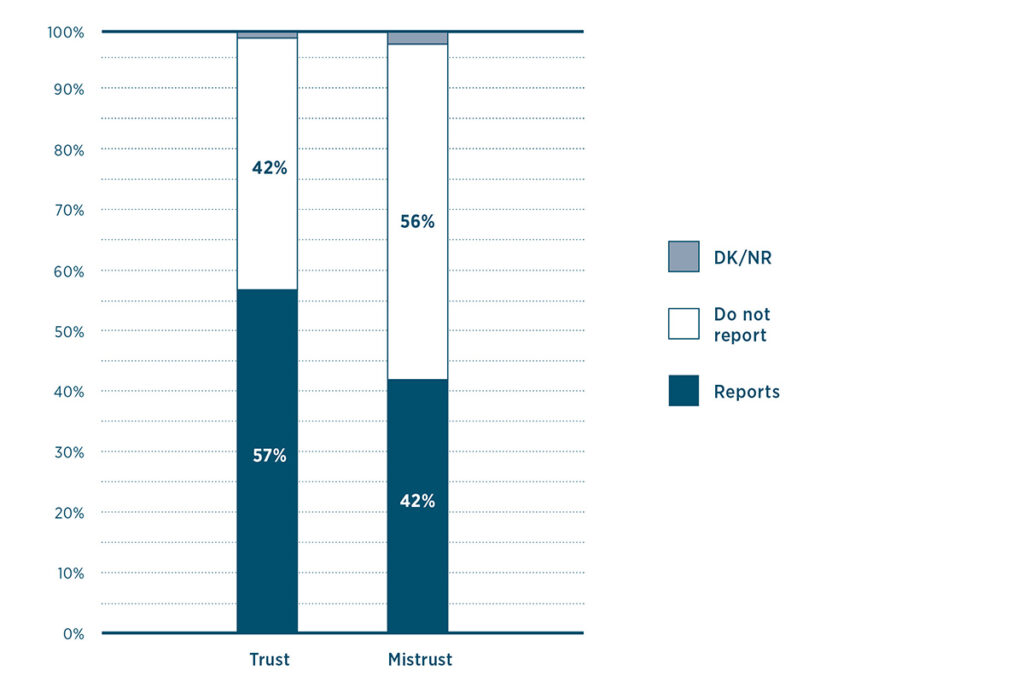 In summary, lower trust is associated with a lower willingness to allocate resources to the police and provide information to solve some crimes. This can become a vicious cycle: fewer resources and less information on crimes can reduce the capacity and effectiveness of policing agencies, further eroding public trust in these institutions.
What work needs to be done to improve public trust in the police and change this dynamic?
Without question, the task of building trust in the police is (as for other public institutions) extremely complex and requires multipronged and sustained efforts. Trust is built when actors do not take advantage of opportunities to act like opportunists. Opportunistic actions are more likely when one of the actors has more information and power than the other. For this reason, citizens naturally distrust the police, and news of bad behavior or corruption leads to sharp drops in trust. Given the lack of information, citizens often have no choice but to form opinions based on these incidents.
The literature highlights four areas where the police can work to try to change the perceptions of the public and increase trust: (i) police effectiveness, (ii) procedural justice, (iii) transparency, integrity, and accountability, and (iv) assimilation of community values. All these areas of action seek to increase information and close the negative perceptions gap.
Citizens are generally going to trust the police more if they think they are effective at their job of controlling and preventing crime; if officers treat people respectfully and impartially; if they are open about their actions and held accountable for their mistakes; and if they share citizens' fundamental values.
Actions can be taken in each of these areas to help improve trust and legitimacy. For example, preliminary evidence suggests that community outreach initiatives that bring together police agencies and citizens to exchange information or make the police interact more with citizens can foster trust. These exchanges can help break down prejudices, highlight similarities, and reduce (or improve understanding of) the differences between the two parties. Of course, these initiatives can only work if people are willing to participate and raise their concerns with the police, and if the police are willing to listen and change their behavior based on the evidence. At the same time, working to improve the use of procedural justice principles in interactions between police officers and citizens can foster cooperation and help build trust.
But it is essential to be realistic: the evidence also shows that changing public opinion is difficult, and these initiatives do not always have the desired effect. Community outreach interventions and the application of procedural justice principles generally have a direct impact on small groups of people (those that interact with the police), and their effect on public opinion may be small. At the same time, their impact may be limited without institutional support to ensure that the officers involved follow up on the proposals made by the community. In this sense, it is essential to create systems of incentives, monitoring, control, and outcomes that support and facilitate these actions. In summary, successfully building trust appears to depend on viewing it as a central component of the institutional strategy, not limited simply to a series of specific interventions.
Evidence and recent events in the region show that increasing trust in the police is an urgent challenge to improve security and good citizen coexistence. Good public policy is impossible without trust. The challenge is as difficult as it is necessary: These factors are crucial for improving public services provision, strengthening governance, and building a business climate that stimulates investment and supports inclusive and sustainable economic growth in our region.