The development of effective vaccines against COVID-19 marks a historic breakthrough. But even if advanced economies succeed in getting most of their population vaccinated in 2021, achieving herd immunity as quickly in developing countries through vaccination will be difficult. This means that as the virus continues to spread around the globe, managing mobility restrictions smartly to control transmission in the near-to-medium term will be crucial.
Latin America and the Caribbean will have to adopt lessons from the wide range of approaches that countries put in place to curb COVID-19 contagion in 2020. But what have we learned? The answer is not straightforward, and there is still uncertainty about what has worked, and what has not. Most epidemiologists agree that facial masks and widespread social distancing are key to preventing contagion, but there is less consensus on the relative success of non-pharmaceutical interventions (NPI), such as curfews and lockdowns, to keep people from gathering closely and dangerously together. Indeed, the effectiveness of lockdowns and other mobility-restriction measures, as well as their associated economic and social costs, have not been uniform across countries.
Here we offer some considerations on compliance with containment measures and present five empirical findings of special relevance to the policy debate in Latin America and the Caribbean. The challenge is tremendous. This is a region that, despite its stringent NPIs, led the globe in COVID-19 cases: With only 9% percent of the world's population, it accounts for 21% of confirmed cases, and 32% of deaths from COVID-19, as of mid-November 2020.
1. Developing and Emerging Markets Put in Place Longer and (de jure) Stricter Lockdowns
Figure 1. Top 40 countries with longest lockdowns through October 31 (number of days with stringency index greater or equal to 80)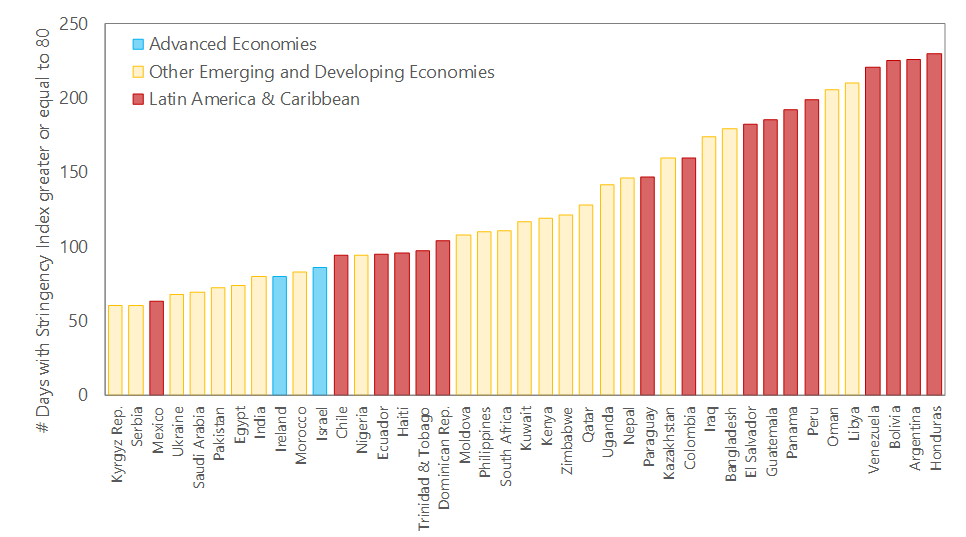 Countries around the globe opted for different policies to contain the spread of COVID-19 infections, with great variation in the severity and duration of measures. Using data from the Coronavirus Government Response Tracker and the Stringency Index from the University of Oxford, we ranked countries based on the number of days under nationwide lockdowns from March to October 2020. We found that emerging and developing countries, with few exceptions, had the longest strict lockdowns (Figure 1). Among them, countries in Latin America and the Caribbean stand out: 8 out of the 10 countries with the longest tight lockdowns between March and October are in Latin America.
Effective lockdowns, however, require the ability of governments to enforce them and/or the willingness of citizens to comply with them. How long, then, did compliance last? Not too long…
2. Compliance with Lockdown Policies Was Short-Lived
To analyze compliance with mobility-restriction policies (and thus the effective strictness of lockdowns) we looked at the changes in mobility before and after the adoption of lockdown measures. Using data from the Google Mobility Index (GMI) for 125 countries, we found that in the early weeks of the pandemic (around March 15-30) countries that put in place strict lockdowns experienced a substantially larger decline in mobility than those that implemented less stringent policies (see solid lines in Figure 2). Yet within three weeks this mobility decline began to reverse and by the tenth week of lockdown there was little difference in the drop in mobility between countries with tighter lockdowns and those that had implemented laxer measures. In other words, as shown in previous IDB work, compliance with restrictions was short-lived.
Figure 2. Changes in Mobility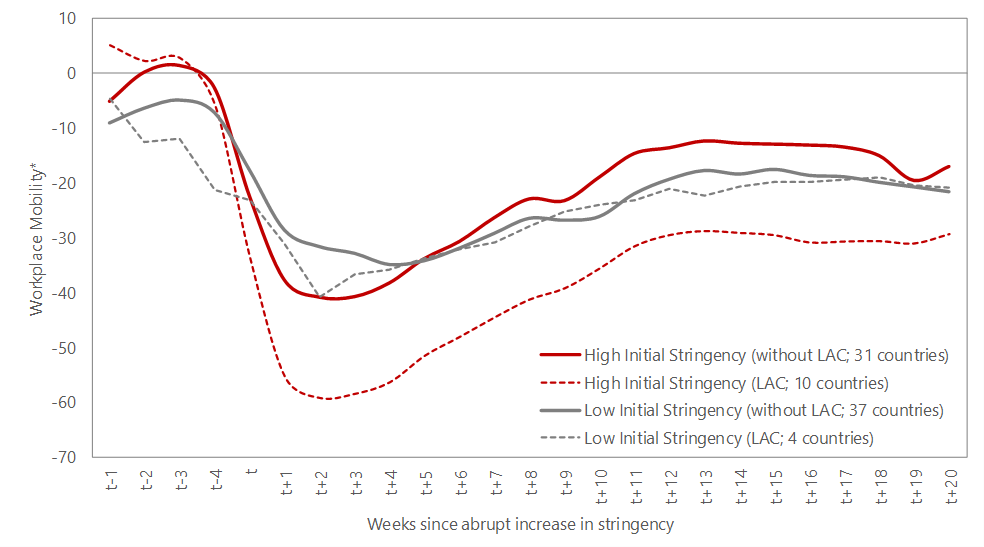 It's true that some countries that initially implemented strict measures then relaxed them. They started to reopen their economies and lift stay-at-home orders. This could be the explanation for the increase in mobility in European countries, where lockdowns lasted on average seven weeks. However, the increase in mobility was also observed in Latin America and the Caribbean, including those countries that kept full lockdowns in place beyond the 10-week threshold. Latin American countries with tight initial lockdowns were successful at reducing mobility—even relative to countries from other regions with similarly strict measures—but their effectiveness was quickly diluted. During the first weeks of the lockdowns, the reduction to trips to workplaces (relative to the pre-pandemic baseline) was 20 percentage points higher in countries of the region with more stringent policies than those with less stringent ones. But that gap was halved by week 10. This pattern is unlikely to have been driven by a reduced fear of catching the virus, as confirmed COVID-19 cases continued to rise well after the first 10 weeks of lockdown.
3. Despite Long Lockdowns, the Spread of the Virus and the Death Toll Were High in Latin America and the Caribbean
In advanced economies, the unwinding of movement restrictions began in late April 2020 and coincided with the decline in confirmed cases and deaths (Figure 3). By contrast, in most Latin American countries the mobility restrictions remained in place much longer. But both the number of cases and deaths per 100,000 inhabitants reached peak levels and then declined slowly. In fact, several countries in the region experienced record numbers of infections and deaths per 100,000 people during June and July of 2020, including those with strict quarantines in place.
This does not imply that lockdowns were ineffective in the region: After all, mobility did decline in the first 10 weeks of lockdown, delaying the spread of the virus and slowing down hospitalizations. However, the sluggish drop in COVID-19 cases and deaths suggests that they were far from a silver bullet, probably due to low enforcement capabilities and increasing non-compliance after those first few weeks. In this regard, it has been shown that voluntary social distancing was limited in emerging and developing economies, likely because it is harder for many people to work from home.
Figure 3. Stringency Index and New Deaths per 100,000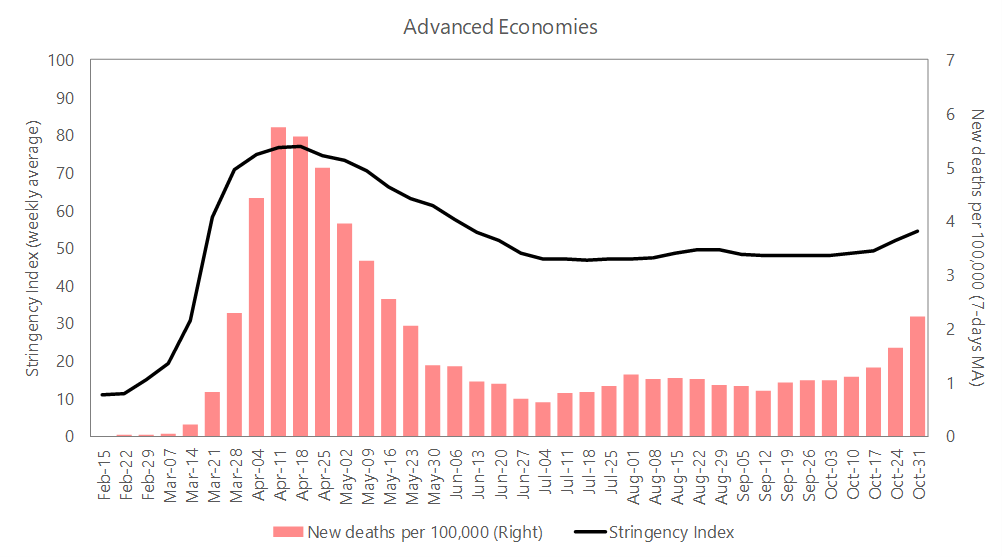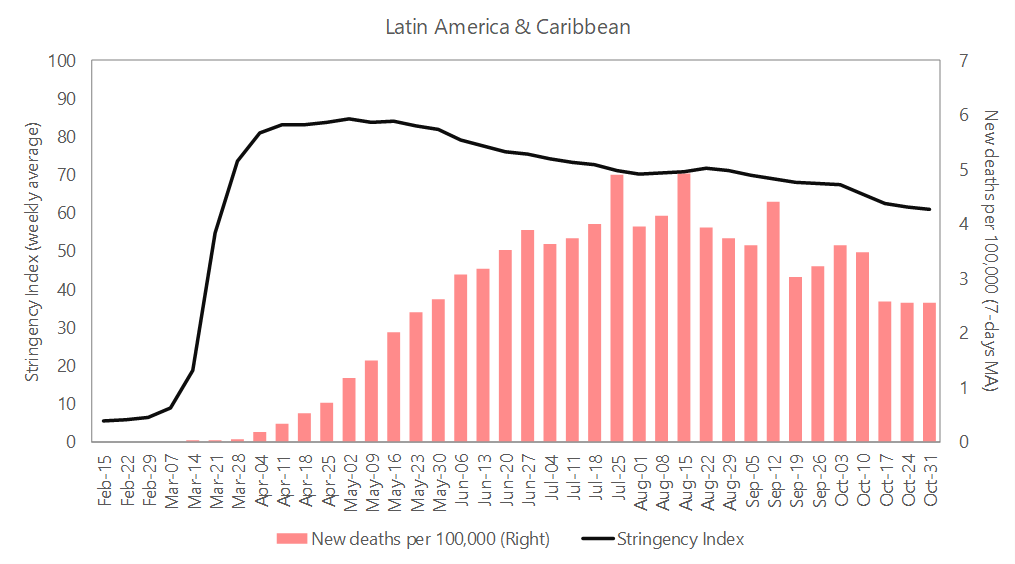 4. By Contrast with Latin America and the Caribbean, Advanced Economies Implemented an Adaptive Approach to the Health Crisis
Exceptions notwithstanding, most countries in Latin America and the Caribbean rapidly adopted stringent containment measures and kept them, at least on paper, roughly unchanged between March and September (Figure 4). By contrast, advanced countries reopened their economies sooner, following a long haul marked by trial and error. These shorter quarantines were followed by other (intermittent) movement restrictions and were complemented by other NPI measures, such as border restrictions and mandatory use of facial masks.
Figure 4. Evolution of the Stringency Index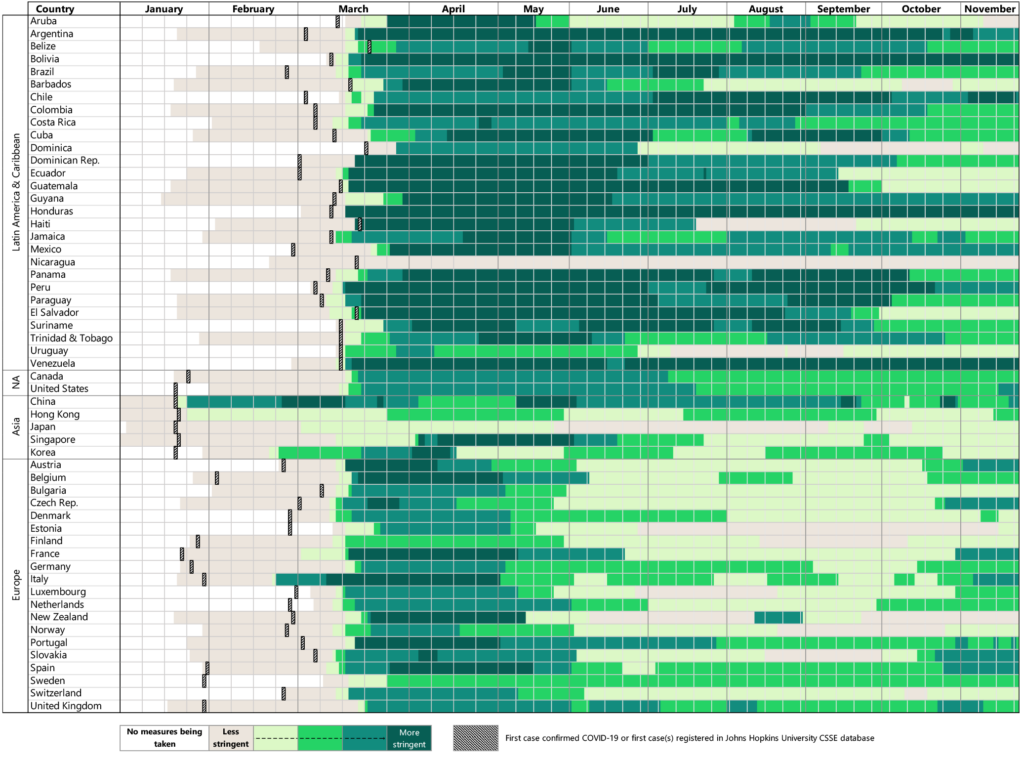 Moreover, in most advanced economies, this adaptive approach towards movement restrictions was accompanied by an effort to increase testing and contact tracing. The data shows that, in general, countries with relatively less stringent policies were more agile at expanding testing (Figure 5). However, levels of testing and contact tracing have been relatively low in Latin America and the Caribbean (marked in red) despite the strict mobility restrictions.
Figure 5. Stringency Index and Testing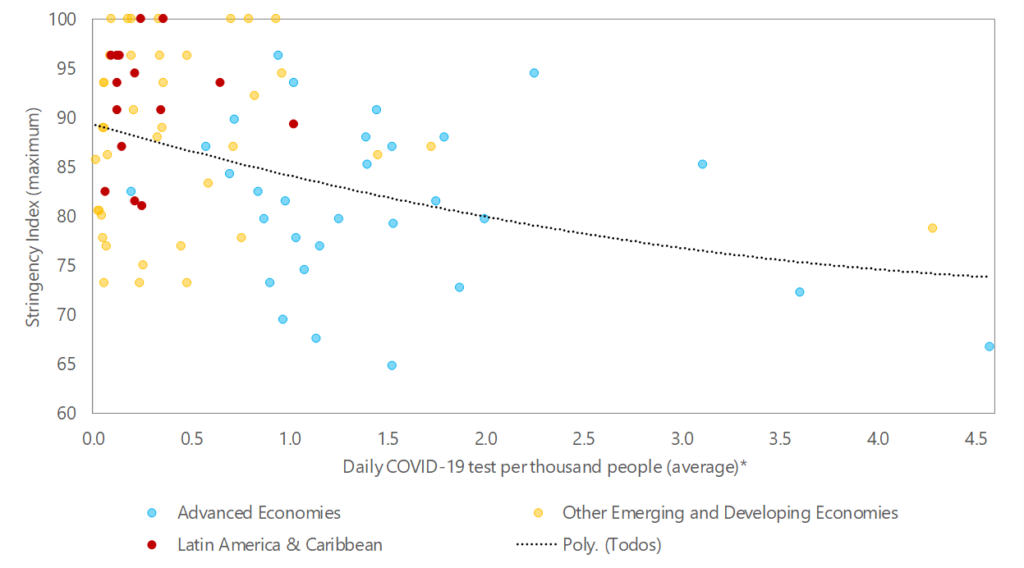 4. Trust Matters for Compliance
Citizens' willingness to comply with lockdowns could compensate for governments' difficulties in enforcement. A recent analysis shows that in Europe the decline in mobility during the first months of the pandemic was substantially greater in regions with high levels of pre-pandemic trust in government. Using pre-pandemic data from Latinobarómetro 2018 on trust in governments and Google Mobility data for 18 countries in Latin America and the Caribbean, we also find that mobility in high-trust countries decreased significantly more than in countries with relatively low-trust levels (Figure 6). This pattern is consistent with cross-country evidence on the link between trust, citizens' cooperation and economic growth.
Figure 6. Daily Mobility and Trust in Government in Latin America & Caribbean (variation across countries, local polynomial fit)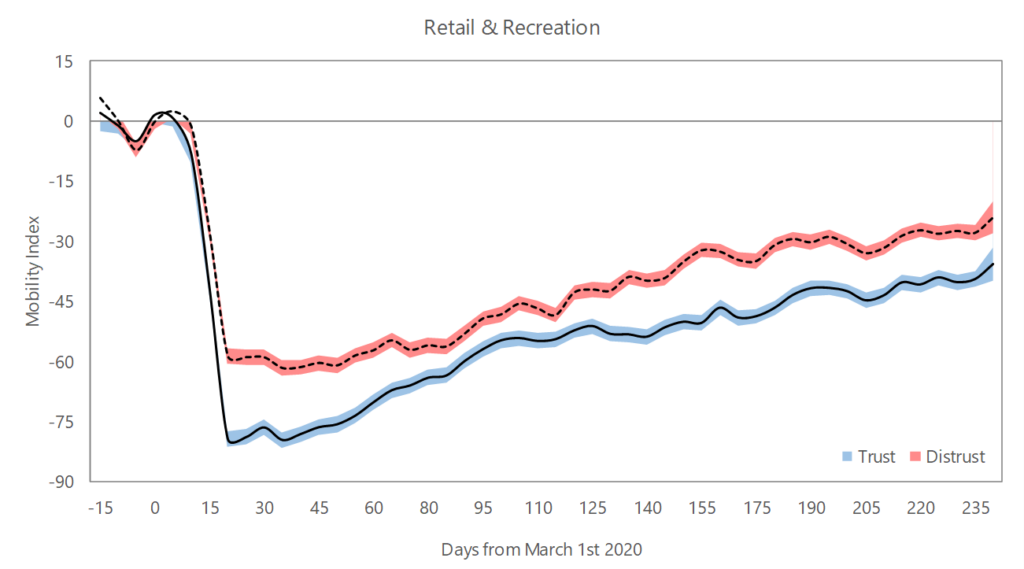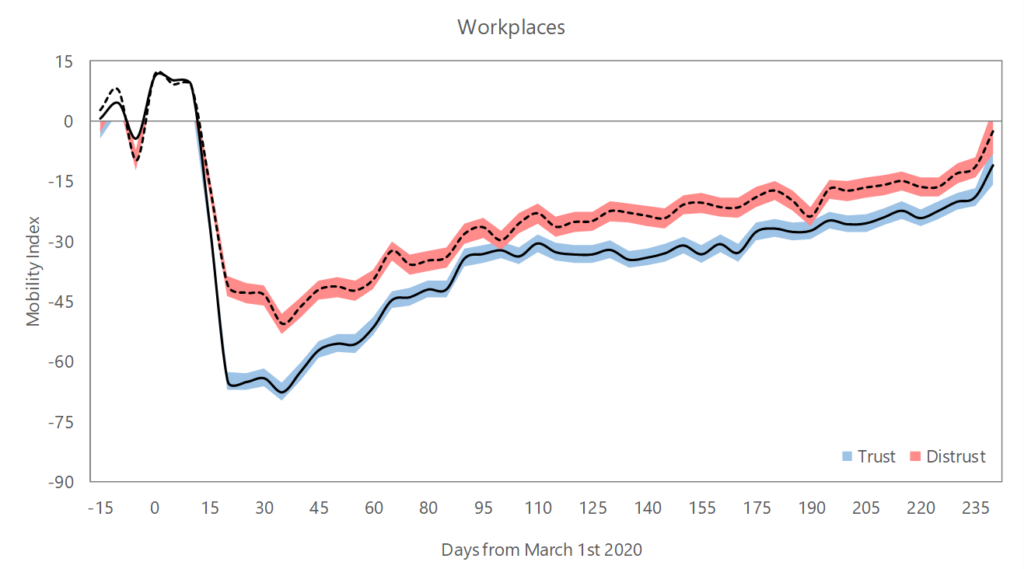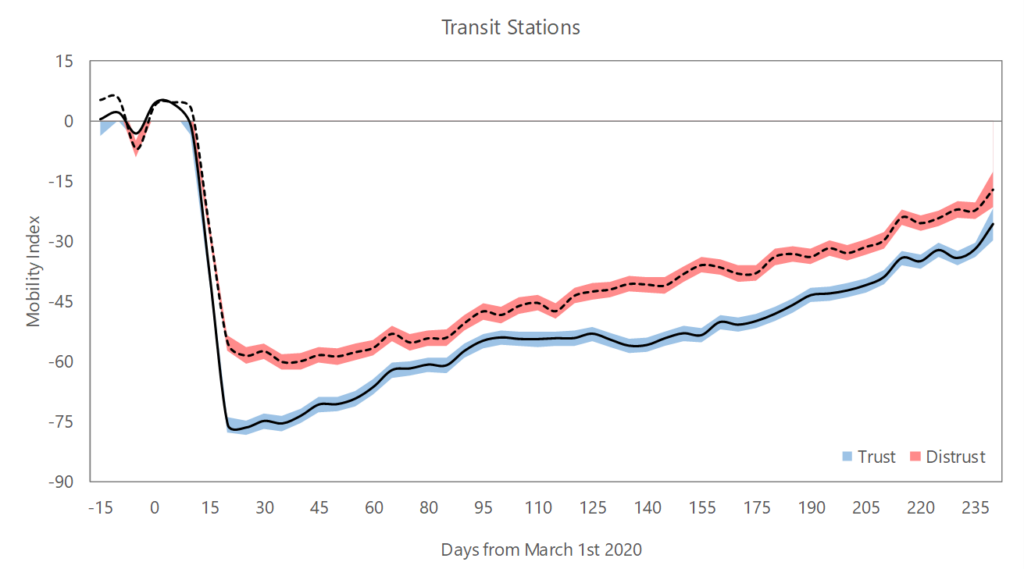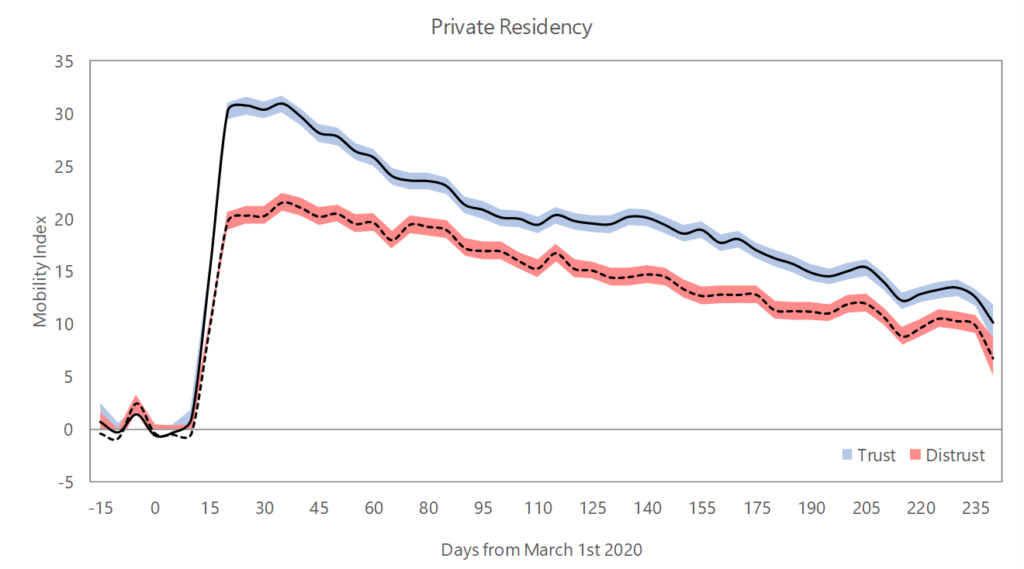 So… Why Do These Findings Matter?
The current pandemic situation and expectations about the disease's spread are different from those in early 2020. But no vaccine is widely available as of yet on a global level, and lessons from the early stages of the pandemic will remain key to slowing the outbreak in the months to come. Our findings show that sustainingtight lockdowns over a long period of time was challenging for Latin America and the Caribbean; that a more adaptive approach might have been more effective in saving lives and reducing the economic and social costs. In advanced countries, the early adoption of short-lived lockdowns, followed by an adaptive approach of "trial and error," proved effective in curbing the virus' spread.  Our findings also suggest that trust was important in fostering compliance with movement restrictions.  In the months to come, the ability of countries in Latin America and the Caribbean to put in place an adaptive approach to containing the virus will be crucial, as the logistical challenges of delivering the vaccines (especially to people at risk in remote communities and vulnerable populations) will likely require governments to learn on the go, rapidly overcome bottlenecks, and change their plans as needed.