The temporary mass closure of preschools and daycares due to COVID-19 is depriving hundreds of millions of children of learning opportunities. These losses will have a lifelong effect on their education, health, income, and productivity, limiting their future opportunities. In addition to these negative impacts on children's development, the closures will also have an impact on countries' human capital and economies.
The Inter-American Development Bank (IADB), the FEMSA Foundation, and the Maria Cecilia Souto Vidigal Foundation organized an online seminar where evidence was presented about reopening daycares and preschools to mitigate losses for young children. The purpose of the seminar was to give policymakers the tools they need to perform cost-benefit analyses and make decisions in their countries.
Emily Oster, an expert from Brown University in the United States, and Ramanan Laxminarayan, an economist and epidemiologist from the Center for Disease Dynamics, shared their perspectives on reopening early childhood services. The more than 1200 participants in the online seminar asked around 300 questions, generating a very high-level dynamic that included ministers, secretaries, and sub-secretaries for childhood affairs, as well as advisors and lawmakers from countries all over the region.
If you missed it, watch the full online seminar
Why are preschool and daycare closures so concerning?
In the first five years of life, a child's brain presents a unique opportunity. The right kind of stimulation during this period can have a major impact on peoples' future and is one of the keys to ending intergenerational poverty. Interrupting learning and development opportunities may exacerbate pre-existing inequities in many countries in Latin America and the Caribbean. High-quality childcare and preschool services are one way to guarantee these opportunities, but these are the very same services now closed in response to the COVID-19 pandemic.
At the beginning of the online seminar, we referenced an IDB study that was the first to simulate losses due to closures of preschool and childcare centers because of the COVID-19 pandemic. Among the consequences that can be inferred are diminished future earnings for today's preschool-aged children when they become adults in 140 countries with a combined population of 6.4 billion people.
The simulation includes different scenarios, and since closures have already passed the six-month mark and in most countries are nearing one year, the results are alarming. In Andean countries, 12 months of closure could mean a 10.5% loss of GDP, while in the Caribbean the loss could be 6.3%, in Central America and the Dominican Republic 7.4%, and in the Southern Cone 6.6%. These losses are clearly considerable in comparison to government expenditure on all levels of education in those same countries.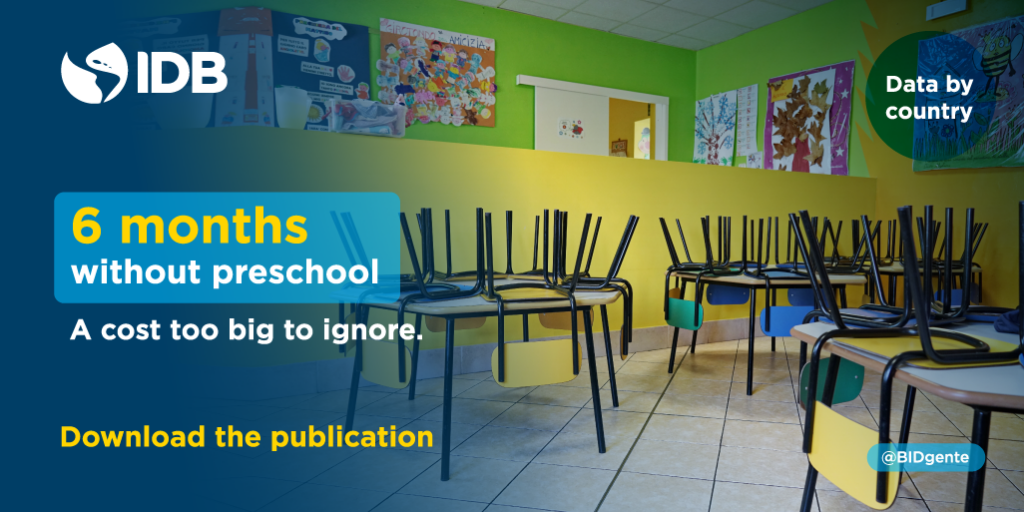 What do the experts who participated in the online seminar say?
Emily Oster shared data on around 10 million students, nearly half of whom attend school in person. In this context, the COVID-19 infection rate among students is 5 out of every 1000. Among teachers, the rate is 12 per 1000. In other words, in-person schooling would not increase the risk of virus transmission in the United States. Additionally, the main factors that reduce the risk of infection are, in order of importance: wearing masks, ventilating rooms, and testing frequently.
Meanwhile, Ramanan Laxminaryan presented the largest contract tracing study in the world, which was done in India and involved more than 3 million contacts traced. The article shows that the 0 to 5 year age group faces the lowest risk of infection, disease, and transmission of COVID-19. The risk is greater in the 5 to 17 year age group, though it is still lower than among adults.
Both experts concur that contrary to common belief -based on evidence on influenza and other respiratory disorders-, young children are not major vectors of COVID-19 in the home, even in intergenerational homes that include grandparents. It has been proven that small children are not the ones who transmit COVID-19 to older people; rather, young adults transmit the virus the most.
During the online seminar, we received many questions about how to mitigate the negative impacts of closing early childhood services. Decision-makers must mitigate the effects of closing preschool programs to reduce unprecedented losses in early childhood. Children, their families, and the economies of their communities and countries will all suffer the consequences. Public policies in particular should provide services adapted specifically for children living in poverty, who will be more exposed to those losses. All else aside, the experts agreed that for a successful reopening, two aspects are key. First, the reopening needs to involve everyone who is affected: teachers, fathers, mothers, and schools. Second, it is very important to weigh the cost and benefits of closures. Given the role that children under age 5 play in transmission, these closures would bring little benefit in terms of limiting the virus' spread. However, the toll they take on learning and future earnings, especially for this age group, could be staggering.
Is your country now reopening childcare centers and preschools? Tell us about it in the comments section or mention @BIDgente on Twitter.