Government authorities, scholars, civil society organizations, businesses, project implementers, and innovators. All these stakeholders play a key role difficult to replace. Now let's imagine that all these diverse individuals from different backgrounds and expertise are having the same conversation: Promoting the development of children from 0 to 5 years of age in Latin America and the Caribbean.
It might seem like a difficult meeting to coordinate, but we knew it wasn't impossible. That is why we created the Community of Practice in Early Childhood Development, led by the Early Childhood Development (ECD) Innovation Fund. This community was recently launched with an event with more than 70 specialists and innovators, who participated in the workshop Adaptability and Innovation: Keys to Quality Care in Early Childhood.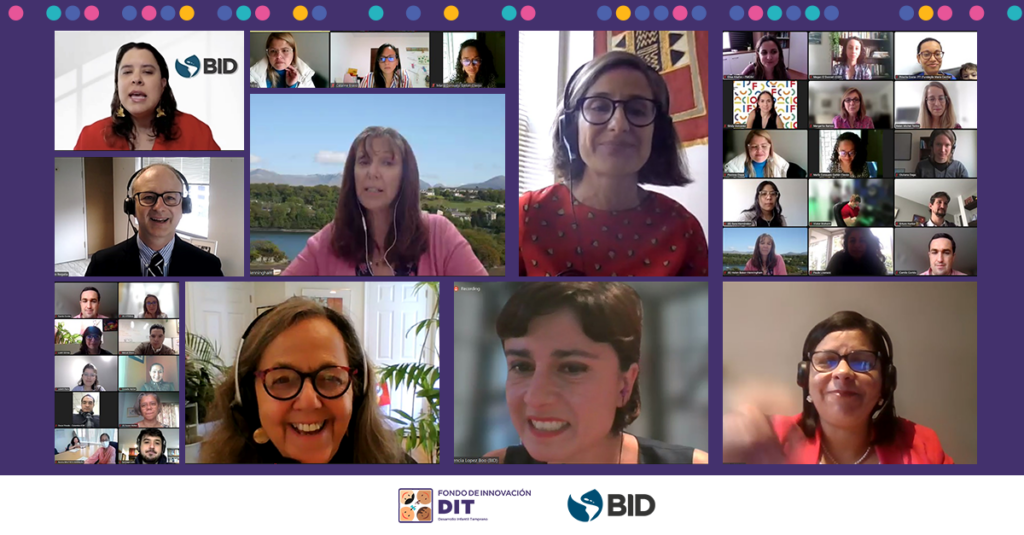 The success of a community of practice is possible with the active participation of its members
The international expert in child development, Joan Lombardi, opened the meeting with this remark, taking communities of practice in child development in different regions of the world as reference.
She also kicked off a productive session in which specialists and project implementers shared lessons learned from the design and implementation of virtual and hybrid modalities in early childhood services in Brazil, Ecuador, Jamaica, and Panama. Initiatives with effective content to create an emotionally supportive environment for caregivers and children in Jamaica were explored. In addition, a communication campaign developed in Peru with awareness-raising resources and tools to promote quality interactions between caregivers and children at scale was presented. Furthermore, multiple videos sent by different innovators in the region were disseminated among the participants for them to know each other's work. All these resources of knowledge gave way to an exchange in which two very current and relevant questions were addressed: How to generate innovation at scale? and How to generate adaptability and innovation to reach the most vulnerable population?
Regional collaboration as a key element
It was thrilling to listen to stakeholders from across the region answering these questions and acknowledging the common ground that exists within the child development work. Among the ideas shared on how to best address existing challenges, we can highlight:
Generate opportunities for all without leaving anyone behind. Cooperation and partnerships will be essential for this and for being able to scale up projects that have proven their effectiveness.
Beyond individual efforts, it is necessary to generate and install capacities in governments and foster an increasingly larger network of implementers to share and socialize knowledge, good practices, and lessons learned. This will drive the development of new human capital to promote child development in each country.
Facilitate participatory processes for the design and implementation of projects with the communities and users of the innovations, which identify the needs of each population, and programs that consider the problems, resources, and challenges identified in these processes.
Finally, the most persistent idea was that collaboration and partnerships are key elements in early childhood work.
On the other hand, participants highlighted key aspects for successful implementations adapted to the new challenges in post-pandemic times. For example:
Deeply know the community to inform the design of interventions and adapt them to the particular context.
Use technologies that allow programs to scale up.
Build digital ecosystems that facilitate communication among diverse stakeholders.
Test pilots and evaluate before implementing programs at scale.
Develop innovations that are integrated into existing services with periodic evaluations to sustain quality at scale.
Takeaways such as these justify the creation and strengthening of this Community of Practice and indicate that this conversation must continue and be extended to other relevant stakeholders of the region.
The Community of Practice seeks to go further: key issues and incidence
Aside from driving collaboration and knowledge exchange among various sectors dedicated to early childhood, this Community of Practice seeks to go beyond: it is committed to promoting dialogue around key issues and strategies of the regional policy agenda on child development, as well as positioning these regional views at a global scale through creation of content, strengthening of knowledge networks, and generation of synergies.
This conversation is just beginning.
To learn more about diverse early childhood initiatives from Latin America and the Caribbean, visit the ECD Knowledge Hub in Latin America and the Caribbean, a one-stop site that displays more than 2,000 resources on early childhood produced in the region and a map featuring innovative projects across our countries.
We invite you to join this conversation by sharing your work related to early childhood with the hashtag #LaCECDHub and leaving your comments below.
We'll stay in touch!
The Early Childhood Development (ECD) Innovation Fund is a partnership between the Inter-American Development Bank (IADB), FEMSA Foundation, Maria Cecilia Souto Vidigal Foundation, Open Society Foundations, Porticus, and the Bernard Van Leer Foundation that funds, designs, implements and evaluates innovative and scalable solutions to improve the lives of children in Latin America and the Caribbean.