It is inevitable that many of the issues affecting families over the last year predate the pandemic and remain once infection rates fade out and masks come off. These are issues that have been long-demanded but have not received adequate attention. We must keep them in focus during the recovery period in all countries and regions. That is why in this two-part post, we look back at three overarching findings from the first year of the RAPID-EC national survey, which includes 10,707 families across all 50 states of the United States. We hope they are useful conversation starters for policymakers, academia, and partners in Latin America and the Caribbean.
The pandemic has made it difficult for many families with young children to pay for basic needs, which has had negative effects on caregiver and child wellbeing
In 2020, the RAPID-EC survey showed that the pandemic has caused a "chain reaction of hardship" for many families with young children. A very large proportion of families with young children have been experiencing some form of material hardship (i.e., difficulty paying for basic needs like food, housing, and utilities): consistently throughout the past year, no less than one in four households with young children and at many times as many as one in three were experiencing such hardship. This affects families' well-being.
We measured emotional distress in adults as a composite of depression, anxiety, stress, and loneliness (on a 1–100 scale); and emotional distress in children as a composite of fearfulness/anxiety and fussiness/defiance (also on a 1–100 scale). As the severity of material hardship increased, so did emotional distress in both parents and children.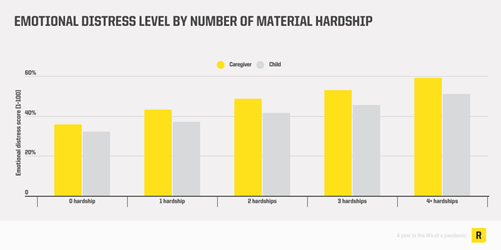 Looking across our weekly surveys we saw that the relationship between material hardship and emotional distress unfolded in a predictable way: parental reports of material hardship in any given week were associated with increased adult distress in subsequent weeks, and adult distress was, in turn, associated with increased child distress in the weeks that followed. We have described this effect as the "chain reaction of material hardship."
We also found that emotional support was a powerful buffer against this chain reaction: adults who reported high levels of emotional support were less likely to be negatively affected by material hardships. When caregivers had emotional support it also protected their children from the negative effects of material hardship.
In recent months we have seen another promising finding. As two stimulus payments became available between February and March, the proportion of families reporting material hardship has fallen back to levels seen in the early days of the pandemic. Although we cannot discern from our data whether there is a causal relationship between these trends, it is promising that both indicators are moving in a positive direction. It will be important to determine if these recent trends continue, stabilize, or reverse as more time passes.
Importantly, these recent trends should not obscure the fact that currently one in four families with young children — or about 3.6 million families in America — still cannot pay for basic needs and experience the resulting challenges to caregiver and child wellbeing.
Overall, we have seen that increases in material hardship negatively impact caregiver and child wellbeing, but also that this cascade can be stopped and reversed when families with young children have the support they need.
Long-standing racial inequality in families with young children has increased over the last year
The second fact that has consistently stood out in the RAPID-EC data and in other data is that structural inequalities based on race/ethnicity, which are long-standing and were well-documented prior to the pandemic, have gotten worse during the pandemic. For example, across the entire first year of the survey, Black and Latino families have experienced significantly higher rates of material hardship than White families, and more Black and Latino households that were middle/upper income before the pandemic have been experiencing hardships than White families in these same income levels. Indeed, during many weeks of the survey, the proportion of Black and Latino families unable to pay for basic needs was twice that of White families.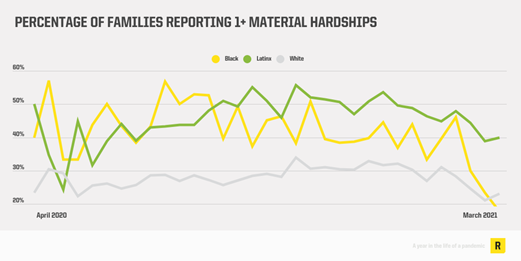 These inequalities were also seen in our analyses of responses to the open-ended question, "What are the biggest challenges that you and your family are facing during the pandemic?" The bars below show the relative frequency with which specific topics occurred in responses offered by Black as compared to White respondents, after controlling for income. As the figure shows, Black and White families have experienced the pandemic in very different ways. For White families, the primary challenges have been around social deprivation, whereas for Black families the primary challenges have been meeting basic needs.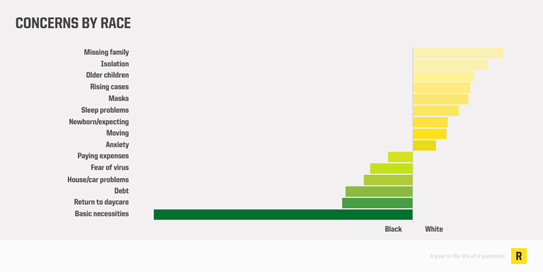 The Pandemic has Placed Extra Weight on Families with a Child with Special Needs
Our data, and other reports, have also shown that families with a child with special needs, in which numerous economic and social disparities were documented prior to the pandemic, have experienced disproportionately greater challenges in many domains over the course of the pandemic. These families have also had less access to social and emotional supports than other families.
For example, special needs households experienced higher rates of material hardship than other households, perhaps in part due to higher expenses associated with caring for a special needs child. In addition, there are healthcare disparities: 50% of special needs children missed a well-baby or well-child visit, significantly more than the 39% of other households. Also, one in four children with special needs (significantly more than other children) also did not receive routine vaccinations or preventative well-child visits.
In addition, while other families may have been able to access and benefit from virtual services, it is well-documented that remote service delivery for children with special needs is challenging and not optimally effective.
From material hardships to racial inequalities and children with disabilities, our findings clearly show how the pandemic has affected most families with children in the United States. Now that you have seen the results, we would like to share some ideas about how to move forward in the next blog post. While you wait for them, please share with us how the pandemic has affected your household or those households in Latin America and the Caribbean in the comments section below.
Article originally published on the RAPID-EC website. Access the original version here.
At the Inter-American Development Bank we work to improve lives in Latin America and the Caribbean. Our vision for 2025 is to drive growth opportunities for all in a sustainable way. Find more information in this video.