4 min. read
It is not a surprise that data from private companies can be beneficial for many public policy decisions, and the Development Data Partnership recognizes that the private sector is a powerful ally to strengthen development initiatives through knowledge, data and resources, among others. The Partnership is a consortium of multilaterals, which include the Inter-American Development Bank (IDB), the International Monetary Fund (IMF), the World Bank, the Organization for Economic Cooperation and Development (OECD), and the United Nations Development Program (UNDP).
The purpose of the partnership is to facilitate access to, and use of, nontraditional data sources held by the private sector in support of research and international development. This partnership aims to streamline this end-to-end process with private companies so that the Bank staff and other member organizations can access their data. Using data from the Development Data Partnership, this article presents a case study on how we used LinkedIn data to show how COVID-19 has impacted the labor market in Latin America and the Caribbean.
Understanding the post COVID-19 labor market in Latin America and the Caribbean: a case study
One of the Data Partnership most recent contributions was to the Observatorio Laboral COVID-19. Managed by the IDB's Labor Markets Division, the observatory aims to understand how COVID-19 has affected labor markets in Latin America and the Caribbean. This initiative presented an opportunity to use LinkedIn data to understand the fluctuations of hiring rates in different sectors across the region. These insights are a valuable source of information that complements traditional statistics on labor dynamics. The availability of data, particularly of trends on the skills needed for different occupations, is a valuable source of information on the pandemic's effects on the job market.
LinkedIn's hiring rate dataset showed an overall recovery in professional employment. This data complements other traditional information sources (like household surveys) included in the observatory. The combination of both datasets provides a rich overview of the labor market dynamics in the whole region. Some of the conclusions are:
From May 2020 to May 2021, all countries started evidencing a fast recovery.
In April 2021, Peru, Colombia, and Mexico had almost recovered their pre-pandemic hiring rate levels.
By May 2021, Argentina, Costa Rica, Dominican Republic, Brazil, and Chile show hiring rates higher than in February 2020, which is in line with the relatively small losses in formal and highly educated employment observed at the end of 2020.
LinkedIn data showed that for Brazil, Argentina, Peru, Chile and Mexico Software and Information Technology Services, Nonprofit, Finance and Retail trade sectors had the smallest reduction in hiring rate during the pandemic when compared with other between March 2020 to April 2021
In contrast, LinkedIn hiring rates for Recreation & Travel, Education, Public Administration, and Design Industries were the most severely affected have not recovered to the levels seen in the pre-pandemic for the countries mentioned above at the same time period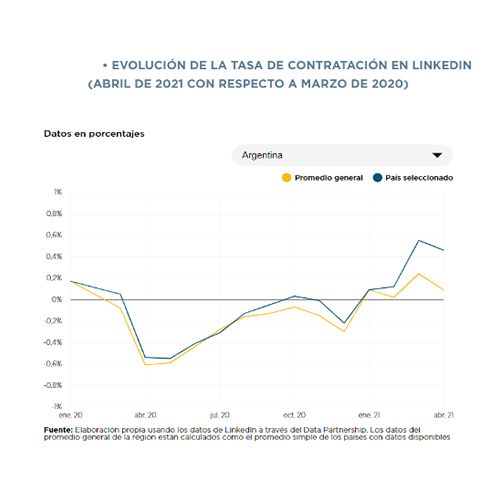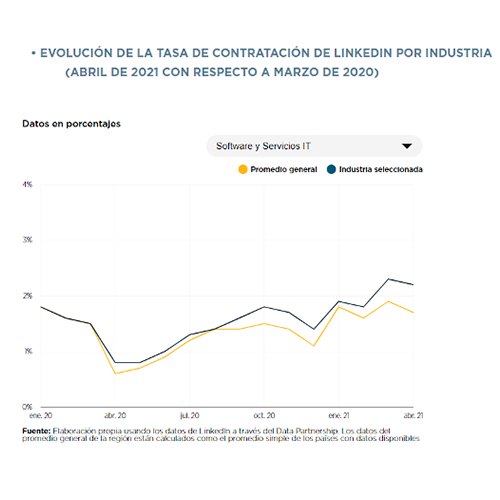 To further understand how LinkedIn data served this initiative, you can visit the full report on the Observatory website, as well as find insights on its public data repository.
More about the Data Partnership and its projects
The private sector continues to produce relevant data for economic and social policies and because of this, efforts like the consortium become increasingly relevant to stimulate public-private partnerships, which provide an opportunity to transform proprietary datasets into sustainably generated insights to improve public sector services and infrastructure. We aim to increase collaboration across all disciplines, on concrete activities, produce meaningful data, share principles, and develop mechanisms to generate better and more inclusive public goods.
Our Data Partners provide high-quality data for a broad range of countries, including many emerging markets and low-income countries. You can discover other success stories regarding partnership data in our portal. Projects include the Map of LAC Innovators COVID-19, created in 2021 by IDBLab, using data from ESRI/ArcGIS and which allows everyone to explore an interactive map of an open, united, and consolidated database of the diverse startup efforts in the region. If interested, you can also access and download this data.
By Pedro Gagliardi and Eugenia Valdez.