De COVID-19 pandemie heeft enkele belangrijke aandachtspunten voor de private sector van Suriname naar voren gebracht, aandachtspunten zoals onvoldoende digitalisering, financiële inclusie en infrastructuur. De private sector van Suriname had al te kampen met een ongunstig ondernemingsklimaat voordat COVID-19 het land trof en er was hoop dat het jaar 2020 enkele positieve veranderingen met zich mee zou brengen. Inderdaad, 2020 bracht verandering met zich mee, maar niet de verandering die werd verwacht: de COVID-19 pandemie verergerde een al precaire sociaal-economische situatie.
Om de verspreiding van de COVID-19 infecties tegen te gaan, sloot Suriname op 13 maart 2020 haar grenzen. Dit had natuurlijk een directe impact op het toerisme. Daarnaast beperkten de strikte sociale afstandsmaatregelen die de overheid introduceerde aan het begin van de pandemie ook de bedrijfsactiviteiten van niet-essentiële bedrijven.
In onze laatste publicatie zijn resultaten van online enquêtes omtrent de impact van de aanhoudende pandemie op het Surinaams bedrijfsleven geanalyseerd. Dit zijn de belangrijkste bevindingen: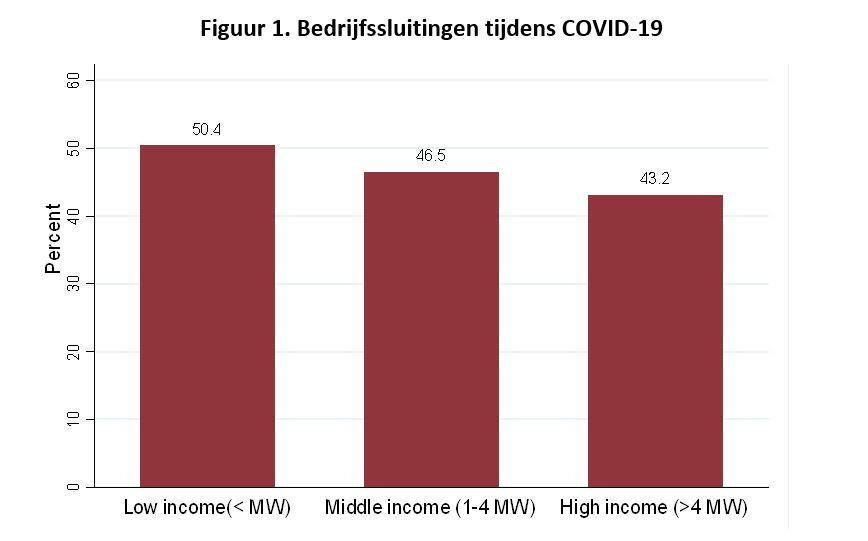 Wereldwijd zijn bedrijven bezig zich aan te passen aan het "nieuwe normaal" van zakendoen (werken van huis uit, indien mogelijk en zorgen voor sociale afstand op de werkplek); hierdoor worden adequate infrastructuur en digitale diensten uiterst belangrijk voor bedrijfscontinuïteit, veerkracht en succes. Om de overgang naar en aanpassing aan het nieuwe normaal te vergemakkelijken, zijn er enkele belangrijke gebieden die Suriname verder moet verbeteren
I. Verhoging van Internet connectiviteit van de bevolking: Om bedrijven en individuen een eind op weg te helpen om te kunnen gedijen in een post-pandemische wereld, zal het noodzakelijk zijn meer mensen online te krijgen en vooruitgang te boeken in de richting van universele internettoegang. Echter, volgens schattingen van de Wereldbank in 2017 maakte slechts 49 procent van de Surinaamse bevolking gebruik van internet, wat lager is dan het gemiddelde van 63 procent voor Latijns-Amerika en het Caribisch gebied (LAC). Internettoegang en digitale technologieën werden essentieel gedurende de pandemie voor veel dagelijkse activiteiten en transacties. Deze trend zal naar verwachting na de pandemie aanhouden.
II. Digitalisering van overheidsdiensten: de pandemie heeft veel digitale transformatieprocessen van diensten in de publieke sector versneld, waarvan werd voorspeld dat ze wat geleidelijker zouden verlopen. Dit zal naar verwachting belangrijke voordelen opleveren in termen van meer besparingen, grotere efficiëntie en transparantie, en een meer flexibele publieke sector als het gaat om het leveren van diensten. Dit is vooral belangrijk voor Suriname aangezien een hoog percentage van de Surinaamse bedrijven interactie heeft met de overheid: in 2018 meldde 86 procent van de bedrijven transacties met de overheid. Echter, in de afgelopen 5 jaar is de positie van Suriname op de E-Government Development Index (EGDI) van de Verenigde Naties gedaald van 110 in 2016 naar 122 in 2020 (van de 166 landen). De Online Service Index van het land, welke het vermogen en de bereidheid van een overheid meet om diensten te verlenen en elektronisch met haar burgers te communiceren, was 0,29 en ruim onder het regionale gemiddelde van 0,59 voor LAC. Gezien de lage scores is het belangrijk dat Suriname investeert in een geïntegreerde digitale strategie, welke ook aandacht schenkt aan oplossingen om de discrepanties in digitalisatie en connectiviteit tussen stedelijke kustgebieden en plattelandsgebieden te verkleinen.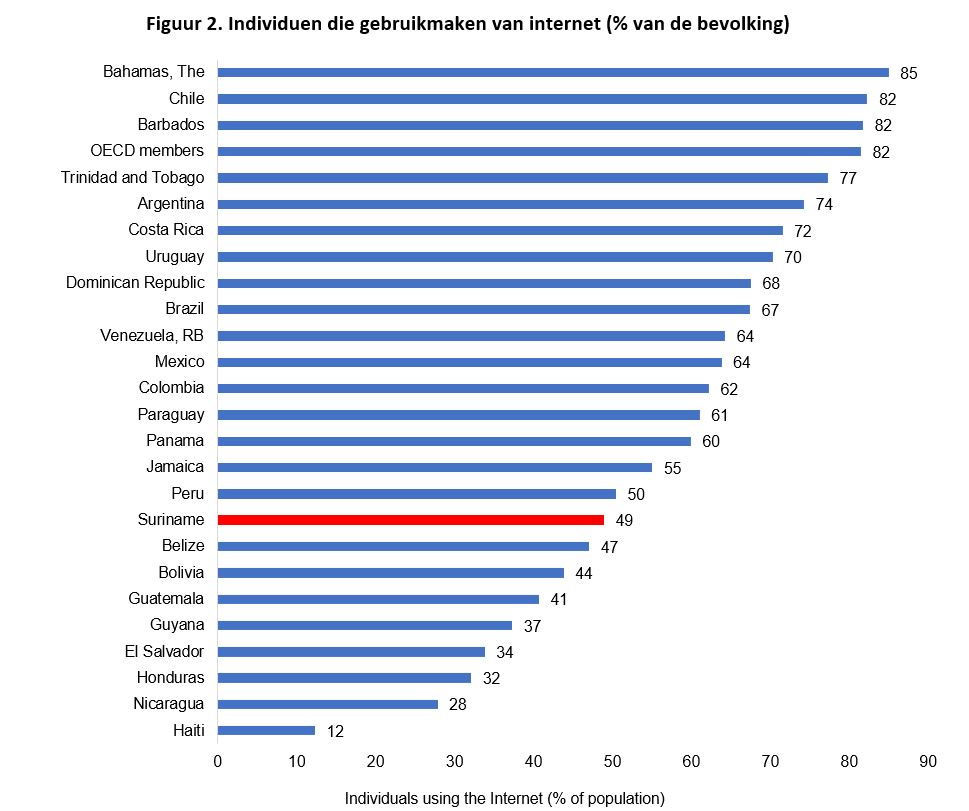 III. Financiële inclusie: de COVID-19 pandemie accentueert het belang van financiële inclusie en diensten op het gebied van financiële technologie (FinTech) voor kleine bedrijven en kwetsbare delen van de samenleving. Een recente IDB publicatie toonde aan dat er voldoende ruimte is om de toegang tot financiële diensten te verbeteren, vooral voor kwetsbare groepen (kleine en micro ondernemingen, bedrijven in de informele sector en arme en plattelandsgemeenschappen). Suriname had bijvoorbeeld het laagste percentage respondenten van alle Caribische landen die aangaven toegang te hebben tot bankrekeningen en betaalpassen tijdens de COVID-19 pandemie: slechts 52,2 procent van de respondenten gaf aan toegang te hebben tot een bankrekening (vergeleken met het regionaal gemiddelde van 73 procent) en een nog kleiner deel had toegang tot een pinpas, te weten 29 procent van de respondenten (vergeleken met het gemiddelde van 70 procent voor de Caribische lidstaten van de IDB).
IV. Infrastructuur blijven verbeteren: Het verbeteren van toegang tot en het reduceren van ongelijkheid in toegang tot basis diensten en infrastructuur kan bijdragen tot een inclusief sociaal-economisch herstel. Hoewel Suriname's infrastructuur in de loop der jaren vooruit is gegaan, is er nog ruimte voor verbetering met betrekking tot de basisinfrastructuur zoals water en sanitatie, alsook toegang tot en betrouwbaarheid van elektriciteit welke dient als een platform ter ondersteuning van digitale connectiviteit. Bijvoorbeeld, volgens de Wereld Bank Enterprise Survey 2018 meldde ongeveer een derde van de ondervraagde Surinaamse bedrijven dat elektriciteit een groot of zeer ernstig obstakel voor hun bedrijfsactiviteiten vormde.
Voor meer informatie over mogelijkheden om de groei van de private sector in Suriname te stimuleren, zie Suriname in Times of COVID-19: Navigating the Labyrinth.