Sustainable Microenterprises in Rural Communities. Photo author Nicola Karcher
Suriname is one of the most diverse countries in the world; with an estimated population of 579,633[1] is represented by several different ethnicities including: Hindustani (37%), Creole (31%), Javanese (15%), Maroon (10%), Amerindian (2%), Chinese (2%), White (1%) and other (2%). This diversity is also reflected in the many languages, foods, religions and cultural activities and practices of the Surinamese people. In the quest for innovation, many pundits have emphasized that diversity can foster creativity and innovation in thinking and practice.   This was demonstrated earlier this year through the recognition of two Multilateral Investment Fund (MIF) projects from Suriname.
In April 2015, during two separate events in the Dominican Republic organized by Multilateral Investment Fund (MIF) and Yamaha respectively, the "Youth Job Skills Training in Suriname" and the "Sustainable Microenterprises in Rural Communities through Microfranchising" projects, received much deserved recognition from their respective peers and were presented with awards for their innovation and creativity.
Since the approval of both projects, the impact of changes being implemented is already being manifested. One of the projects,  "Youth Job Skills Training in Suriname", which is executed by The Back Lot, works with at risk disadvantaged youth and teaches  life skills as well as skills in the use of modern technologies through a training program in videography and other multimedia and electronic devices. At the end of each course, the students present a short-video that they have fully produced on their own. The forward-thinking design of the project has given excellent results in just over a year of execution, with the following results: 234 students have successfully completed the program and internship, 92 students have a job, 35 students went back to school, 2 students work and study and 8 students started a follow up training. The Back Lot was recognized for innovative use of ICT and for the intensive communication with participants in their program and thereafter.
The second project, "Sustainable Microenterprises in Rural Communities through Microfranchising" project, executing by Stichting Fonds Ontwikkeling Binnenland and Datsun Suriname N.V., seeks to build out a microfranchise network of Yamaha certified boat repair shops. This is important as river boat transport is the only link between many communities in Suriname's Amazonian interior and more urban coastal town centers. The project specifically tests microfranchising models in the set-up of the Authorized Service Workshops (ASW) developed by the Yamaha Motor Corporation. The project has developed impressively in over a year; 68 candidates (mechanics) have been trained in 12 trainings, 5 ASW's have been piloted and 19 potential ASW's have been identified.
While both projects have a very different focus; this recognition has positioned Suriname as a leader in creativity and innovation within the Latin-American and Caribbean region. This also demonstrates that Suriname is using diversity to their advantage. Diversity has become the foundation and catalyzing force for creativity. Creativity and innovation is not a myth, it is the Surinamese lifestyle.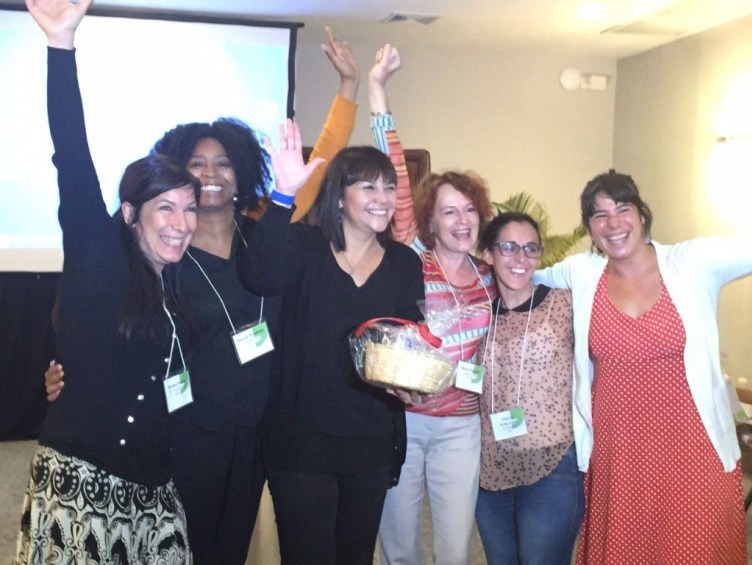 Award winners for project "Youth Skills".
[1] https://www.cia.gov/library/publications/the-world-factbook/geos/ns.html
From the Multilateral Investment Fund Trends blog 
Follow us on Twitter: @IDB_CarDevTrend