Belize's fishing industry has significantly contributed to the country's economic growth through employment creation, food security, income generation, and foreign exchange earnings. The sector, encompassing fisheries and aquaculture, accounted for an average of 12% of total exports from 2015 to 2021. Currently, the fisheries sector directly employs more than 3,000 fisherfolks (primarily involved in artisanal fishing) and over 17,000 individuals.
The long-term sustainability of the fisheries sector faces serious obstacles, notably, its overreliance on two dominant species: the spiny lobster and the queen conch. Data from 2016 to 2022 reveals that these species comprised 95% to 98% of all marine exports. The risk of relying only on two species is intensified by the lack of comprehensive scientific data, essential for accurately gauging current production rates, thereby placing the sector's long-term sustainability at risk. Moreover, the absence of dependable data hinders the formulation of well-advised management decisions. Consequently, the existing regulatory structures may be inadequately equipped to mitigate the sector's pressing challenges. Notably, despite the existence of a robust policy framework for environmentally sustainable fisheries management under the Fisheries Resources Act (2020), Belize grapples with fragmented information and data limitations for effective fisheries management, particularly concerning actual landings and overall catch.
Therefore, a dual approach is imperative: first, it is crucial to invest in acquiring scientific data to enable proper management and utilization of oceanic resources, ensuring the maintenance of sustainable export levels of fisheries products. Second, it is essential to diversify the nation's economy by enhancing the government's capacities for sustainable and resilient management of the fisheries sector and broadening to non-traditional fisheries commodities. This will render the sector more resilient to potential future disruptions, such as climate change, shifting markets, and trade barriers, while simultaneously creating economic opportunities for vulnerable fishing communities.
Thus, from an analytical standpoint, two primary obstacles impair the long-term sustainability of Belize's fisheries sector: (i) the absence of consistent and dependable scientific data; and (ii) the limited awareness and implementation of sustainable technologies and best practices among small-scale fisherfolks. These factors contribute to the risk of overexploiting the very fisheries that constitute a key source of income for these communities.
Furthermore, the industry is hampered by two primary weaknesses:
Lack of Stock Assessments for finfish, species-specific Management Plans (MPs), and a Regulatory Framework for Finfish: limited available scientific data on fish population in Fishing Area 9 (see Figure 1) poses significant challenges in sustainably managing any commercial harvesting. Comprehensive stock assessments are crucial to updating existing MPs (i.e., conch and lobster) and developing species-specific MP for finfish.
Inadequate Monitoring, Management, and Enforcement Data: data collection inconsistencies, quality verification issues, storage limitations, and un-digitized historical data pose significant challenges for the Fisheries Department to effectively carry out monitoring, control, and surveillance to reduce the impacts of Illegal, Unreported, and Unregulated (IUU) fishing.
Lack of access to financing by fisherfolks in Belize: Access to financing is a significant challenge for Belizean fisherfolk, who generally exhibit low levels of knowledge and implementation of sustainable technologies and best fishing practices. This limited knowledge and adoption capacity not only constrain their income potential but also risk overexploiting the fisheries they rely on for livelihoods. The main barrier to the acquisition of knowledge and the adoption of technology is restricted access to financing. According to Puig (2023), the majority of fisherfolk are unable to access formal credit sources required for business enhancement, while financial products like micro-credit and micro-insurance remain largely inaccessible in the national financial markets. This scenario underlines a critical intersection between financial accessibility, knowledge acquisition, and sustainable practices in the Belizean fisheries sector.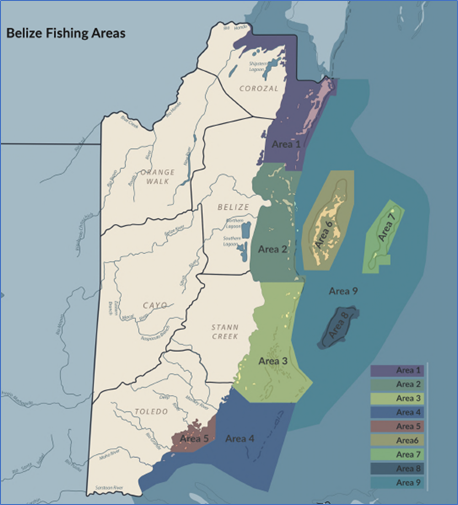 Addressing these issues is critical to ensure the fisheries sector's sustained contribution to Belize's economy. For this purpose, the Government of Belize has been working with the IDB in the design of the project "Promoting Sustainable Growth in the Blue Economy Program" (BL-L1042), which will implement the following strategic interventions:
Undertake the first national stock assessment of spiny lobster and conch, and the first stock assessment of finfish in Area 9.
Utilize stock assessments to update existing MPs for lobster and conch and develop a basic regulatory framework MP for finfish.
Strengthen data management capacity of the Belize Fisheries Department.
Provide grants and technical assistance to fisherfolk for business plans, promoting the adoption of sustainable technologies, and best fishing practices.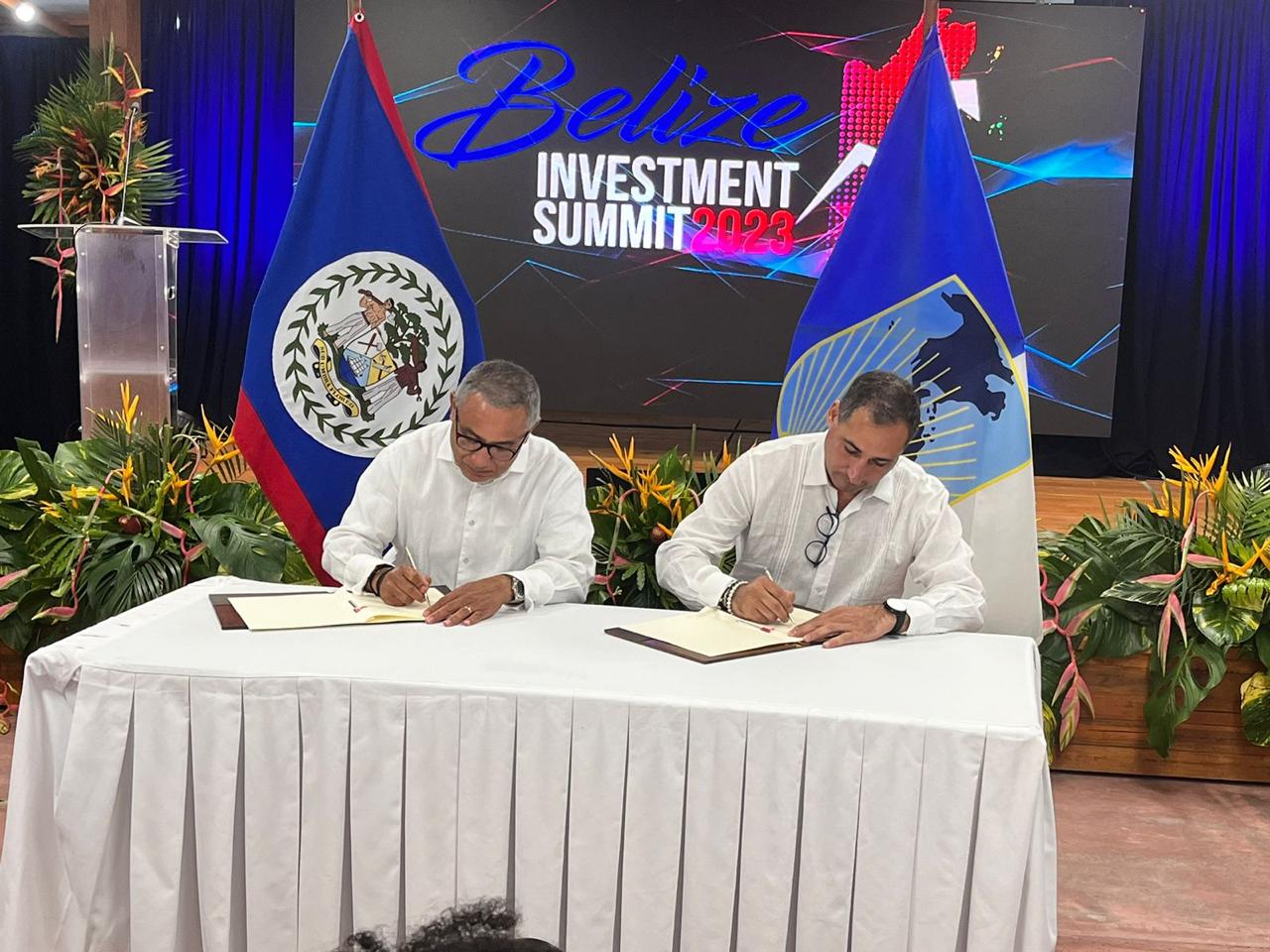 The initiative, funded with a $7 million investment loan, aims to enhance the livelihoods of Belize's small-scale fisherfolks, maintain the export quantities of fishery products, and promote the sustainable utilization of the nation's commercial maritime resources. Specifically, the project seeks to increase the monthly income of fisherfolks by approximately 19%, maintain export levels, facilitate the development of sustainable finfish fisheries, and preserve the biological integrity of commercial fisheries, indirectly impacting over 20,000 individuals employed in the fishing sector. Additionally, it is projected that a minimum of 150 fisherfolks will be awarded grants tailored to their specific operations. To realize these objectives, the project is structured around two main components:
The establishment of a sustainable and resilient environment for managing the fisheries sector.
The provision of direct assistance to artisanal fisherfolks.
These components aim to advance the government's sustainable management of critical commercial fish species while also promoting the adoption of sustainable technologies and best practices among small-scale fisherfolk. Additionally, it is important to note that this Program will reinforce Belize's commitment to fulfilling the objectives of the Blue Bond Agreement. This innovative agreement allows for a debt-for-nature swap, enabling Belize to prioritize the implementation of sustainable practices in its marine-coastal zones as part of its debt repayment strategy.
In July 2023, the board of the Inter-American Development Bank (IDB) eagerly endorsed the Program. Crafted with a five-year lifespan, this Program symbolizes a united, enduring commitment to the advancement of Belize's sustainable fisheries sector.
__________________________________________________________________________________________________________
Crédito de la imagen: Shutterstock