Has regional integration been affected in any way by the setbacks caused by the COVID-19 pandemic? This is one of the questions that inspired "The Voice of Latin America. Opinions on Regional Integration and Trade in Latin America" (Spanish), a new study according to which 71% of Latin Americans support regional integration, a figure on par with the results for 2018.
The study was published by the Institute for the Integration of Latin America and the Caribbean (INTAL) of the Integration and Trade Sector of the Inter-American Development Bank, in partnership with Latinobarómetro. It was based on mapping the opinions of 20,200 citizens from 18 countries in the region.
Latin Americans favor all forms of integration: support of regional integration is a mere one percentage point higher than support for integration with countries outside Latin America (70%). These findings suggest that Latin Americans want to move past the current crisis by tackling it together and working with other countries within and outside the region.
Looking back over the last 25 years, support for integration in Latin America and the Caribbean has followed the region's economic ups and downs. In other words, its behavior has been procyclical. In the mid-1990s, as trade blocs consolidated and globalization began to gain momentum, support for regional integration rose from 63% to 78%. This was when the social acceptance of integration peaked in a world that suddenly saw borders as a limitation to growth and economic blocs as key to getting ahead.
On the other hand, economic stagnation and crisis have always been associated with a deterioration in the social consensus around integration. For example, the slowdown that began in 2014 followed a 5-point drop in support for integration in subsequent years. But since 2018, support for integration has remained at 71%. It is striking that despite the pandemic, support for integration has remained stable, rather than slumping as it did during previous crises. Then, it may be the case that Latin Americans see international trade and regional integration as channels for recovery from the current economic crisis.
The sectors that favor regional integration the most
Which sectors of the population express the greatest support for integration? The pro-integration sentiment is strongest (75%) among young people (16- to 25-year-olds). Likewise, the gender gap remains: support for integration is greater among men (76%) than among women (67%).
Another significant finding is that almost half of Latin Americans think the last five years have brought progress toward integration. In contrast, only 38% thought that regional integration had declined.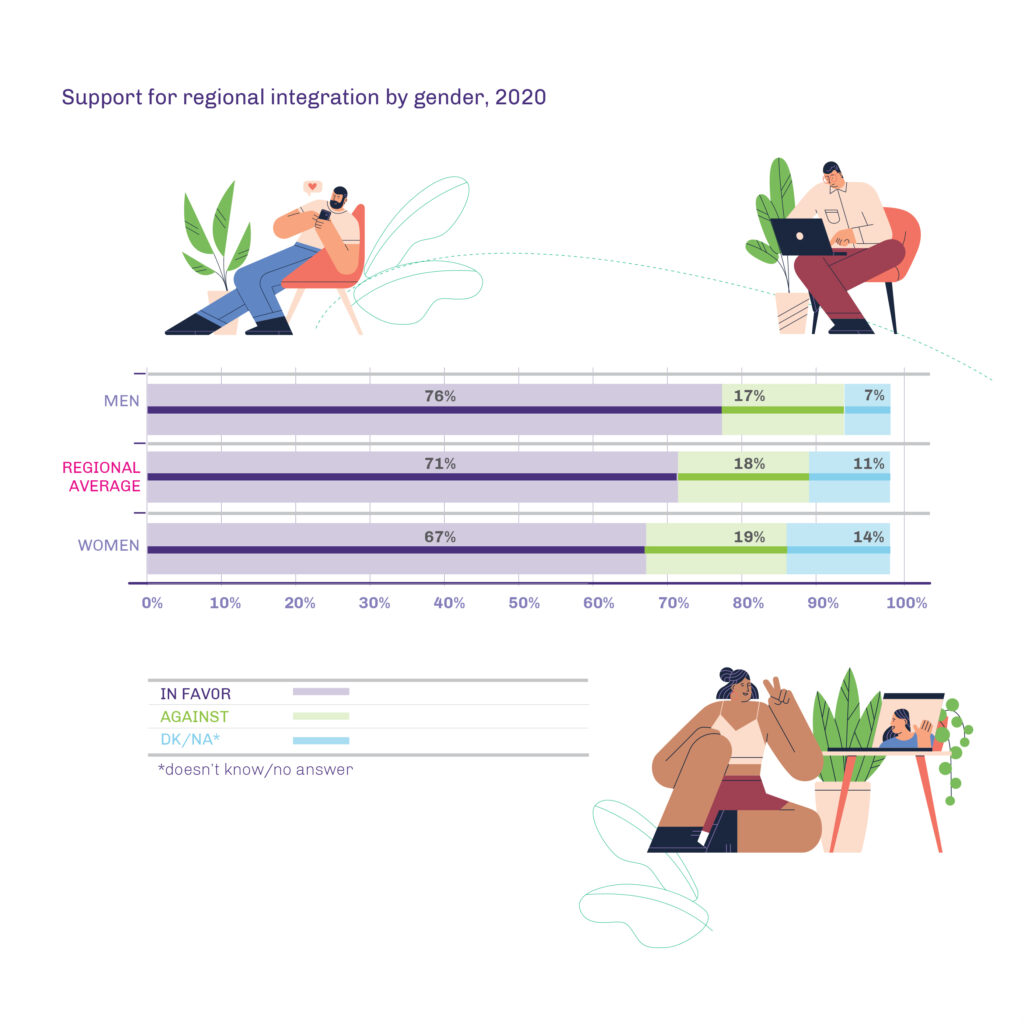 Central America is the subregion with the highest proportion of citizens who believe that trade agreements with other regional countries positively impact their country, at 61%.
Most Latin Americans support free trade and trade agreements
The study also concludes that nearly seven out of 10 Latin Americans favor free trade and about six out of 10 look positively at the region's trade agreements (56%). Between 60% and 85% of Latin Americans still favor domestic products, as long as these are not more expensive than imported ones. In 14 countries in the region, more than half of the population looks favorably on the quality of the local industry. These data suggest that support for free imports is associated with lower prices due to increased competition, rather than with a preference for foreign goods or services.
Although Latin Americans lean more toward local goods, 54% look positively on foreign direct investment, and only 15% see it detrimental to their country. However, a large share of those surveyed feels they do not know enough about the issue to give an opinion. Regional agendas need to include information campaigns to raise awareness around the potential benefits of receiving foreign direct investment.
Only one out of four people shop online
The IDB INTAL report also surveyed the digitization levels in Latin American countries. While 86% of citizens have cellphones, only 47% have access to smartphones. Although Latin America is highly digitized —92% of Latin Americans use social media, and 64% use mobile apps for messaging, booking taxis, and deliveries— only 23% buy and sell products online.
In other words, even though the pandemic has increased the use of digital technologies, 77% of Latin Americans have not yet decided to engage in e-commerce. Is this because they lack the knowledge, trust, or the basic digital skills to take advantage of it?
In a globalized, integrated world where people use their cellphones for everything, Latin America and the Caribbean have a long way to go in e-commerce and digitization. But it also has enormous potential if it takes advantage of its citizens' support for integration, free trade, and regional trade agreements. Countries in the region need to reduce the barriers that prevent their citizens from using digital technologies for trade. Support for this is available through the loans and technical assistance provided by the IDB Group, which has included regional integration and the digital economy in its Vision 2025 as two of its five priorities for sustainable development in the region.
To find out more, download "The Voice of Latin Americans. Perceptions of Regional Integration and Trade in Latin America."