How do Latin Americans feel about international trade? Are they in favor of it? If so, to what extent?
We asked these questions ourselves at the Inter-American Development Bank, as part of a study on how trade liberalization has impacted Latin America and the Caribbean (LAC) in recent decades.
To answer these questions, the IDB added a module on foreign trade to the 2018 Latinobarómetro opinion poll, which found that on average, 73% of Latin Americans expressed support for their country increasing trade with other countries.
Levels of support varies from country to country, ranging from 59% in Argentina and Peru to over 85% in Venezuela, Honduras, Uruguay, and Nicaragua. Despite this range, most respondents in each country favor increased trade.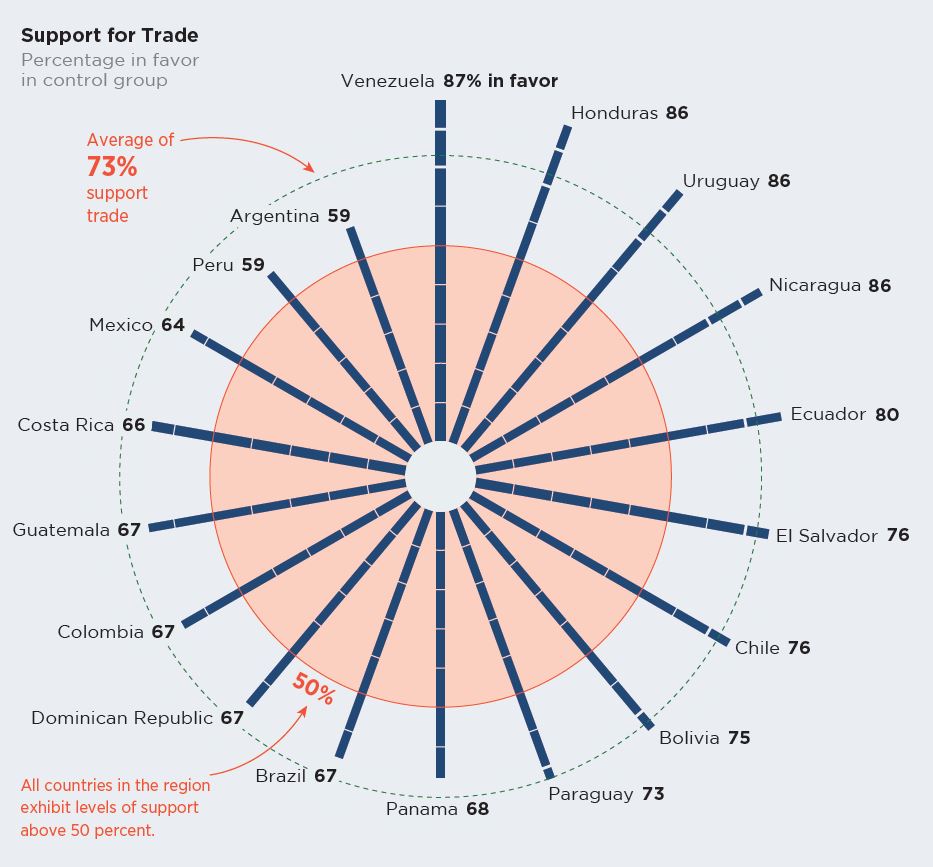 However, the results also reveal that support for trade is fragile, as less than half of Latin Americans continued to express support when informed it may have negative consequences for employment. These reactions remind us of Princeton professor Alan Blinder's comment that support for trade is "a mile wide and an inch deep." This also seems to be true of Latin America.
Trade is good for employment
The poll also reveals a series of patterns that may prove particularly interesting to trade policymakers in LAC:
The majority (58%) believe that trade boosts employment, while only 11% believe that trade leads to less employment. One exception to this finding is Chile, but in countries like Costa Rica, Honduras, Nicaragua, and Uruguay, over 70% of respondents share this view.
Some 37% of respondents believe that increased trade leads to higher wages.
Nearly four out of every 10 people think that trade is associated with a greater variety of products.
Some 78% of Latin American men said they were in favor of trade, as compared to 71% of women.
People with greater access to the media tend to be more in favor of trade (75%) than those with less access.
The above figures suggest that when it comes to trade, people care first and foremost about employment, a finding that policymakers seeking to pursue trade reforms or promote trade liberalization can make use of in their political and media strategies.
Both LAC and the world are protrade
By way of comparison, the poll's findings on levels of support for trade among Latin Americans were on par with global attitudes to trade. According to the 2017 Pew Global Attitudes Survey, on average, 86% of respondents in 38 countries think trade and business ties with other nations are good for their country. According to Pew, levels of support for trade in Latin America are lower but still considerable at 80%.
A review of the Pew data on support for trade over time reveals that between 2002 and 2017, despite a slight downturn in support in Brazil, there is no evidence of a significant anti-globalization reaction in how either Latin American countries or the rest of the world feel about trade.
Major findings on support for trade
After analyzing the results of Latinobarómetro and comparing them with the Pew survey, we share three major findings on trade support that we think are particularly relevant for LAC countries:
While trade advocates can take heart in the population's widespread support for trade, that support is tenuous at best. Policymakers must remain vigilant and seek out creative ways to hold onto this support.
When it comes to trade, people care first and foremost about employment. Policymakers seeking to safeguard trade reform or further liberalize their economies may need to counterbalance these initiatives with positive information about employment.
While mile-wide support for trade is reassuring, its inch-deep nature makes reform more susceptible to protectionist reversals in response to some politicians' tactics concerning how trade affects employment.
To find out more, download the chapter "On Board with Trade, for Now: People's Attitudes and Support", which we are releasing as a special sneak preview for readers of this blog. This is one of the chapters of the IDB's flagship Development in the Americas report, which focuses on trade this year and will be launched in November.