To learn more about this issue, see chapter 3 of Out Of the Border Labyrinth, a report published by the IDB's Integration and Trade Sector, and IDB Working Paper series no. IDB-WP-703, "Trust No One?: Security and International Trade."
---
Security and trade facilitation in an increasingly uncertain international context, including global value chains
Around the start of the 21st century, Mexico signed multiple trade agreements and ushered in significant opportunities for growth among domestic companies. These opportunities translated into growing levels of trade, which significantly increased the workload of Mexico's Tax Administration Service (SAT) in terms of the shipments it had to process.
At the same time, like every other country in the world, Mexico was facing increasingly sophisticated security challenges with ever greater impacts on logistics chains. The fateful events of September 11, 2001, were a clear example of how a terrorist attack could affect international trade flows. After this global wake-up call, countries reacted by developing a preventative mechanism which would allow them to mitigate risks while facilitating trade. This led to the creation of authorized economic operator (AEO) programs in Mexico and other countries which sought to guarantee global logistics chains and streamline shipment processes for firms involved in foreign trade.[1]
What is an AEO program?
The AEO program is a voluntary cooperation agreement between customs agencies, other public border agencies, and private-sector firms. Companies taking part in the program receive reliability certification from their local customs agency. To obtain and maintain this certification, companies must submit an application or renovation form, hold to internationally recognized security standards that are checked by the customs agency in question, and comply with their customs and tax obligations. This certification allows AEO firms access to a series of trade facilitation benefits. Among other factors, these advantages include less frequent inspections of physical goods and documentation at customs and fast-tracked processing and dispatch of shipments, which specifically implies priority treatment when they are selected for inspection.
More than 70 countries around the world have adopted the AEO program, including 15 countries from Latin America and the Caribbean (LAC) and more than 1250 companies from the region have been granted AEO status (figure 1).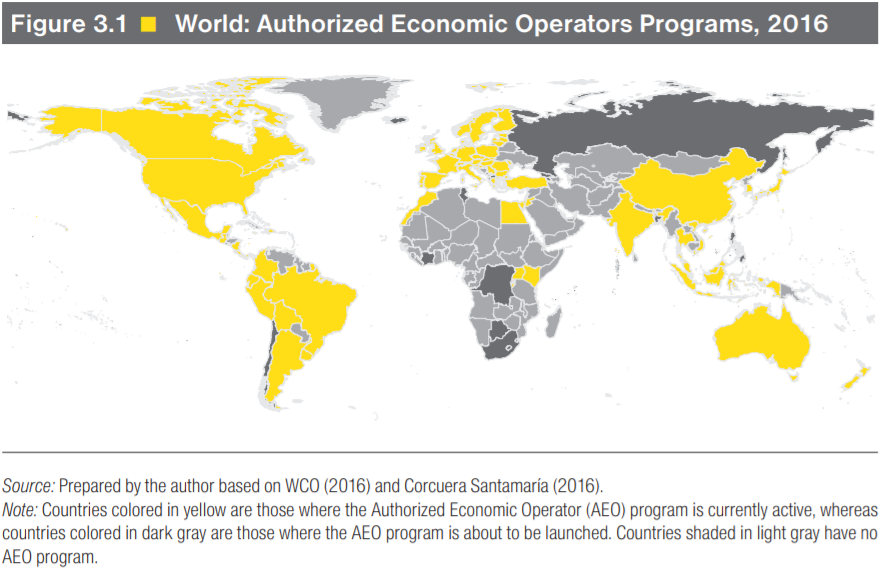 Does the AEO program benefit foreign trade for certified companies? The evidence from Mexico
The answer is yes. These findings are based on an Inter-American Development Bank study of Mexico's AEO program. AEO certification was associated with an increase of between 1.8 and 2.8 percentage points in the growth rate of exports by certified firms in comparison with their noncertified counterparts between 2012 and 2014.
This positive impact on exports is fundamentally due to the reduction in the frequency of physical inspections of certified firms' shipments and faster dispatch times for their merchandise. The fact that the AEO program can lead to a growth in exports through the diversification of destination markets and has more pronounced effects on exports to more distant markets would seem to indicate that it may operate as a quality-signaling mechanism and thus reduces the information barriers that have a particularly significant effect on trade with less familiar countries.
The main factor that reveals export growth is the increase in shipment frequency (figure 2). This reflects the ease of trading abroad through the AEO program, which is flexible enough to enable firms to meet the needs of destination markets even under just-in-time conditions. AEO firms can coordinate shipments and manage their inventories more efficiently than non-AEO firms, which can help reduce costs.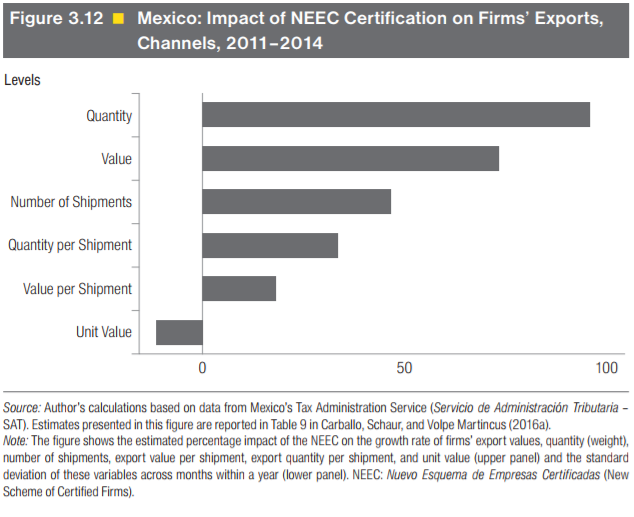 The program seems to have particularly benefited exports of industrial inputs and capital goods, which are key to the optimum integration of the Mexican economy in global supply chains. It has also favored other time-sensitive products such as textiles and consumer goods. This is confirmed by the greater estimated impacts on exports that are shipped by air (figure 3).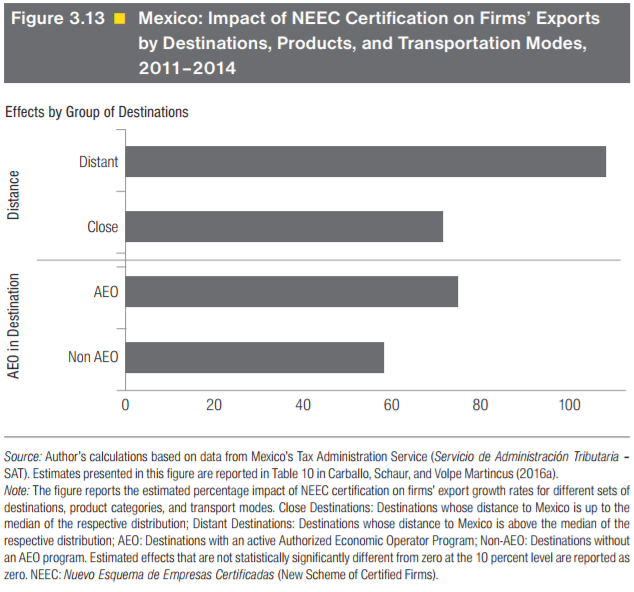 The positive results that the study revealed were not limited to exports: it also found that the AEO program enables companies to expand as they receive more favorable treatment in the corresponding administrative processes (particularly less frequent physical inspections and shorter times at customs). In the case of the manufacturing industry, this aspect is crucial given the segmentation of goods production and their role in global value chains. The manufacture of a large proportion of a given country's exports is dependent on imported intermediate goods.
What financial implications did the AEO program have for the Mexican customs administration?
The lower frequency of physical inspections and reduced dispatch times associated with the AEO program have freed up customs resources. However, the AEO certification process also entails costs. A comparison of the savings that come with AEO certification against the cost of implementing it shows that shifting the focus of SAT inspections from individual shipments to companies as a whole brought average annual net savings of US$100,000 for the agency between 2012 and 2014.
From a leap of faith to evidence of the impact of the AEO program: looking ahead
When the SAT and Mexican companies opted for AEO certification in 2012, they did so by following international guidelines for best management practices that promised greater security and ease for all stakeholders in the logistics chain. Five years on, the data on the increase in firms' trading capacities suggests that they made the right decision. The AEO program not only allows companies to move forward confidently, it is also a source of competitiveness.
Even so, there is still room to improve the program and the trade gains it might bring. First, up to now, in most cases, customs agencies are the only organizations involved in the AEO certification process. Given that the reduced processing times for trade flows on the part of customs agencies could be canceled out or even reversed through the intervention of other border agencies, it would be advisable to ensure that these are also involved in the program, specifically in terms of risk management. Second, the mutual recognition agreements (MRAs) between different countries' AEO programs allow shipments to be fast-tracked through both sides of the border, instead of just one, making these would be the obvious next step in the process of expanding this initiative (figure 4).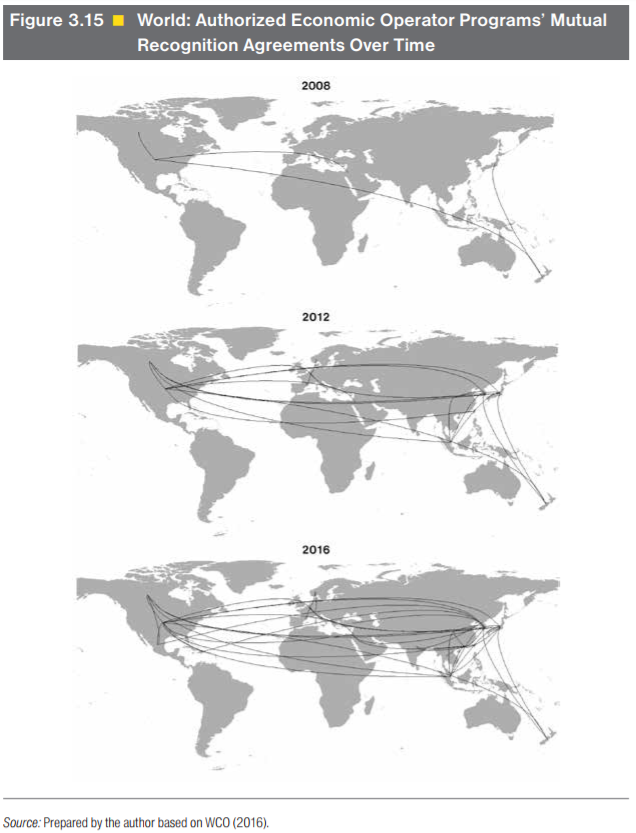 The Inter-American Development Bank and AEO programs
Over the last decade, the Inter-American Development Bank has supported LAC countries in designing and implementing AEO programs. As well as carrying out research on how these impact trade it has also developed products to increase knowledge on the issue. If you would like to find out more, sign up for the free online course on AEO programs at ConnectAmericas Academy.
---
[1]These programs were initially promoted by the World Customs Organization (WCO) through its Framework of Standards to Secure and Facilitate Global Trade, which was introduced in 2005, and were then incorporated into the trade facilitation agreement signed by members of the World Trade Organization (WTO) in 2013.