Over the last decade, Latin America and the Caribbean has become increasingly digitalized, with the spread of internet use to roughly three-quarters of the population, a rapid proliferation of smartphones, and the emergence of numerous new digital companies worth over a billion dollars in areas such as commerce and finance. This digital revolution has had visible impacts on private activity. Digital communications, online shopping and social media have transformed the way most people in the region socialize and do business.
But in areas where the governments affect citizens' lives—areas ranging from education and healthcare to fiscal matters and public administration—Latin America and the Caribbean still lags behind developed countries in offering digital applications that could improve public services, drive development, and improve social welfare.
That is unfortunate. Digitalization offers unique opportunities for delivering public services at low cost and on a large scale. It could be fundamental in tackling long-standing challenges that in some cases have been exacerbated by the COVID-19 pandemic, including low levels of learning, the growing burden of non-communicable diseases, high levels of tax evasion, and the poor targeting of public subsidies. All of these shortcomings make it harder to fight poverty.
The good news is that the region can make rapid progress in these areas by developing and deploying digital public services, using technologies such as apps, SMS, and videos to attain vital goals. Moreover, it can do so even with limited resources by identifying opportunities with high social value and prioritizing those digital interventions that are both highly effective and stand up to a rigorous cost-benefit analysis.
A Key IDB Report
To help the region along that path, the IDB Research Department in collaboration with the Institutions for Development Sector and the Social Sectors of the IDB has just released a report that evaluates 11 options in the use of digital public services to showcase the potential of digital transformation to tackle longstanding problems in the region in education, health, government transactions, and fiscal administration. The report entitled "Digitalizing Public Services: Opportunities for Latin America and the Caribbean" also presents examples and procedures that the region can use to conduct its own cost-benefit analyses for policy decisions.
The report uses Peru—a country that closely resembles the region as whole in important indicators—to standardize the contextual conditions for the results, and the robustness of the results is validated by replicating the analysis for the cases of Chile, El Salvador, and Jamaica. The findings in effect offer a blueprint for promoting evidence-based decisions in the path towards social and economic progress.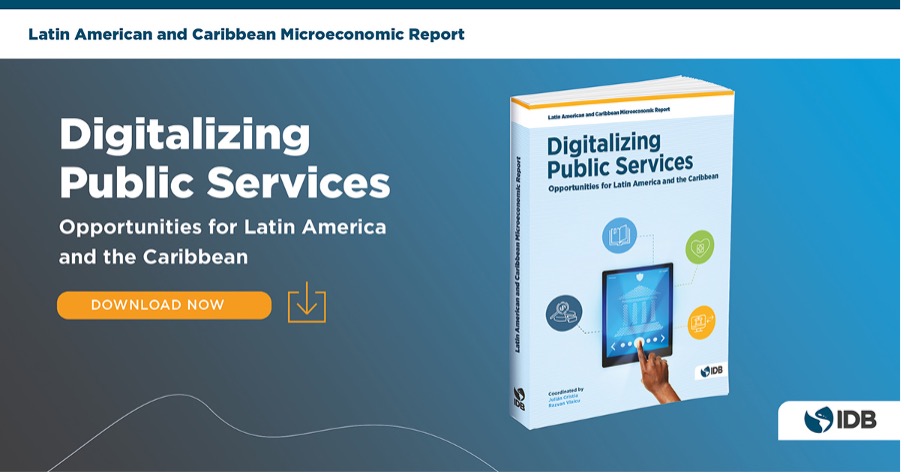 Evaluating Digital Interventions
Consider a few examples from the report that illustrate the importance of prioritizing those interventions that are most beneficial and generate most value for society. An innovative project was implemented in El Salvador during the pandemic using SMS to improve child development by promoting good parenting practices. A rigorous evaluation, however, found that these messages did not improve child development, but rather increased stress and anxiety among parents. By contrast, a math learning platform, with an implementation cost of just $4 million per year could generate significant gains in student learning for a million people. The total value added—calculated as the value of the intervention per person times the number of people—would amount to $97 million per year. Showing videos to students about the economic benefits of schooling could significantly reduce dropout rates with a minimal investment and produce economic benefits of $553 million. And at extremely low cost, simple SMS messages sent over the course of two years to remind prediabetic individuals to exercise and eat healthy could delay the onset of diabetes by 5% to 30%.
Digitalization is by no means a magic bullet for all the woes currently afflicting Latin America and the Caribbean. And there are risks. Digital services that are unreliable and that deliver a poor user experience can discourage potential adopters of the services. Privacy infringements, hacking and cyberattacks can also cause significant harm to citizens and firms and underscore the importance of providing a secure internet infrastructure and regulatory framework for data access.
Nonetheless, in wide-ranging areas, governments have a once-in-a-generation opportunity to increase the value of public services by reducing costs, increasing benefits or expanding access.
Recipes for Success in Digitalization
To succeed, governments should strive to achieve scale for digital solutions, in part by promoting digital services among firms and citizens, especially those from lower income populations. Software development costs for improving tax collection, better targeting of welfare payments or developing a learning app are usually fixed, after all. Usage costs are low; so the value for society is far greater when there are a million rather than a thousand beneficiaries.
Governments should also take advantage of digital technologies, and the ease and speed with which data can be collected and processed, to evaluate and monitor the success of specific digital interventions in achieving desired outcomes. The goal, as always, should be to prioritize projects that generate large value for society with limited investments.
And to implement them, governments should take action in five key areas: governance and institutional frameworks, legal and regulatory frameworks, digital talent and change management, infrastructure and technology, and new digital processes and services. These are discussed in the just-launched Government Digital Transformation Guide.
Crucially, governments must ensure that the move towards greater digitalization does not exacerbate inequalities, but instead bolsters inclusion. That means improving the access, affordability, and reliability of internet services, while developing solutions that rely on widely held smartphones or traditional cellphones. It means ensuring that software works consistently and that apps are intuitive and easy to use.
Latin America and the Caribbean has made substantial, if still incomplete, progress in entering the digital world, especially in private business and communications. A new challenge beckons in bringing that transformation to the public sphere where, in education, health, fiscal management, public administration, and other vital areas, governments have been too slow to capitalize on the vast possibilities the new technologies offer. At this crucial juncture, where the region faces significant economic headwinds, there is no time like now to change that dynamic to fight poverty, boost citizen welfare, and make governments more efficient.