After completing six remote tutoring pilots to accelerate learning in the region, we know these programs help recover learning loss. In two of the pilots, students who received eight tutorials in fundamental mathematics managed to gain a quarter of a school year compared to those who did not participate in the intervention. In addition, a more significant effect was observed in the most vulnerable, with a low-cost investment. Remote tutoring shows that it is a proven and cost-effective solution that can not only help countries face the educational crisis caused by COVID-19 but also can close structural gaps in the region's educational systems. 
So how can we extend this benefit to more students? How do we ensure this intervention achieves the same or better results in other contexts? At the Inter-American Development Bank (IDB), with the organizations that implemented and evaluated the pilots, we identified the lessons learned to scale up these programs, which can increase attendance rates and reduce dropouts in school settings. 
What is remote tutoring?
Remote tutorials are flexible, focused, and complementary interventions where a tutor guides a student during eight sessions through low-cost technology, such as SMS or phone calls, so that the student can master the next level of learning.
The objective is to support students in developing fundamental knowledge for their educational trajectory: Reading and ordering numbers, adding and subtracting, multiplying and dividing, calculation strategies, and problem-solving. 
The steps of remote tutoring:
An initial diagnosis that identifies the student's actual learning level and not the level at which she should be.
The tutor adapts and personalizes the tutorial's content according to the diagnosis.
The tutoring program is given so that the student begins with the contents with which she has the most significant difficulty until she reaches the next level.
This intervention model is based on implementing remote tutoring programs in other parts of the world (Spain, Italy, Botswana) where rigorous evidence has shown their effectiveness in improving academic performance and socio-emotional skills. 
From Pilots to Large-scale Programs: Five Key Factors for Scaling Mentoring
At the Third Regional Meeting of Remote Tutoring to Accelerate Learning, in which different strategies were discussed to make this type of intervention scalable and sustainable, David Parker – educational researcher and currently ServeMinnesota's Vice President of Research and Development – shared the process used in his organization to reach scaling of this type of innovative programs.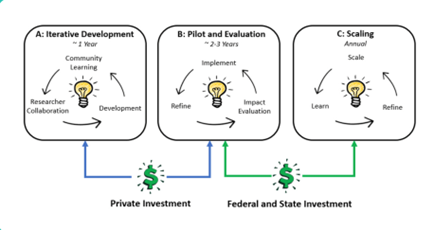 In ServeMinnesota, planning for scaling begins immediately and follows an iterative course. That is, they focus on collecting as much evidence and learning as much about implementation as possible so that, based on data, it is possible to achieve successful scaling as rapidly as possible. 
With that in mind, David shares his top five key factors that enable tutoring programs to achieve significant scale: 
1. Theory of change 
The success of scaling is partly in having a well-specified theory of change. This means being specific with both the objectives of tutoring and the methods to reach that objective. For example, a good theory of change would not state, "we will provide tutoring to improve students' reading." Still, "we will focus on reading fluency in primary grades by using sound awareness, phonics, and fluency lessons." A well-specified theory of change must be in greater detail, saying what those specific reading skills are expected to improve and, from there, define other fundamental aspects such as when, how, who, and what instructional method will be used. 
2. Building on the evidence for instructional methods 
Start from all the evidence already in the tutoring field instead of inventing activities or starting from scratch. There are many studies and research already available on experiences in different contexts, on what works and what doesn't, so why not start with something that works? 
3. Use the data to implement and evaluate 
He illustrates this point with a simple question: Which students should receive tutoring? Schools or communities should ideally be able to answer this question objectively, but students all have unique needs.  Therefore, having data–an information system that allows beneficiaries to be chosen without bias but rather because they really need it–is key to successful scaling. 
4. Intentional and constant ongoing support 
There is an important difference between training tutors and providing them with support. Implementation science is a bonafide field of academic study, and one of the themes found in that body of literature is the difference between training and ongoing support. Ongoing support will make the difference between a tutor gradually doing "whatever they want" and doing what "is known to help students learn." That's the power of ongoing support.  More specifically, ongoing support makes it possible to monitor and improve the pedagogical practice of the tutors and identify lessons learned to continue improving the model in the field implementation.  Yes, initial training is important, but intentionally investing in ongoing support is vital and is something that is often overlooked. 
5. Clear and dedicated organizational structure 
Having a centralized organizational structure, dedicated and responsible for managing everything related to the management of tutors is very important to scale this type of intervention. The role of the said organizational structure must start from the beginning with identifying tutors, then guarantee their quality training and coordinate the follow-up and support activities throughout the tutoring program. 
 Much of the success of a program's scalability and sustainability depends on the evidence that already exists about its effectiveness. According to Robert Slavin (2020), if a small-scale program works, it has the potential to be successful on a large scale only if the key operating factors are maintained. In other words, if something fundamental changes in the escalation, no matter how small, it can have a high risk of failure. Success is also because the intervention has been researched, specific, and carefully monitored, with quality metrics for each part of the operation. These characteristics are preserved in the same way in large-scale interventions. 
Do you know of any remote tutoring programs? What results did it get? Leave us your comment. Do you want to learn more about remote tutoring? Visit our website!