Entry by Elena Arias Ortiz, Julian Cristia and Santiago Cueto
---
"On Friday I reached 5,578 points and I managed to get 8 more flags. How many points do you have?" Sebastian asks his little friend. "I only got to 5,300, but I managed to get past Juan and now I'm second!" Ana replies enthusiastically. We might think that this conversation took place on a weekend, between kids playing video games, but it is a conversation after math class. Yes, math. How is this possible?
The use of game elements outside the context of games – known as gamification – has become an increasingly used strategy in education. The basic idea behind gamification is that introducing simple game elements such as points, badges, and the use of rankings, can transform a relatively boring task into an engaging activity. Like practicing math.
Gamification is not simply creating a game; it implies a pedagogical approach to get the student more involved. In line with the experiential learning theory, the central idea is that the best way to learn is by doing or having experiences that help remember information and facts. Gamification and technology turn a task into something interactive and more attractive for students, and therefore increase their motivation and engagement, elements that are recognized as fundamental for learning. Recent evidence in our region shows that technology and gamification combined can have very positive effects on student learning, as is the case with the Conecta Ideas program in Chile.
Is this just an example or is it possible for technology to improve math learning? Which models that use technology appear to be most promising? How can the governments of Latin America and the Caribbean improve math learning using technology?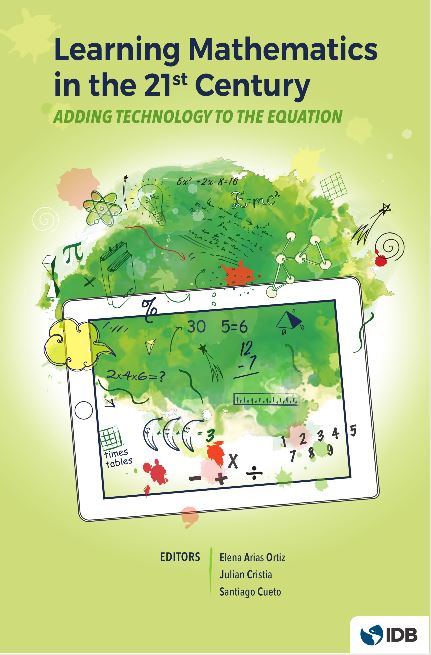 These are the questions we address in the book "Learning Mathematics in the 21st Century: Adding Technology to the equation" published jointly by the IDB's Research Department and the Education Division. together leading regional and international experts in the field to guide governments on how to better harness the potential of technology to enhance student learning. Specifically, the book focuses on mathematics, a critical area of learning as it is the basis for developing critical thinking, and other cognitive skills, and in which most students in the region do not even reach basic levels of proficiency.
In the first part of the book, the reasons for the low mathematics performance of students in our region are analyzed. One of the main problems is, precisely, that the experience of a girl or boy in a traditional mathematics class in Latin America and the Caribbean is not a very dynamic or interactive experience. Teachers tend to use techniques based on formulas and memorization, not adapted to the level of ability or prior knowledge of their students. It also describes that little collaborative work is done during class and that there is a lack of tactile and visual support materials that stimulate the exploration of concepts.
In this context, how can technology be used to improve math learning in our region? The second part of the book describes programs that have been implemented in primary schools within and outside the region, and with evidence that support their effectiveness. Based on the review of these models and their characteristics, we found three main recommendations to implement an effective program that uses technology.
1) With limited resources, we must implement simple and focused solutions
A common mistake is trying to cover many learning objectives in one program. This makes implementation complex and difficult and generates poor results. It is best to focus on a specific subject and grade to be supported with technology, or even a specific area of the math curriculum. One of the programs uses interactive platforms that allow exploration of the concepts of Fractions and Geometry from the 4th and 5th grade math curriculum. This facilitates not only design, but also implementation and monitoring of results, by explicitly guiding the use of technology towards a learning objective.
2) Ensuring the use of the comparative advantages of technology
If we keep traditional teacher-centered pedagogical practices unchanged, technology won't do much by itself. Successful technology programs take advantage of its comparative advantages such as: i) using software that favors exploration, visualization, and problem solving; ii) use technology in a way that allows for differentiation of instruction, this ranges from personalizing education to giving different activities to groups of students; iii) use technology in a way that increases motivation using gamification; iv) use technology that can give automatic and immediate feedback to students as well as teachers; and v) use technologies that promote collaboration, such as implementing math tournaments between schools, which encourages students to help each other.
3) Support with technology, support with pedagogy and support individually
The teacher is the key actor in education, and we must support him to adopt technology. However, the programs analyzed also show the importance of training going beyond technology and including practical and specific pedagogical support for teachers that aims to facilitate behavioral change. Finally, the models also show that the traditional recipe for theoretical, generic and massive training does not help to develop competencies among teachers. That is, we must support our teachers with technology, with pedagogy and its implementation in the classroom in a personalized way.
The issue of the use of technology for learning is even more relevant given the current context of the COVID-19 pandemic. To educate our young people, beyond developing the basic skills they need to enter the job market, the new imperative is to accelerate the digital transformation of our education systems guided by the evidence of what works to generate the learning that young people need.
Do you know of programs in your country that are using technology in an effective way to support the learning of mathematics for children and young people? Share your opinion in the comments section, or on Twitter mentioning @BIDEducacion #EnfoqueEducacion.