In response to the uncertainty of a changing world grappling with social and economic crises, the labor market has undergone a series of changes in which ways of doing things are beginning to be questioned. For example, people need to be at an office to improve productivity or that in order to succeed in the workforce, the only valid education is a university degree. Today we increasingly question the gap between higher education and the needs that companies have. This has been fertile ground for the development of training alternatives, such as bootcamps.
The Skills Gap in the Labor Market
According to the 2019 World Bank Enterprise Survey, 24% of companies worldwide stated that an inadequately educated workforce is a major constraint to their growth. In Latin America and the Caribbean, however, this figure rises to 32%, the highest of all regions. 
The businesses and universities have not found a formula that allows both to move forward hand in hand. Only a few universities and institutions have made changes that align with current market needs. Still, the labor market is increasingly and rapidly demanding digital, technological, and programming talent to support an accelerated economic transformation in Latin America.
Education and job training systems have not been able to respond fast enough to the urgent need for digital talent for the new economy.
Bootcamps As a Training Alternative
Currently, one-fifth of organizations globally are having difficulty finding qualified tech talent. Because of this, bootcamp training -intensive learning programmes- becomes a viable solution for the disconnect between the current skills of workers and the demand for tech skills in the private sector.
Not only do bootcamps provide a more accessible form of education for those who otherwise would not be able to access a traditional university education, it is also efficient at getting people in the labor market while fulfilling the demand of employers who need qualified people urgently.
In Latin America, only between 2% and 4% of the young population complete higher education training. Furthermore, at the regional level, less than 43% of primary schools and less than 62% of secondary schools have access to the internet for pedagogical purposes.
For this reason, according to Unesco, democratizing education is imperative in the countries of the region and the world, especially the education of digital skills. With a need for 149 million new jobs in the technology sector by 2025 (Banco Mundial), training in bootcamps becomes a viable alternative for those people who, in regular situations, could not receive a traditional university education.
At Laboratoria, we are committed to closing the talent gap and, at the same time, the gender gap that exists in the tech industry. We do this through an innovative, world-class bootcamp that has achieved great learning and employability results.
Intensive Learning Programmes as An Option for Closing Gender Gaps
Throughout our more than eight years of experience, we have seen that the innovative and effective methodology of our bootcamps has succeeded in preparing women, with no prior training in technology, for the job market in a short period of time. We want Latin American women to be able to access quality jobs in the digital industry in order to become empowered, advance their careers, and lead the digital transformation of the region.
Over 2,800 women have graduated as web developers and UX designers, more than 1,100 companies have hired Laboratoria talent and over the past two years we have reached an average job placement rate of 85%. Furthermore, 99% of students report high satisfaction with their bootcamp experience.
More women working in technology means more women building the future of Latin America.
Preparing Talent With Training alternatives For a Changing World
We know that bootcamps alone are not a blanket solution to all of the region's labor market issues. In fact, if they do not maintain quality and relevance, nothing prevents them from suffering the same fate as other educational innovations that have failed to deliver on their promise.
Over the years, at Laboratoria, we have learned that beyond the time and format of our bootcamps, the challenge of today is how to prepare Latin America's female tech talent for unpredictable and changing job market expectations, which demand the continuous development of new and relevant skills.
To achieve this, the most important step is to transform our learning culture so that it has no beginning and no end. Whether in bootcamps, universities, or companies, we must cultivate a continuous learning practice that allows us to adapt to a world of work where change is the only constant.
We believe in the talent and potential that women have and we want to see them succeed in a well-paying field with enormous possibilities, such as technology. We hope that training alternatives will continue to expand, offering quality programs that effectively prepare the women of Latin America for the future.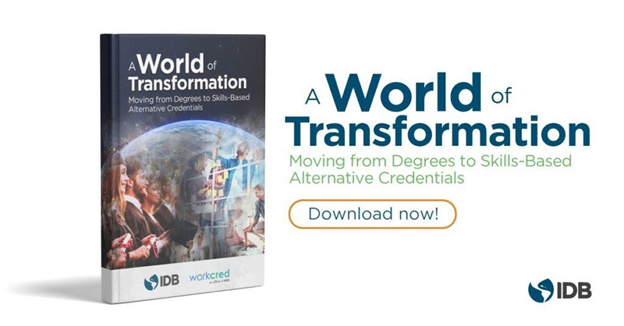 For more information, check the IDB and Workcred's latest publication A World of Transformation: Moving from Degrees to Skills-Based Alternative Credentials. The publication outlines the multiple reasons that individuals and employers are increasing their use of non-degree, alternative credentials in hiring and advancement. It also describes the different types of non-degree credentials and what they might signal to employers.
If you were interested in this blog about training alternatives such as bootcamps, we invite you to read How Can Alternative Credentials Help Close the Skills Gap?, the first entry of these series here. Learn more from our co-publication with Workcred "A World of Transformation: Moving from Degrees to Skills-Based Alternative Credentials." And watch our webinar and panel discussion with experts from OECD, Google, Coursera, Laboratoria, and Tec de Monterrey. Stay tuned and follow our blog series on education, economic opportunities, and skills!