Traditional degrees take years and often thousands of dollars to acquire—and they sometimes fail to prepare students for the workplace. They are costly for individuals, their families, companies, and society, in terms of both direct outlays and opportunity costs. Recognizing the high cost of a post-secondary degree, both students and employers are looking for more pertinent, shorter, less expensive, non-degree, alternative credentials (such as certifications and certificates) as both complements and alternatives to traditional degrees.
Alternative credentials have been driven by a demand for qualified labor and an emerging supply of programs providing such credentials. Many companies or "game changers", including Apple, Google, IBM, Bank of America, and EY, no longer require degrees for new hires. Some of them, such as Google, IBM, and Amazon, hire people with such credentials, and offer professional certificates and education curricula, often in partnership with higher education institutions.
What are Alternative Credentials?
Alternative non-degree credentials constitute a wide array of credentials not recognized as standalone formal educational qualifications by relevant national education authorities. They are awarded upon completion of one or more academic courses or a program of training, or evaluation.
There are three types of alternative credentials in the current market:
Certificates of course completion (e.g., MOOC-based certificates, micro-credentials),
Certificates of training completion (e.g., coding bootcamps, apprenticeships), and
Certifications based on assessment.
In the latest IDB report in collaboration with Workcred, we summarized these alternative credentials in the market in the table below: 
Main features of three broad types of alternative credentials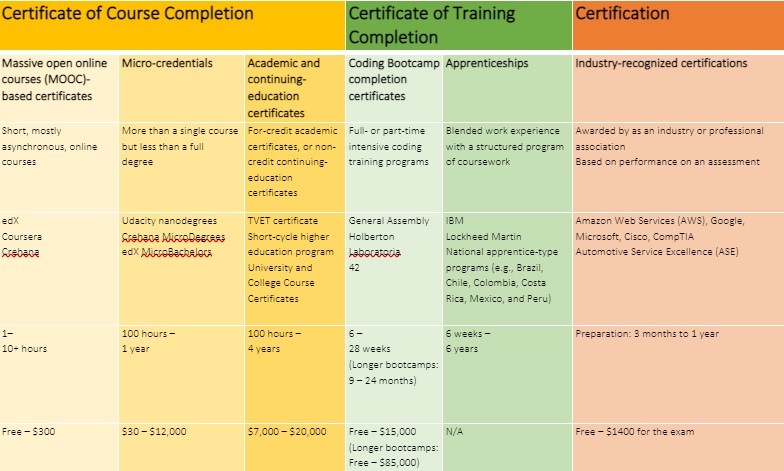 What is Driving the Demand for Alternative Credentials?
Several factors have combined to favor these shorter, less expensive, and more versatile ways to gain knowledge and skills for work. These factors are:
The rigidity and high cost of traditional degrees;
The fact that traditional institutions are failing to equip many graduates with the skills they need; and
The need to rapidly upskill and reskill workers to meet the increasingly complex demands of modern economies.
Traditional Degree Programs are Costly and Often Fail to Serve Employers' Needs
Traditional academic degrees are expensive to obtain. In the United States, for example, student loan borrowers collectively owe more than $1.5 trillion (an average of $34,000 per borrower), making student loans the second-largest type of consumer debt. In Peru, annual tuition ranges from US$1,243 for universities and US$2,694 for four-year professional institutes, and to US$5,423 for five-year universities in Chile. Some countries in Latin America and Europe offer free tuition to students. In these cases, it is taxpayers who finance tuition.
Formal education and training systems can also be rigid, with many failing to teach their students the skills they need to succeed in the workplace.
The financial value of the degrees depends on the major. Some degrees (e.g., engineering) are worth millions of dollars. Conversely, 28% to 37% of university programs, mostly in philosophy, religious studies, arts, music, and psychology, or drama, dance, and zoology have no net financial value; they might in fact financially harm students with negative return on investment (ROI).
The expected financial value of college: Distribution of return on investment (ROI) by major category, adjusting for completion outcomes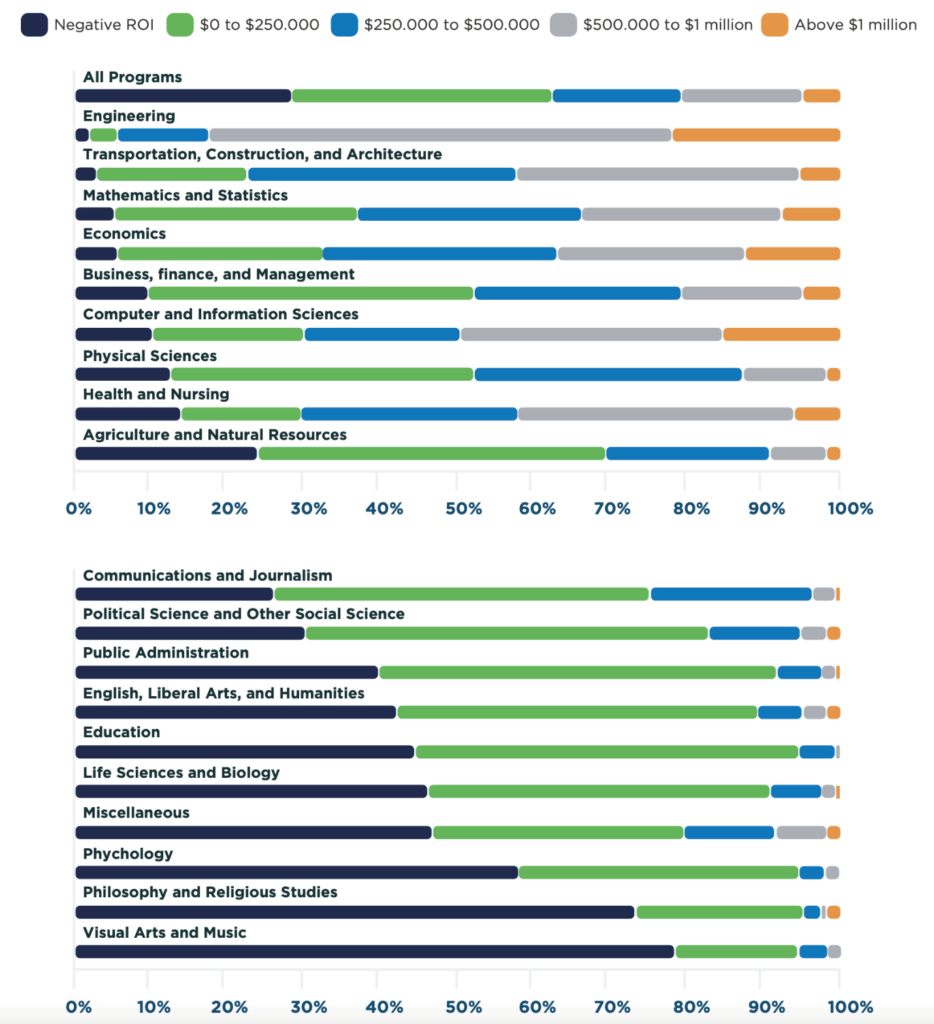 Workers (From Traditional Education Institutions) Lack the Skills Employers Need
Despite spending more than ever on hiring, employers have been struggling to identify workers with the skills they need. Many jobs require higher levels of skills than were required in the past, which current education and formal training systems do not provide.
For example, in Spain, except for medicine, most university graduates reported that they have been employed for jobs that mismatch what they studied vertically (i.e., graduates are overqualified for the occupation) and horizontally (i.e., graduates' occupations are unrelated to what they studied after graduation). 
Mismatch between university graduates' degrees and first jobs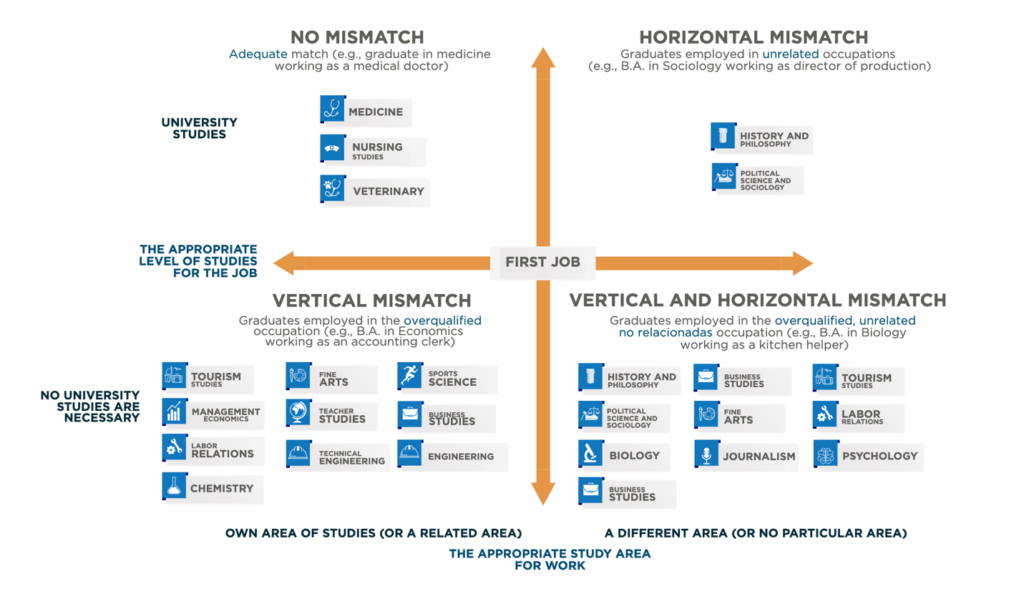 Skills mismatches and shortages reveal the need to upskill and reskill workers more quickly and develop better-qualified labor. This need is particularly pressing given the rapid pace at which jobs and occupations now change. A 2016 study projected that about 65% of children entering primary schools would hold jobs that did not yet exist. Technical skills get outdated more rapidly than ever (especially compared to some transversal skills). Companies estimate that 40% of their workers will need reskilling in six months or less. 
New Types of Education Programs Have Emerged 
In response to both demand and supply, the education and labor markets have experienced a paradigm shift, progressively accepting unconventional, practical, diversified, unbundled education and training programs offered by the private sector. Degrees can be viewed as bundles of sequenced curricula, with clearly defined credit hours, classes, and courses.
Credit hours and classes for degrees

Micro-credentials and alternative credential courses provide unbundled, focused, targeted courses as alternatives to or substitutes for degrees. More and more providers have been unbundling education, developing modular models, and, by doing so, making education more affordable, accessible, and convenient.
Credit hours and classes for alternative credentials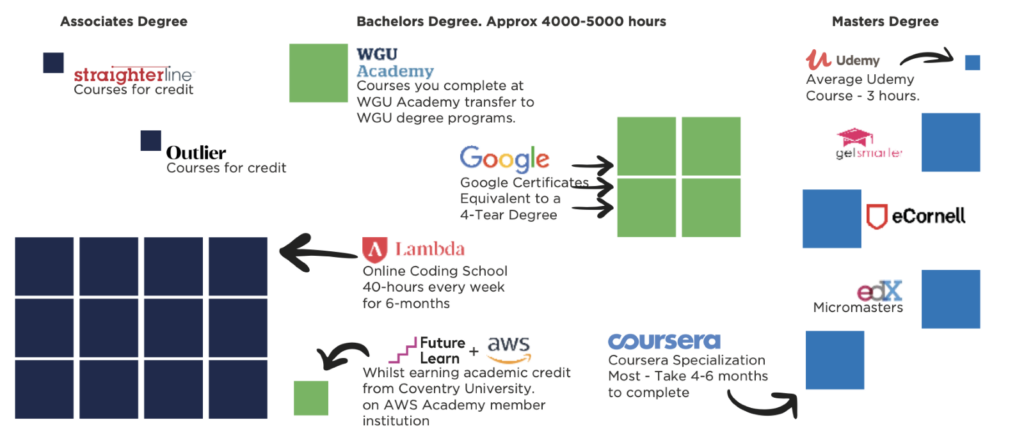 Degrees and alternative credentials differ in several areas, such as program length, the breadth of skills taught, the manner of validation, providers, cost, recognition and market value, networking opportunities, employers' perceptions, and level of industry involvement.
In many fields, alternative credentials can provide quicker, less expensive, more accessible, more versatile solutions than academic degrees, providing an attractive alternative path to good employment. Still, degrees have long held a strong market position, and offered various extracurricular opportunities and access to social networks. Additionally, alternative credentials have an uneven quality and do not have an official or regulated standard regarding delivery, duration, assessment, validation, and content.
Alternative Credentials Can Help Close Skills Gaps 
Job seekers do not have a means to identify their current skills to close the skills gaps. Given that degrees have limited capability to showcase soft skills and alternative credentials mainly focus on technical skills, potential employees do not have ways to identify, develop, signal, and communicate their skills. Alternative credentials can help close these gaps.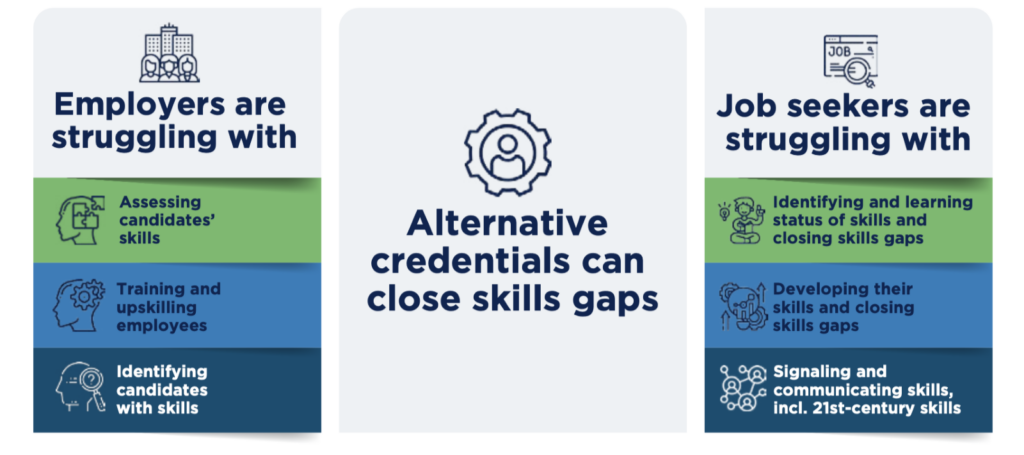 Alternative Credentials Offer More Opportunities for Latin American Countries
It remains to be seen whether non-degree alternative credentials are a short-term strategy to close the skills gaps and deal with the transition to adaptive and qualified labor, or a permanent strategy of human capital development. New generations may not necessarily need higher education degrees to succeed in the labor market, despite the continuing value and wage premiums being awarded to degree holders. They may need to combine traditional with non-traditional education models.  
Alternative credentials can reflect the need for skills that are in high demand but short supply, which is valuable for employers and job seekers alike. In other words, they attest to the existence of a talent shortage. By earning an alternative credential, job seekers can gain major payoff.
In particular, alternative credentials conferred after relevant learning and training programs can boost the prospects of low-income workers and indigenous/marginalized populations. Alternative credentials can also provide a shortcut to employment. With so many students dropping out of school for lack of time or resources, alternative credentials can provide an attractive, short, and accessible alternative to gain skills.
To enable such students to realize their full potential, greater efforts are needed to promote alternative learning through stackable, alternative credentials. Alternative credentials can also impart soft skills, which are critical for successful work and life.
This is a wake-up call for traditional formal education and training systems to adapt to a world in transformation. Based on our experience of the IDB 21st-Century Skills Coalition, our call for action implores the public and private sectors to learn from and collaborate with each other.
Only by strengthening the training and employment ecosystems with public-private partnerships can we bridge the massive skills gaps. Only if the Latin American and Caribbean region bridges the talent gap will its countries be able to prosper, innovate, and compete globally.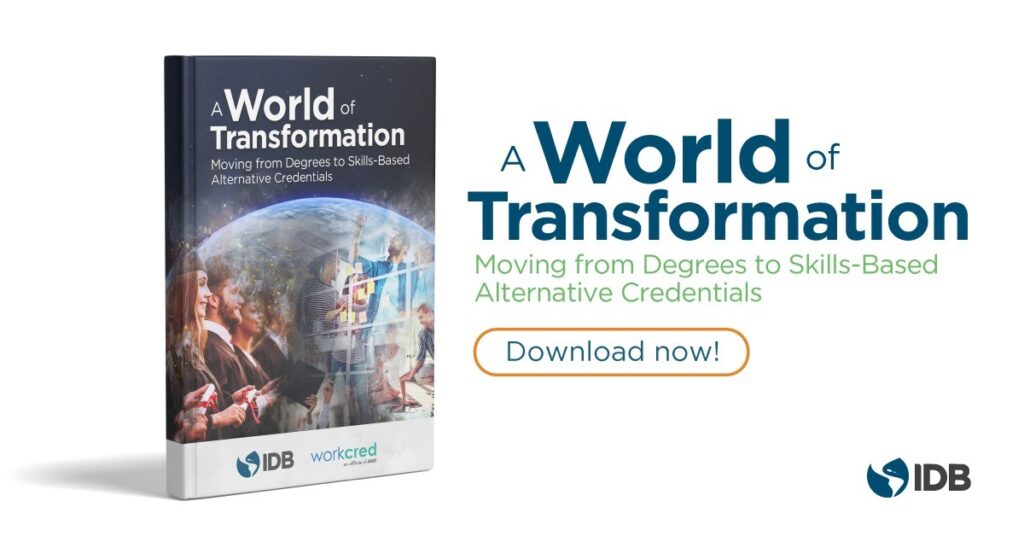 Stay tuned and follow our blog series on education, economic opportunities, and #skills21. Learn more from our co-publication with Workcred "A World of Transformation: Moving from Degrees to Skills-Based Alternative Credentials." Watch our webinar and panel discussion with experts from OECD, Google, Coursera, Laboratoria, and Tec de Monterrey.