For children to reach their full potential, it is essential to make sure their home environment fosters their development. This home environment has been made even more important by the situation of many care centers during the COVID-19 pandemic. However, our knowledge about how to implement family programs at scale is limited. Although efficacy trials of home visiting programs have demonstrated their potential to prompt changes in parenting practices within the home and promote child development, these programs are costly and challenging for local systems to implement at large scale. International bodies and policymakers are calling for an expansion of this type of intervention, so we need guidelines based on experience and evidence that can orient their implementation. These guidelines should remain as faithful as possible to the original intervention that was proven to be effective in a controlled environment.
Working in groups or visiting homes
One strategy for scaling up parenting programs is to use group sessions instead of individual home visits. Working in groups is generally less costly because multiple mothers (or caregivers) and children participate in sessions simultaneously. This format can also have a higher impact because participants have the chance to learn from interactions and synergies within the group. This can also enhance their motivation and engagement.
However, group sessions can be more difficult for facilitators, who have to work with children at different levels of development and interact with several mothers at the same time. This dynamic makes it hard to tailor the intervention to each participant's needs. Also, families have to cover the costs of traveling to the group sessions, which also have a less flexible schedule than home visiting. These two factors can lead to lower participation and less adherence to the intervention. We do not have evidence that compares the effects of group sessions with those of home visiting to show which of these effects is most dominant.
For that reason, we conducted a study with 1449 mothers and their 7- to 16-month-old babies in 192 rural communities in Odisha, India. The objective was to compare the efficacy of the same intervention—the well-known Jamaica or Reach Up model that promotes interaction through play—implemented through hour-and-a-half group sessions with seven or eight caregiver-child dyads or through hour-long individual home visits. Both interventions were carried out over 24 months. The program was run by women from the community who were hired and trained by the NGO Pratham, as well as members of the research team.
Results of the study in Odisha, India
The results showed that the cognitive and language development impacts on children randomly assigned to the intervention group receiving individual home visits and those randomly assigned to the intervention group participating in group sessions were very similar when compared to children in the control group. The major difference was the cost. Group sessions costed US$38 per child per year, while home visiting costed US$135 per child. This means the return on investment of group sessions more than tripled that of individual visits, making it a more scalable model..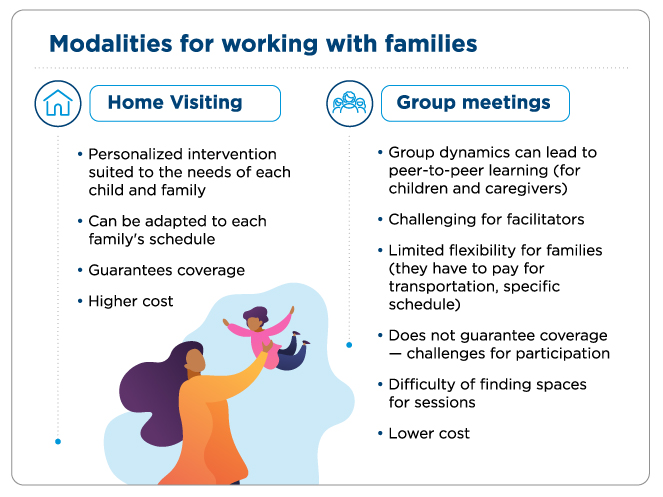 Ways of working with families in Latin American and the Caribbean
It would be interesting to find out whether these results could be replicated in Latin America and the Caribbean, given the differences in culture from India. Social customs and lifestyle can dictate whether it is more pertinent to intervene through home visits or in group sessions. For example, in some regions mothers might feel more comfortable in the privacy of their own home rather than sharing with other mothers, even if they are from the same neighborhood or community center.
Groups may also be more appropriate when working with pregnant women, mothers with newborns who are easy to move from one place to another, or mothers with children over three years old who begin interacting with other children their age. It would also be important to study how much the differences in population density and between rural and urban contexts influences participation levels and the effectiveness of group sessions. Even mothers' transportation to group sessions should be taken into account because it would doubtless impact participation.
Are you aware of practices that can be compared to the ones in the study in India? What do you think the results of a similar intervention would be in your community, given its social and cultural context? We would like to hear your thoughts. Share them in the comments section below.
---