For many, January signifies an opportunity to reassess priorities, dream big, and create goals to better themselves and the world around them. New year's resolutions require focus, passion, and commitment– all qualities found in an effective advocate. But advocating for quality early childhood development (ECD) programs for millions of children who remain in danger of not reaching their development potential in Latin America, a region where a stark disparity between rich and poor persists, requires far more than goodwill and passion.
Quality early childhood development interventions lead to a reduction in regional poverty, according to a recent Inter-American Development Bank (IDB) report. A shift in public policy priorities in terms of ECD funding is paramount because it translates into concrete action for better results. For example, home visit interventions produce average effects on cognitive skills about 10 times larger than daycare programs, but the latter still seem to be favored.
What, then, constitutes effective advocacy towards national policies that support and invest in quality ECD interventions with a special focus on the most vulnerable and marginalized populations?
Everybody has the power to be an ECD advocate
Advocacy is a deliberate, evidence-based action that creates political will by educating, persuading, influencing, and pressuring key decision makers into making a certain issue a priority. Tackling huge issues like poverty and ECD can be daunting, which is why Clear Goals are necessary. The following questions must be revised continually in order to determine such goals:
– What is my motivation?
Articulating why you feel this is an important issue is essential to being effective. Each advocate has their own motivation. Take ownership and integrate your passion for the cause into your advocacy.
– Who is my audience?
Ultimately, the necessary audience for a change in national policies will be Members of Parliament (MPs) and Ministers of Finance/Education/Health. To reach these high-level officials, you will have to deliver your message to a variety of audiences: local officials, MP staff members, the media, fellow citizens, and the like (see Figure 1).
Figure 1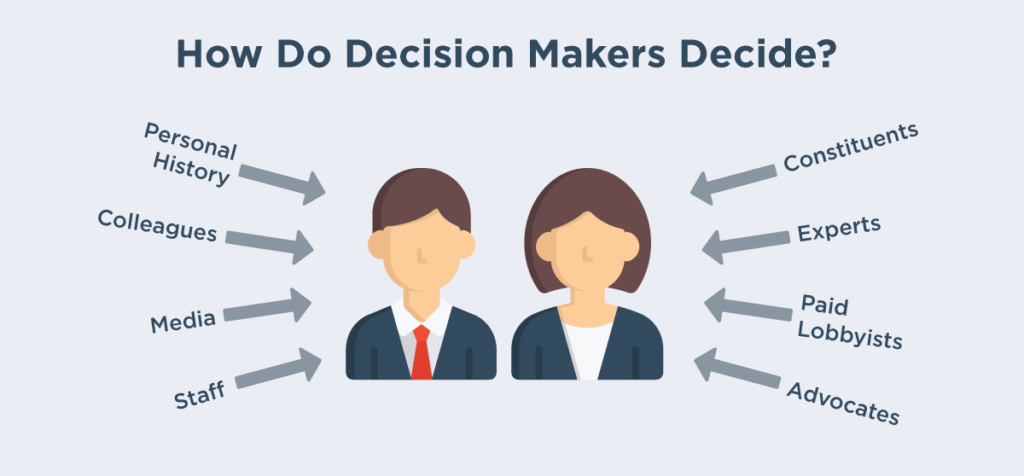 – What do I want to accomplish?
Usually, to advocate for your preferred scenario you'll work towards twin goals: 1) The main goal of creating or changing the national policy; and 2) creating "champions" for the cause along the way (see Figure 2).
– What is the message I want to convey?
Making the message as clear as possible is key.
There is a serious issue that needs to be addressed.

Example: There is a lack of quality ECD interventions.

There is an evidence-based solution to this issue.

Example: Home visit interventions produce average effects on cognitive skills about 10 times larger than daycare programs.

There are clear steps certain stakeholders need to take.

Example: Members of Parliament and relevant Ministers need to create policies that support and invest in home visit ECD interventions.
– How do I explain why my audience should care?
Your audience will be complex and diverse, so their priorities and background must be researched. To make a stakeholder care about your cause, you need to appeal to what is most important to them. If it's cost, for instance, focus on the high return-on-investment of quality ECD interventions.
– What response do I want?
Policy change never happens all at once. You must know what response you are trying to elicit at each stage of the process. This is also referred to as "moving up the champion scale." For example, if you're speaking to an MP who has never heard of ECD, the desired response is increased interest on the issue and a request for ways to become more involved.
Once you have 1) Identified your goal and done extensive research on the topic; 2) Identified key decision makers and researched them; 3) Mapped out a "web of influence" to identify the best way to reach them; and 4) Established where on the "champion scale" these decision makers, and those that influence them, land, you're ready to activate your action plan.
Figure 2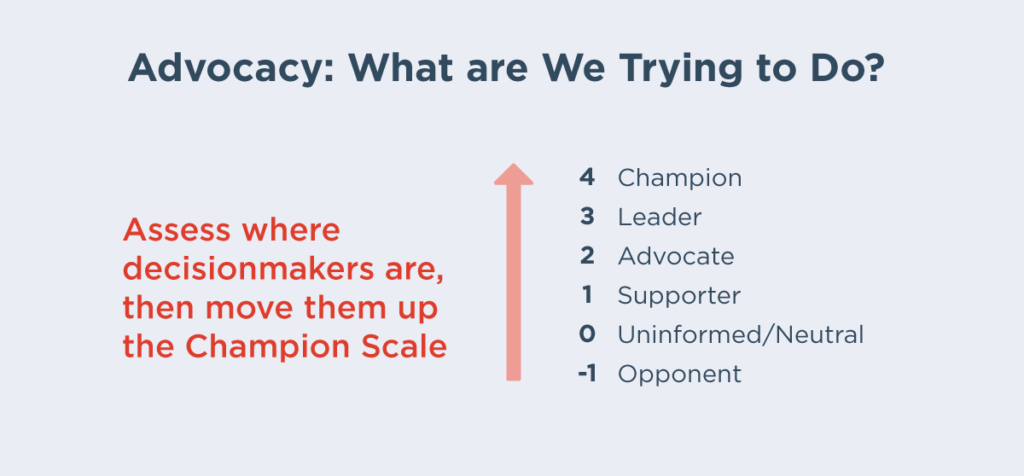 Answering the Call: Policy Advocacy in Action
To be an effective ECD advocate, you must be self-empowered. These tips could prove useful:
Figure 3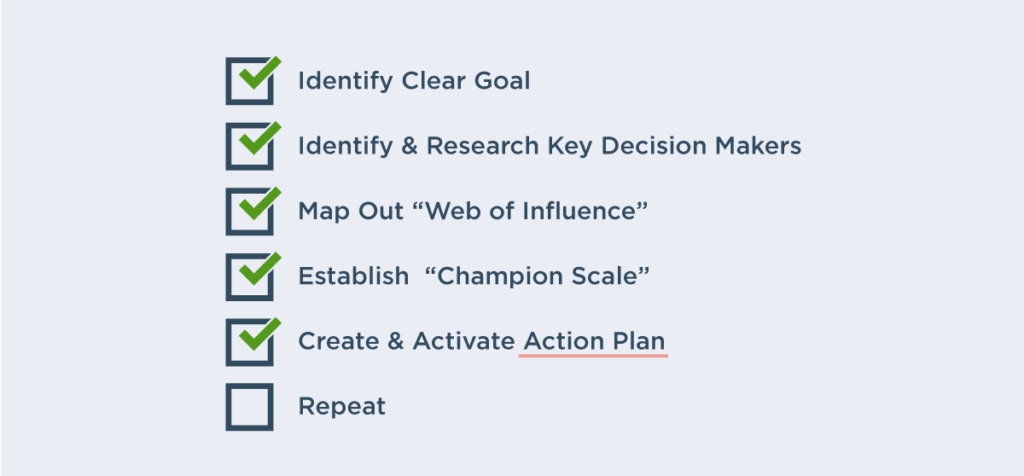 Early Childhood Development is an essential, often over-looked and under-funded issue. The year 2018 will be critical to make early childhood development a top priority for key decision makers and top power-holders. What are you willing to do?
Tell us about your advocacy experience in ECD in the comments section or mention @BIDgente on Twitter.
Aaron Merchen is the Senior Associate for Global Policy & Advocacy at RESULTS. He specializes in early childhood development and global education.
RESULTS is a grassroots anti-poverty advocacy organization working to ensure that all children around the world fulfill their potential.