5 min. read.
Machine Learning techniques are proving to be a practical method to generate data. These techniques are being increasingly used by data generation and research teams,offering quicker and less expensive alternatives to traditional data collection and processing methods. They are also a great tool to complement official estimates for key socioeconomic indicators, particularly so when data collection is too costly or difficult to obtain.
Machine Learning is a branch of artificial intelligence and computer science that imitates how humans learn and uses data and algorithms to understand trends and relationships between variables, building accuracy to forecast them over time. The use of machine learning frameworks to predict key indicators for development and growth has been rapidly expanding, proving to be particularly useful with the advent of big data. These models have also been increasingly used in fragile contexts, such as Haiti, where data collection is challenging or not feasible at all. For example, in 2019 the Inter-American Development Bank (IDB) published a paper using machine learning frameworks to estimate the distribution income poverty and inequality in 140 communes and 570 communal sections in Haiti, based on mobile phone data and satellite imagery. This study provided updated measures of the evolution of poverty and inequality without requiring data collectors to be on the ground, and most importantly, in situations that might put them in risk.
Table1. Examples of poverty rate estimates using different Machine Learning techniques

With the increasing use of machine learning frameworks and the growing use of big data for policy analysis, universities around the world are including these models in their economics curriculums. Towards this end, the IDB has been revamping its effort to mentor Haitian students and professionals working in the fields of economics, statistics and related sciences, by financing introductory courses on Machine Learning. Most recently, the Bank financed a two-month course on machine learning techniques for students in their third year studying economics at the "Centre de Techniques de Planification et d'Economie Appliquée (CTPEA)", a public university operating under the supervision of the Ministry of Planning and External Cooperation that offers higher education in the fields of Statistics, Applied Economics and Planning. During the sessions, 24 students at the CTPEA learned the fundamentals of Machine Learning techniques and how to apply them to analyze and understand trends related to poverty and food prices in Haiti.
Students learned the theory behind these models and applied them to answer policy-related questions. Students learned the theory behind these models and discussed how best to apply them to issues that pose challenges in public policy in Haiti, including poverty and food security. For example, students modeled and predicted the evolution of price changes in basic food items, such as rice, corn or wheat. Haiti ranks 109th out of 116 countries in the Global Hunger Index (2021), with an estimated 45% of the population in need of urgent assistance. Food prices in Haiti have soared recently, as a consequence of the effects of the COVID-19 pandemic, insecurity, natural disasters and the effects of the war in Ukraine; which has worsened an already severe challenge in the country. Therefore, being able to better predict the evolution of the prices of basic food goods could help guide public policy on social security and health interventions to alleviate food insecurity. Students analyzed the trend and changes of the price of rice, wheat and corn and carried out predictions for these trends until the end of the fiscal year. Figure 1 shows the results of the forecast a group of students in the class carried out on the price of flour. These quantitative estimations were then used to discuss and reflect on possible interventions that could mitigate the impact of rising food prices and takeaways for actors like the IDB, who work on these issues in the country (please note: the estimation results presented in this blog does not reflect the view of the IDB nor the CTPEA).
Figure 1. Forecasts of wheat prices using Holt's method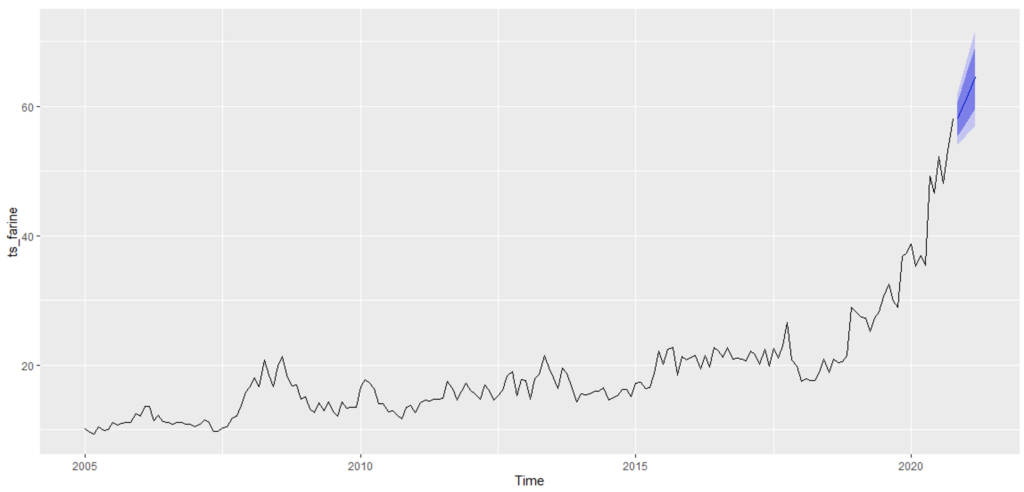 Machine learning techniques are being increasingly used for forecasting and the IDB is committed to contributing to new generations in Haiti learning and applying these methods in their research. This blog has shown two examples where machine learning techniques have been useful to help inform important development related questions in Haiti: for forecasting poverty and to understand the evolution of price changes in basic food items, such as rice, corn or wheat. Students not only found the workshop engaging, but they also consider these methods to be extremely useful and applicable in their careers going forward in government, think tanks or in research. The IDB thus aims to continue supporting new generations grow and ensure that Haitian professionals can contribute to the country's development with innovative and cutting-edge research on timely and relevant issues.
By Laura Giles Alvarez and Cleeford Pavilus.