Este artículo está también disponible en / This post is also available in: Spanish
Income level is one of the most important factors determining the quality of housing. However, studies show that, even at the same income level, female-headed households, or those composed of diverse populations, are more likely to be inadequately housed.
The causes behind this overrepresentation are complex and multiple. For example, women suffer disadvantages in the labor market that lead them to work in informal markets with lower pay, no social security or access to credit. Similarly, LBGTQ+ people, people with disabilities, Afro-descendants and indigenous people are discriminated against in both housing and credit markets, which limits their possibilities of accessing quality housing.
In this blog, which is part of a series on the IDB Group's Housing Forum 2022, we will address the importance of promoting the development of adequate housing that seeks to promote gender equality and diverse populations.
What is adequate housing?
In Latin America and the Caribbean (LAC), there is a robust regulatory framework in support of equitable access to housing, as evidenced by the ratification of international treaties related to this issue. In addition, the goals of the 2030 Agenda for Sustainable Development are linked to the production and equitable access to adequate, safe and sustainable housing, and especially to solutions that respond to the needs of the population in marginal urban areas and impoverished rural areas.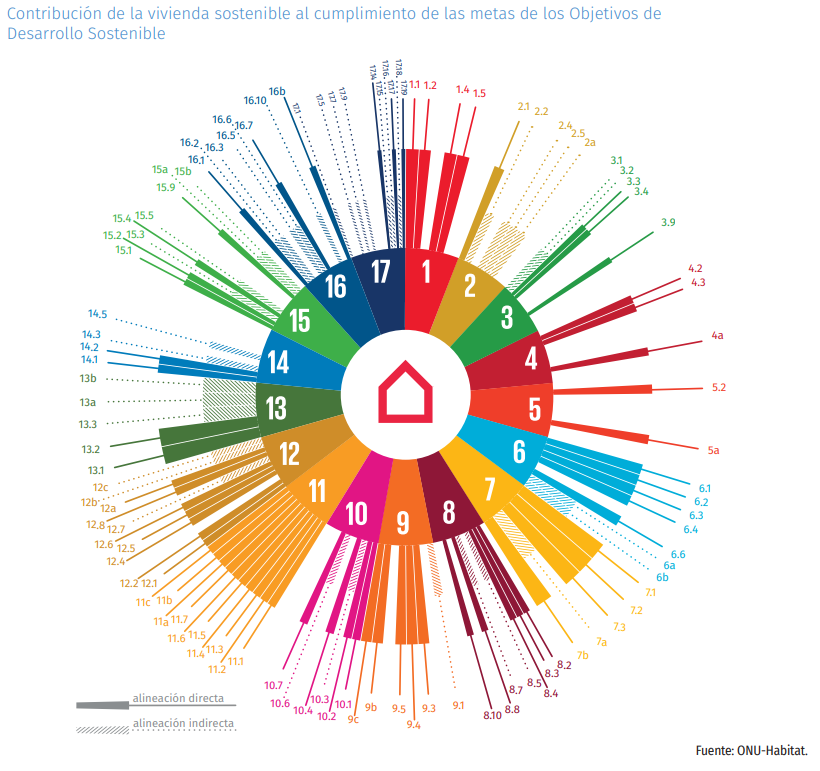 Source: UN-Habitat, 2018
To achieve these goals, it is not enough to increase the stock of low-cost housing. The challenge is to make them suitable for the cultural, technological and environmental characteristics of households. According to UN-Habitat, for housing to be adequate it must have the following seven elements:
Affordability
Security of tenure
Availability of services, materials and infrastructure
Location
Cultural adequacy
Accessibility
Habitability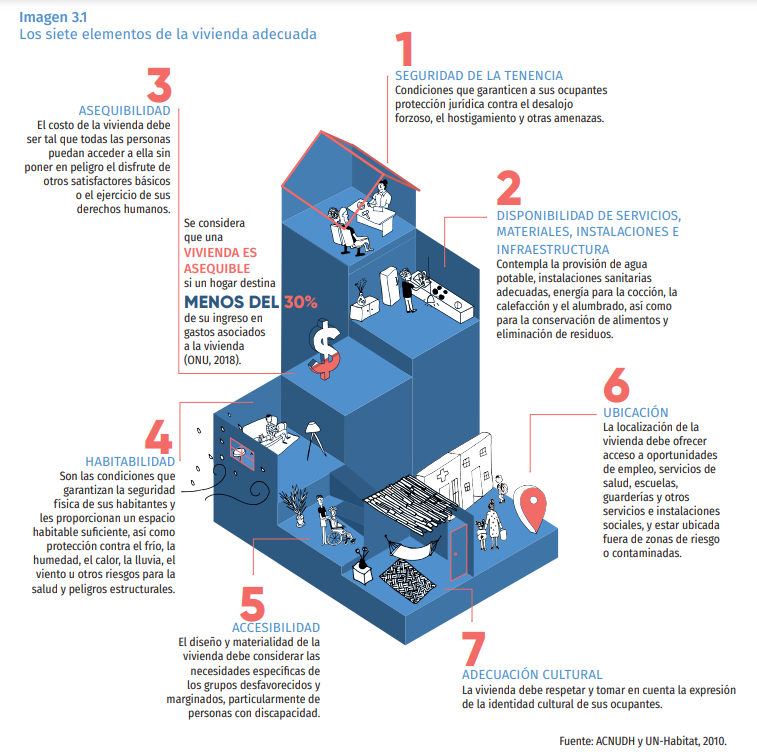 Source: UN-Habitat, 2018
The challenge of equity in access to adequate housing.
In our region, 1 in 4 households is headed by a woman. These households are more likely to suffer high levels of poverty and extreme poverty, live in overcrowded housing, without basic water, sanitation and electricity connection services, or built with deficient materials, or shared with another household. In addition, most of these households lack irregular titling. The most recent data estimate that only 25% of landowners in LAC are women, in both urban and rural contexts. Some reasons for these barriers are that women have less access to education, health, job security and a greater burden of care. Although exposure to violent climatic events and environmental pollution are not included in the official data on housing deficits, there is evidence that a higher percentage of female-headed households are located in areas of high environmental vulnerability.
In turn, it is estimated that 1 out of every 5 households in extreme poverty and with poor housing conditions has a family member with a disability. Likewise, households of African descent are twice as likely to live in poor or informal neighborhoods as non-African descent households. In the case of indigenous households, about 36% live in substandard conditions and are 90% less likely to have access to adequate housing. Furthermore, given the lack of systemic data on LGBTQ+ people in LAC, it is estimated that they constitute between 20% and 40% of the world's homeless populations, and many of them are turned away from homeless shelters.
How to reduce the housing deficit with an inclusive approach?
The IDB's Vision 2025 has gender equality and inclusion of diverse groups as one of its priorities. Therefore, our programs address this perspective in a cross-cutting manner by including interventions that directly benefit female-headed households and diverse groups.
Some examples of policies or programs that the IDB is supporting to overcome these deficits are:
Housing subsidies with prioritization for women and diverse populations.
The recently approved "Urban Integration of Camps Program", with a duration until 2026, was designed in conjunction with the Chilean Camps Program. Its objective is to improve the urban integration and habitability of national and migrant households living in camps. It will prioritize housing subsidies to indigenous people, many of them women heads of households, who inhabit such informal settlements. According to the 2017 census, the urban areas Metropolitana (30.1%), Araucanía (19.6%) and Los Lagos (13.1%) encompass the highest concentration of indigenous population residing in Chilean encampments.
Encourage the titling of housing for women or shared with their partner.
The recently approved Integral Tourism and Urban Development Program for the Colonial City of Santo Domingo (CCSD) was designed in conjunction with the Ministry of Tourism (MITUR) of the Dominican Republic. Its objective is to revitalize the CCSD in its urban, economic and cultural tourism aspects. It will provide technical assistance to regularize property titles, prioritizing the regularization of titles belonging to women heads of household or those shared with their partners. Likewise, priority will be given to women, people with disabilities and senior citizens as beneficiaries in the physical improvement of their homes. According to Habitat for Humanity data (2021), in CCSD 65% of heads of household are women, of which more than 67% are older than 56 years old.
Inclusive housing construction with universal accessibility.
In the "First individual operation under the CCLIP Housing Solutions for Poor and Vulnerable Households" designed in conjunction with the Ministry of Housing of Ecuador, one of its objectives is to build housing with universal accessibility, providing greater autonomy to people with motor disabilities and primary caregivers. This program also benefited property titles in the name of women or shared with their partner and allocated a percentage of housing subsidies to women and people with disabilities. Initially, the program had set out to provide 22% of subsidies to female heads of household and 6% to persons with disabilities of the total subsidies provided. As of March 2022, these numbers have been surpassed with 32% of the total subsidies delivered to women heads of household and 17% to persons with disabilities.
The IDB Group, a leader in the creation of housing with a gender and diversity approach.
To reduce the housing deficit in LAC, it is essential to orient our interventions and public policies towards the housing needs of women and diverse populations. To advance on this goal, the IDB Group celebrated the 2022 Housing Forum during September 29 and 30 in Washington DC. These topics, and other relevant ones to reduce the housing deficit in LAC were addressed.
You can access to the panel "Addressing the housing deficit of vulnerable populations with an emphasis on gender equity and diversity" of the IDB Group's Housing Forum 2022 on the following video (in Spanish):