Este artículo está también disponible en / This post is also available in: Spanish
Each November 25th is commemorated around the world the International Day for the Elimination of Violence against Women. On today's blog, we would like to highlight the importance of urban policies to prevent violence against women in Latin America and the Caribbean (LAC).
There is no shortage of official commitments to stop violence against women. At the international level, this purpose is explicitly upheld in relevant international agreements such as the United Nations (UN 2030 Agenda in Sustainable Development Goal 5, and the United Nations Declaration on the Elimination of Violence Against Women adopted by the United Nations General Assembly in 1993. Likewise, many Latin American and Caribbean countries have enacted similar laws and declarations, such as Argentina in 1980; Costa Rica in 1984; Trinidad and Tobago in 1986; Mexico in 1989; Barbados in 1992; Haiti in 1994; Colombia and Ecuador, 1995; Honduras in 1997 and Brazil in 1998, among others.
However, despite this robust body of laws, violence against women is endemic in many parts of the world and in our region. In this sense, while these agreements are adopted at the international or national level, local authorities are responsible for enacting many of the actions required to put an end this type of violence
The role of urban policies in eliminating violence against women
Sadly, LAC region holds the highest rates of femicide around the world. Therefore, if we consider that more than 80% of all LAC residents live in cities, urban policies should be front and center in the prevention of violence against women. The way cities are designed, built, and managed plays a significant role in preventing violence against women.
With that purpose in mind, and given the relevant role that this issue has within the IDB's Vision 2025 to achieve sustainable development in LAC in the coming years, we will focus on 3 urban dimensions to reduce violence levels in the region.
1. HOUSING: improving access to adequate housing for women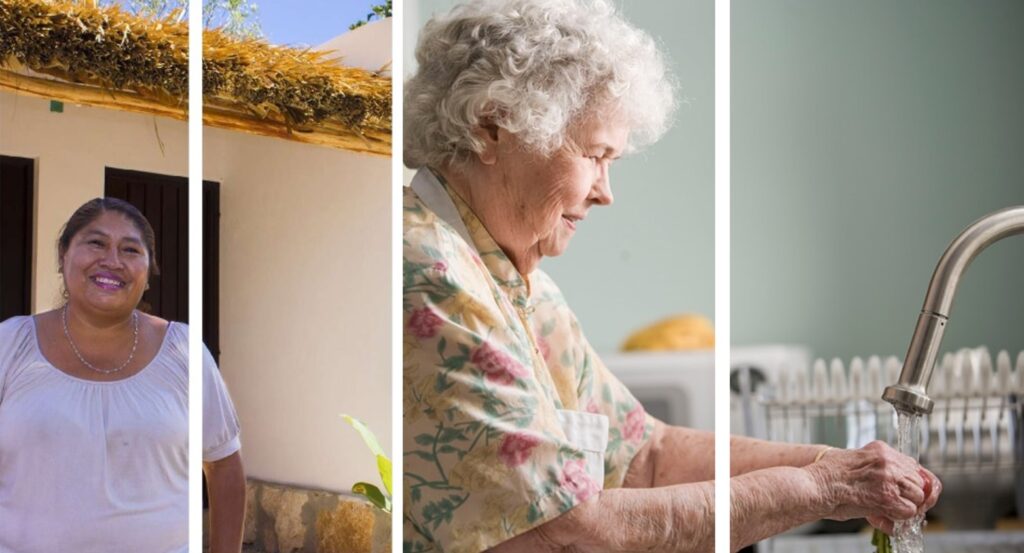 Access to housing is harder for women than for men. That is, women have less access to housing tenure, housing credit, and housing located in areas with urban services than men, thus they are disproportionately affected by housing deficits. There are some mechanisms that help prevent reducing violence against women by supporting access to adequate housing to women.
Access to land titles: Due to differential treatment by law or by custom, most land titles are still registered under men's names. UNICEF estimates that women account only for 25% of the landowners in Latin America. There is evidence that security of tenure correlates with a decline in gender-based violence, either due to a change in men's attitudes, or to the fact that women are more inclined to leave abusive relationships
Housing location: Housing location also affects women's safety and development. When cities expand without adequate planning, poor households headed by women are the most disadvantaged, as they tend to be in precarious neighborhoods, with limited access to efficient means of public transportation and long commutes. In addition, these women usually make long journeys at early or late hours, when the frequency of public transportation is very low, increasing their exposure to sexual violence in their daily commute.
Access to water and sanitation services: Access to water and sanitation networks also affects women's safety. In fact, only one in four people living in urban areas has access to onsite improved sanitation facilities. Also, recent data estimate that only three in five people living in urban areas worldwide have access to safe, readily available water at home. These deficits pose an extra burden on women, who face increased risks of sexual assault when using sanitation facilities located outside of their homes during the night.
MOBILITY: urban transport planning with a gender perspective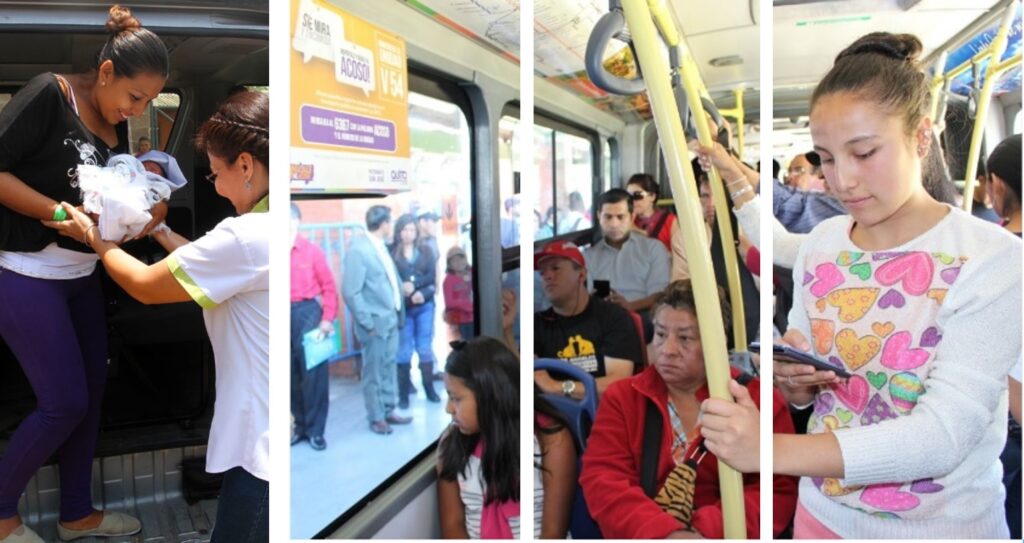 Lack of gender-responsive planning can make travelling more complicated, more expensive, and more dangerous for women than for men. Women generally rely more than men on public transportation. In LAC, on average, over 50% of public transportation users are women. This means that women are also twice more likely than men to be victims of gender-based violence on public transportation, which prevents them from enjoying equal access to mobility (IDB 2015) Likewise, However, most of the existing public bus routes and sidewalks in the region are not designed with the needs of women in mind. Typically, women make more multipurpose trips, combining their daily work commute with trips to school, childcare facilities, healthcare centers, and trips for shopping purposes. Data shows that having a young child in the house will increase the number of trips a woman makes.
PUBLIC SPACE: safer cities for women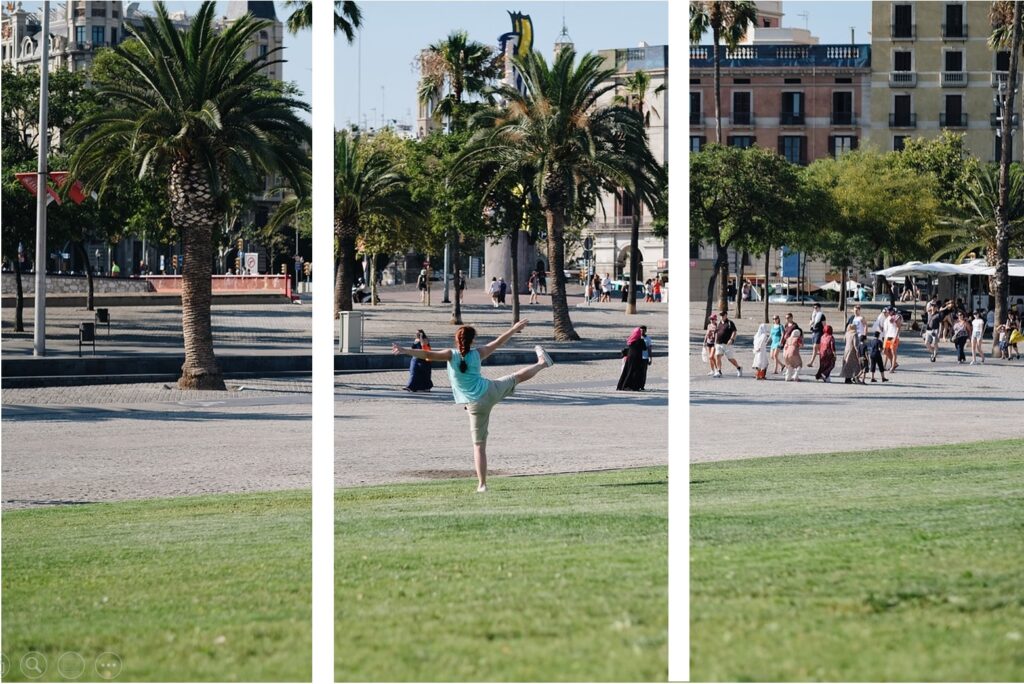 Public space planning usually does not take into account the needs of women in LAC. Dark areas, isolated parks, empty and poorly lit streets, underground parking lots, and pedestrian underpasses provide opportunities for criminal activities and cause fear and insecurity to women. Data shows that women tend to experience sexual harassment in public places more frequently than men.
Taking Action: proactive cities to avoid violence against women
No society can progress without addressing violence against women, a violation of basic human rights and a hindrance on social prosperity. But: how to implement urban policies that end violence against women?
At the national level, sound normative frameworks are essential to ensure the basic rights of women, especially regarding housing rights and inheritance laws, land policy and security of tenure, and laws against gender-based violence. At the local level, gender-responsive regulations and interventions are required, particularly in the design and management of transport mobility systems and public spaces.
Likewise, meaningful participation of women in decision-making processes should be increased in all levels of government while establishing effective, accountable, and transparent governance mechanisms and data information systems to ensure that cities are built to provide opportunities for all.
If you enjoyed this blog, sign up here to receive our monthly newsletter with all the blogs, news and events from the IDB Urban Development and Housing Division.