Este artículo está también disponible en / This post is also available in: Spanish
Is it possible for one of the oldest cities to be considered the first eco-sustainable and smart city on the planet? At first, it seemed like a presumptuous idea. However, after watching the video by Andrea Moccia, science communicator and founder of one of my favorite websites, my questions fade away. I found it so interesting that I decided to adapt it for our blog to explore the concept of "smart eco-sustainability" in greater depth. This topic, which was very well-understood in ancient times, has become one of the important challenges for historic centers in Latin America.
Why is Matera a unique city?
We often ask ourselves: What will a smart city be like? Naturally, we think of towering skyscrapers, high-tech systems, and flying vehicles. However, upon deeper research on early human settlements, we discovered an amazing example of smart eco-sustainability in Matera, a city whose origins date back to approximately 8,000 years. Matera is in the Basilicata region in southern Italy. According to Andrea, due to its characteristics and the ingenuity of its inhabitants, it could be categorized as the first "eco-sustainable and smart city" in history.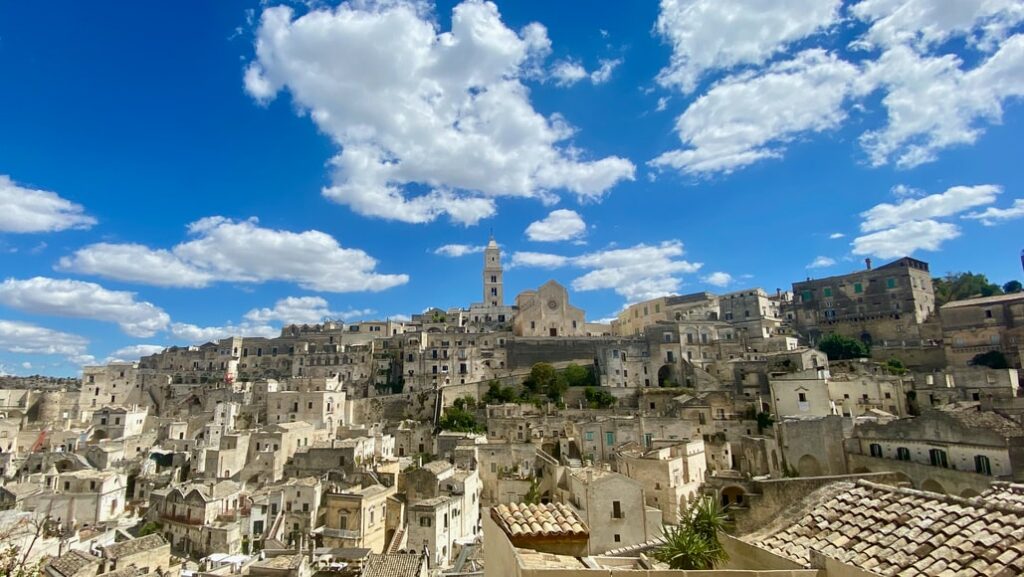 Past, present, and future coexist in Matera. It was named a UNESCO World Heritage Site in 1993 and the European Capital of Culture in 2019, further increasing its popularity. Even the last James Bond movie was filmed there. The more amazing thing is that Matera is a biblical-looking city carved entirely in calcarenites. In other words, it was shaped in relatively soft sedimentary rocks of volcanic origin, easy to extract and cut. Inside, it has an innovative system of caves, corridors, and reservoirs that allow water collection, creating a real underground city.
The secret of Matera: houses carved into the rock and placed one on top of the other
The secret is in its rocks, as Andrea emphasizes. "Sassi di Matera" or Stones of Matera, refers to the nearly 3,000 dwellings carved into the side of a huge canyon where up to 18,000 people once lived. These dwellings are divided into two neighborhoods located in its historic center, part of the old town. The so-called "Sasso Caveoso" or Hollowed Stone is also made up of dwellings dug entirely out of rock and built downwards to allowthe sun's rays to enter in winter and avoid them in summer, maintaining a constant temperature of around 15 °C.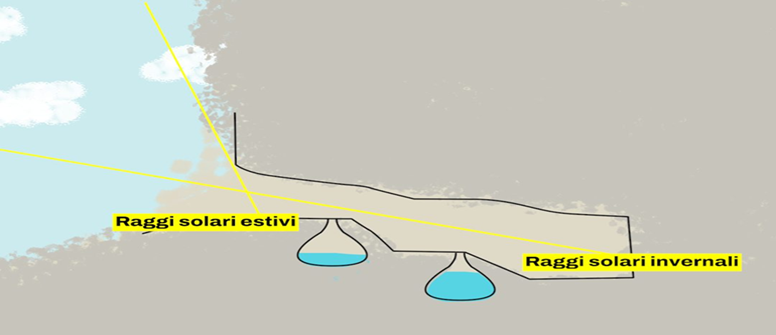 Another interesting aspect of its structure is when walking through the Sassi di Matera one notices that the houses are arranged on top of each other. The roof of one of them can become a street, staircase, garden, or another house's floor. The entire Sassi complex is built on several levels as if it were an ancient condominium that facilitated social interaction and the protection of its inhabitants. In some sectors, these levels reach up to 10 floors, with exclusive spaces for waste storage. In addition, the sector called Sasso Barisano is characterized by housing extensions built with rocks extracted from the cave itself, called "lamione."

Optimization of water resources: the home as a water purifier and reservoir
These particularities are not the only ones of this amazing city, although its past was not always glorious. In any case, ancient civilizations built most of their cities near the water. This is not Matera's case.
Its geographical location has minimal rainfall. The supply and conservation of water were one of the main challenges for subsistence. Therefore, its inhabitants developed an elaborate underground aqueduct consisting of canals and cisterns to store both underground water and water from condensation caused by differences in soil temperature. "Drip cisterns," or cisterne a goccia, were found in almost every room, about 2,200, with a total storage capacity of 116,142 m3. The houses' roofs collected and directed the water through gutters to decanting tanks to purify it before entering the cisterns.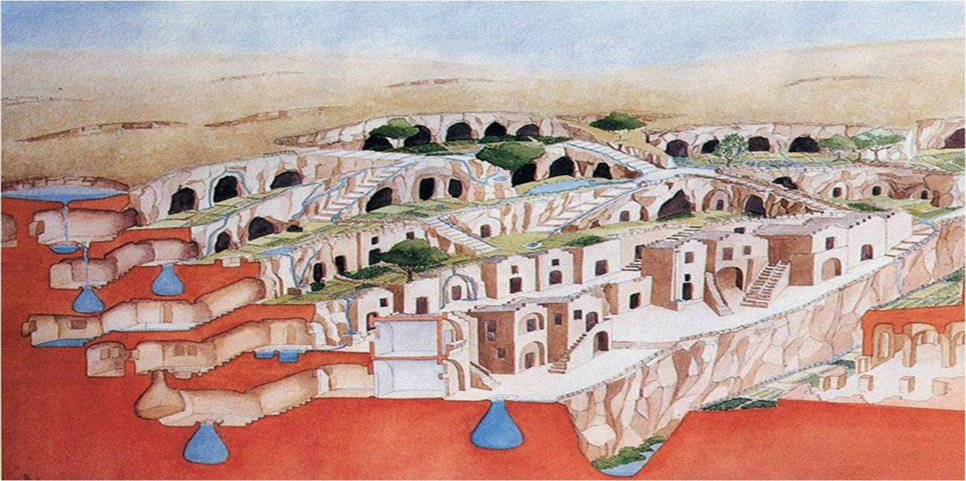 Matera's largest water reservoir is the Palombaro Lungo, a gigantic cistern about 18 meters high and 50 meters wide. It is covered with a waterproof plaster called cocciopesto, made from fragments of tiles and bricks crushed with lime. It holds about 5 million liters of water, making it the largest known hand-carved cistern in the world. Therefore, the "Sassi di Matera" is a true example of eco-sustainable and intelligent construction, as they were made with local and recyclable materials, characterized by their breathability, insulation, and porosity. In addition, the caves were designed to maintain a stable ambient temperature all year round and store rainwater, which made Matera livable from its beginnings to the present day.
A city of the past for the 21st century
Beyond its current reputation, Matera faces significant challenges, especially if it wants to become a sustainable smart city in the 21st century. It will need to generate massive resources to complete its restoration and attract a diversity of residents to the old town to prevent its emptying. At the same time, it will need to remain an attractive location for new cultural, socio-economic, technological, and environmental ventures funded by both public and private investments. It should also make efficient use of its natural resources, reuse and recycle its infrastructure and buildings, and incorporate IT-based urban management systems to become eco-sustainable and smart.
These issues are not substantially different from the challenges faced by historic cities in our region, which the Inter-American Development Bank has been working on for several decades. However, Matera offers us a very interesting revitalization model, whose legacy and resilience are creatively used as a platform for transforming its future. Grazie, Andrea!
If you enjoyed this blog, sign up here to receive our monthly newsletter with all the blogs, news, and events from the IDB's Housing and Urban Development Division.