Este artículo está también disponible en / This post is also available in: Spanish
More than 6.5 million people have died worldwide from COVID-19. Latin America and the Caribbean LAC has been one of the regions most affected by the pandemic, with some of the countries having the highest mortality rates. As mentioned in previous blog posts in this series on Healthy Cities, the region is highly urbanized and has wide health inequities.
In this blog, we address a recent study exploring whether these pre-existing health inequalities continued during the COVID-19 pandemic, and whether their magnitude is stable, or is being amplified by the pandemic. To explore this, we have used daily mortality data for the comunas and distritos of Santiago de Chile. Keep reading to discover the results of this study!
What do we mean by excess mortality?
Excess mortality is defined as the difference between observed mortality in 2020 versus what would have been expected in 2020 had previous years patterns held constant during 2020. In other words, we compute a baseline mortality rate based on previous years and compared that to what was observed in 2020. Had the pandemic not occurred, we would have expected our observed rate in 2020 to be similar to previous years.
Is there a relationship between educational level, overcrowding and excess mortality?
The study has found that, during the COVID-19 pandemic, mortality increased more in the lower socioeconomic areas of Santiago. The figure shows the association between excess mortality and socioeconomic indicators for Santiago. The data show that the higher the educational level and lower the overcrowding, the lower the excess mortality.
EDUCATIONAL LEVEL:
Areas with the highest educational levels (represented by the percentage of the population aged 25 years or older that completed university education) presented a difference in excess mortality of about 17% between areas with the highest and lowest educational levels.
Figure 1: Association of excess mortality in 2020 (as compared to 2017–19) with educational attainment and overcrowding in distritos of Santiago de Chile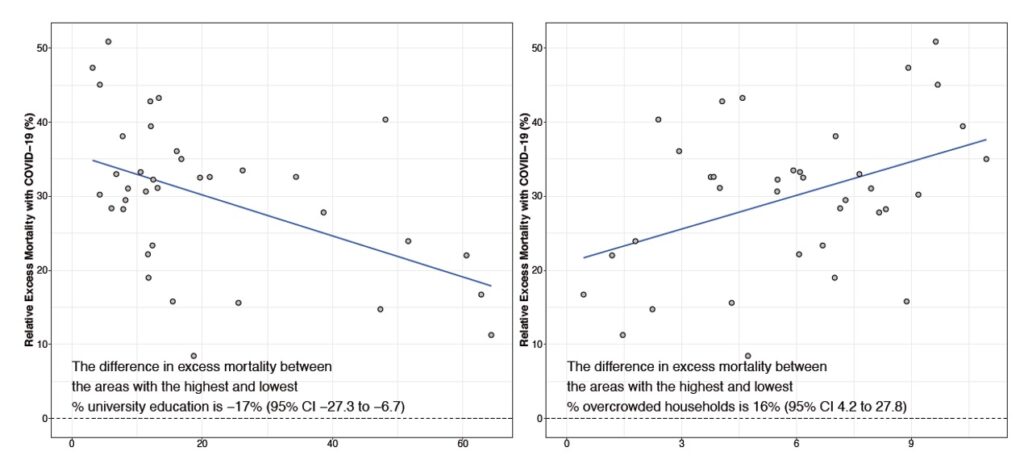 What other factors may explain these results?
Possible causes of excess mortality during the COVID-19 pandemic in areas with lower educational attainment, or higher overcrowding may be due to multiple factors such as:
Differences in exposure to SARS-CoV-2: individuals of lower socioeconomic status may not have been able to avoid being exposed to the virus due to working and housing conditions
Differences in the underlying vulnerability to COVID-19 due to an increased prevalence of chronic illnesses. For example, there is a strong social patterning of cardiovascular disease, hypertension, and diabetes in Chile
Differences in the treatment of the disease
The importance of urban spaces for healthy cities
There is a great need to measure health inequities within LAC cities to achieve health equity. This study, which analyzes excess mortality with the COVID/19 pandemic, is only a small grain of sand towards this goal.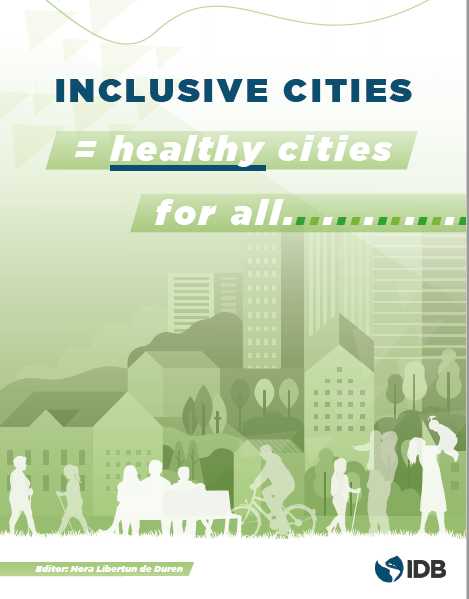 The Inter-American Development Bank (IDB), in its commitment to support cities in the region, has just published the monograph "Inclusive Cities: Healthy Cities for All". Chapter 8.1 discusses this study in detail, as well as another case study that looks at inequalities in life expectancy and mortality within six large cities in LAC.
.
We hope that this publication serves to raise awareness that urban services play a fundamental role in the health of the population. However, this role is not limited to times of health crisis but is also fundamental to improving public health in a comprehensive manner for the entire population.