A country's Gross Domestic Product (GDP) is defined as the monetary value of all final goods and services produced by a nation's economy. Even though it has many shortcomings[1], GDP – also expressed in per capita terms or growth rates– is still used as one of the main measures to gauge development and discuss economic performance (see, e.g., Dynan and Sheiner, 2018).
But how can we accurately measure and value all the final goods and services an entire nation produces over the course of a year? Short story, we cannot, we must estimate it. Also, what can satellite data tell us about the accuracy of GDP measurement? And how come in 2014 Nigeria's GDP figure jumped almost 90 percent overnight? In this blog we are opening the black box of GDP measurement.
The process estimating GDP is so challenging that Simon Kuznets, the man who pioneered the method of approximating it, won a Nobel Prize for his revolutionary work. His achievement paved the way for three approaches to GDP measurement: the expenditure, production, and income approaches. The first approach measures how much money is spent in an economy, the second: how much value is added and the third: how much income is earned. All these – theoretically equivalent – methods rely on a combination of surveys and administrative data without which accurate GDP measurement would be impossible.
The most prevalent method is the expenditure approach, which estimates the demand-side of an economy. It calculates GDP as the sum of household consumption, government expenditure, investment and net exports.
Household consumption – typically the largest component – includes everything consumed by households, from consulting services to smartphones. Estimating household consumption relies on data obtained from surveying retail businesses.
Government expenditure involves both recurrent and capital spending (but not transfer payments), for which the data is pulled from the budget and the government accounts.
Investment in capital goods means investment in tools, equipment, factories, machines and the money spend to maintain them. Surveys are again needed to quantify investment.
Finally, net exports are exports minus imports and are calculated using customs data.
The production or value-added approach estimates the supply-side of the economy. It calculates the total output an economy produces and, to avoid double-counting, deducts costs of intermediary goods consumed in the process. The difference between the value of outputs and intermediary goods is called the value added. For this method, firm level data must be obtained and sorted into intermediate, final, and value-added categories. Once the sorting process is complete, the value added by firm can be generalised to give an estimate of the total value added by industry. To render GDP, industry-level value-added estimates are then multiplied by fixed weights according to the industry's contribution to output in a base year.
Obviously, as economies change, the relative contribution of each industry may change, which calls for an update of the base year and industry weights. This in turn may affect GDP measurement. At times it affects GDP a lot, like in Nigeria. On April 6 2014, Nigeria's statistics office updated the base year, from 1990 to 2010. During that period, the Nigerian economy changed substantially, with the emergence of 'Nollywood' and the expansion of the telecom industry. As a result of this update, Nigeria's GDP moved from US$ 269 billion to US$ 509 billion overnight, an increase of almost 90 percent!
Finally, the income approach adds up all the income earned through production, roughly by summing employee compensation and firm profits. Though data on incomes are easily accessible in most countries through tax and financial records, there are many challenges with this approach. These include that data is only available after a considerable time lag, and that misreported income must be adjusted. Data on corporate profits are taken from tax returns and need significant adjustments to bring figures in line with national income measurement.[2] There is no way of adjusting the components to reflect inflation, so the overall figure must be adjusted using the GDP deflator estimate.
While in principle these approaches should generate the same result, in practice it is rarely the case. This arises from the use of different data sources which produce results that, like all statistical estimates, are subject to errors and omissions. For instance, a low response rate in surveys used by one method may result in data which misrepresent the population of interest. There is thus a need for reconciliation, to bring estimates closer to the actual value. One such technique is benchmarking, or the use of statistics to adjust estimates to what they 'ought' to be, based on historical values.
Estimating GDP by employing all three methods provides another way to improve the accuracy of GDP figures. Not all countries, however, have the capacity and resources and to do so. Let's take a look at IDB's Caribbean countries. In Jamaica and the Bahamas, GDP is calculated using all three methods. In Barbados, Guyana, Suriname and Trinidad and Tobago, this is not the case. In Barbados, GDP is estimated based on the production and expenditure approach (for another IDB blog post on Barbados GDP, click here). Guyana mainly relies on the production approach, while GDP by expenditure is compiled residually for the economy as a whole. Suriname and Trinidad and Tobago, on the other hand, only rely on the production approach. For Suriname, large discrepancies were recorded between the production approach and the expenditure approach, after which the decision was taken not to disseminate GDP by expenditure. For Trinidad and Tobago, data limitations – partly arising from difficulties in inter-ministerial sharing of tax records – currently prevent other methods from being used in the country.
The above suggests that accurately measuring GDP may be challenging. This is indeed the case, and one piece of evidence comes from night-time satellite images. How does looking at the earth from space help us with GDP measurement? Well, if you would orbit the earth and look down at North and South Korea, it is immediately clear which country has the most economic activity (see Figure 1). It turns out that night-time lights are a good proxy for GDP, not only in the Korean peninsula, but across the board (see Henderson et al, 2012). Recent research, however, has found that some areas with numerically booming economic activity are very low on night-time lights, suggesting that official GDP figures are off. According to Martinez (2018), this may be related to governance issues and misaligned political incentives.
Figure 1: North and South Korea from Space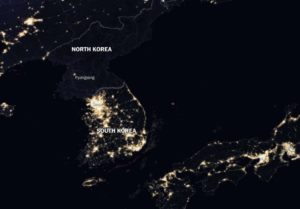 To conclude, it is clear that measuring GDP is far from straightforward and requires many data inputs and adequate statistical capacity. Furthermore, checks and balances are needed to minimize any (upward) biases. Given the importance of GDP as measure for economic development and as a policy-making tool, there is therefore a clear need to build and maintain statistical capacity and put in place proper governance structures.
Notes:
[1] There are many limitations in using GDP. These can be grouped into measurement shortcomings, and limitations of its failure to reflect welfare. In its measurement GDP fails to account for major productive and non-productive sectors which could increase the country's welfare. For instance, GDP cannot account for either the black market, which may compose upwards of 30 percent of the GDP of developing countries, or non-productive services, such as voluntary work. Secondly, while it is often used as a proxy for development, GDP fails to reflect the country's quality of life. For instance, while a country's GDP per capita may be high, there may be vast disparity between individual wealth, as the measurement does not consider inequality. Also externalities such as pollution are not accounted for.
[2] These changes include the recalculation of some costs, including depreciation, and re-estimation of income – as it is underestimated in many cases.