On the occasion of International Women's Day 2019, we shine the spotlight on some of Suriname's rural women who are being credited with leading the expansion of the country's electricity supply.
A 24-hour supply of electricity is a top priority for the South American nation of Suriname. However, despite its obvious benefits, many villagers in rural communities are reluctant to welcome the change because of the initial investment and the recurrent cost. For years, they have relied on free but unreliable supplies that only last a few hours each day. The expansion and improvement of the electricity supply in these areas has led to economic development at the individual, family and community level, thanks to women from Suriname who stepped up to plan, lead, and implement the change. These women were particularly instrumental in the 2017 expansion of the power grid that serves fives communities in Suriname's Powakka area and the 2018 construction of a 500 kW solar mini grid that services the communities of Pokigron and Atjoni. Both projects were funded by the Inter-American Development Bank (IDB).
Muriel Fernandes has been the chief ("captain") of Cassipora for the last 7 years. She led all the discussions between EBS, Suriname's state-owned utility company, and the community. Using her excellent communication and problem-solving skills, Ms. Fernandes found solutions to ensure that villagers were empowered throughout the process and could meet the requirements to ensure that electricity would be installed in their homes. Before the transition, these villagers relied on a 4-6 hour daily supply of electricity from a diesel engine. It limited the scope for economic empowerment. Under Muriel's leadership, each villager paid 1,000 SRD (about 135 USD) with the remainder of the cost being covered by a village fund. The fund is financed mainly through tourism.  In addition, the village committee decided to pay the full cost of installation for its most vulnerable members. Relying on Ms. Fernandes' strong leadership as its captain, Cassipora was the first village to be ready for a 24-hour electricity supply.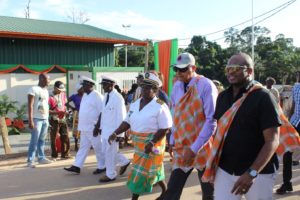 Another Surinamese woman taking on a leadership role in the electrification campaign is Ms. Yvonne Pinas, the Acting District Commissioner in Pokigron. Pokigron faced the same financial problems as Cassipora with some villagers not having the financial resources to upgrade their electrical installations. Ms. Pinas was able to convince some of the local logging companies, which are currently doing forestry activities in the area, to pay for the electricity installation costs of some Pokigron households. Pokigron also has a women's organization driving economic activities, such as a guest house in the community. Ms. Pinas convinced this organization to cover the remaining financial requirements in order to ensure that every household in Pokigron receives 24 hours of electricity.
But the physical installation of the electricity infrastructure is just the first part of the transformation. Productive use of these newly reliable electricity supplies is fundamental to achieving long-term community sustainability and to promoting the economic development of rural communities. Once again, Suriname's women played the leading role in working with the state-owned utility company to increase local productivity.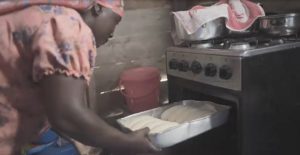 Access to reliable and affordable electricity has measurably transformed life in many homes and small businesses in Pokigron and Powakka. Ms. Roselien Linga, who lives in Pokigron, purchased an electric oven to bake and sell bread to her fellow villagers and to tourists visiting Pokigron. Ms. Bionda Joop, also from Pokigron, now uses an electric mixer to bake her cookies for sale. Both of these women were able to increase their efficiency and income by tapping into the electricity in their homes. In Powakka, Simone Biswane and Marlene Makosi have increased their production of traditional costumes. They now use an electric sewing machine and work after dark. They weren't able to either before. Ms. Caroline Herman-Sabajo now stores and sells cold drinks, chicken, and fish in her small shop.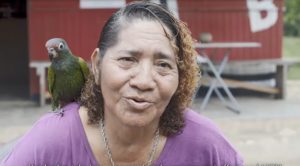 These are only a few of the women whose leadership and initiative have contributed to the success of Suriname's rural electrification projects. But there are many other success stories all over the country in which women have led and continue to play a leading role. On International Women's Day 2019, we are pleased to take this opportunity to recognize their contributions to improving the quality of life in their communities.
Lead Photo: Transportation by boat down by the Suriname River from Atjoni to the Maroon Villages, Suriname. Source: Shutterstock