We all know someone who has a chronic health condition, such as cardiovascular disease or diabetes. They've become almost a daily part of Caribbean conversation; something so common that they're almost expected to be mentioned on greeting. We speak casually about them, and at times, jokingly. And yet at the same time, they're something we know are both serious and deadly. As much as we know someone who lives with a chronic non-communicable disease (NCD), we know someone who's died from one too; and often, we've lost them much too soon, to something that was either preventable or manageable.
Unfortunately, we also know how complicated the management of an NCD can be. We know how many things there are to keep track of – symptoms, medication, doctor visits. On top of that, our health systems can at times make managing the conditions seem difficult and disjointed. Between scheduling a doctor's visit or waiting in the emergency room, going elsewhere for routine testing, waiting for results, and then following up with your care physician, the whole process can seem long, drawn-out and exhausting.
However, imagine then, a complete 180° turn on this scenario. Imagine a healthcare system where one team is coordinating your care; a One Stop Care Team, if you will. It could be the clinic you already visit, but one working in coordination with all the services you need to ensure a healthy, happy you. If you're homebound, it might involve regular home visits from your District Health Visitor or if you visit a specialist or had a hospital stay, your care team would know this and do all the required follow-up. If tests are performed, then testing would be coordinated so that your results would be collected and sent to you via your smartphone, allowing you to have "a digital check-up" with your care team. That way, your care team can work with you and your family members to keep tabs on your care, both inside and outside the clinic walls. Together, you and your care team would also create a healthcare plan, tailored especially to your needs. You will be the focus of your plan and your care team will listen to your needs and preferences, health goals, and provide any updates on the care you receive from your doctors, nurses or other care team members; all done to ensure consistent, coordinated care to manage your chronic long-term conditions.
While this scenario may sound fictional, the idea of a One Stop Care Team is not. It's an initiative that the Ministry of Health (MOH) and the Regional Health Authorities (RHAs) are hard at work to bring to life in Trinidad and Tobago. With support from the IDB funded Health Services Support Programme (HSSP), the MOH and RHAs are working towards bringing together all the key elements to help chronic care patients manage their individual care plans — health screening, diagnostic testing, counselling and treatment.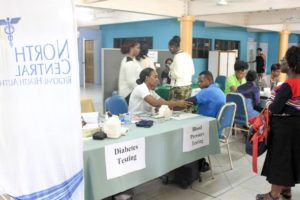 The timing of this initiative could not be better or more needed; chronic non-communicable diseases (NCDs) pose a great risk to global health. The World Health Organisation (WHO) estimates that they account for over 70% of all deaths. Trinidad and Tobago has one of the highest rates globally, with over 80% of mortality accountable to NCDs. Furthermore, the annual economic burden from diabetes, hypertension, and cancer on Trinidad and Tobago is estimated to be more than USD$1.2 billion or roughly 5% of the country's GDP. A large portion of this – approximately USD$1 billion – is due to high blood sugar (diabetes) and high blood pressure (hypertension).
Through this initiative, the MOH and the RHAs are confident that in the not too distant future, a patient can visit a primary care health centre anywhere in Trinidad and Tobago and receive timely, holistic, healthcare with key attention paid to building healthy relationships between the patient and his/her personalized care team.